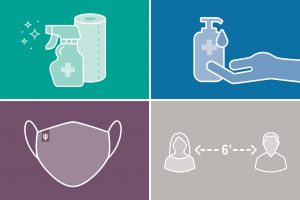 In light of COVID-19 safety guidelines issued by the Government of Karnataka, the National Law School of India University, Bengaluru has implemented several measures to ensure a safe environment for its staff and students.
Ms Malini from NLSIU's Health Centre is spearheading COVID care and testing protocols on campus. We have partnered with the city's civic body Bruhat Bengaluru Mahanagara Palike (BBMP) for COVID-19 management during the pandemic. This includes measures to not only prevent the spread of the virus, but also to provide the best care in case any COVID positive cases may be identified.
COVID Tests:
To ensure health and safety of the NLS Community, the BBMP carried out COVID tests in November 2020 for a total of 165 members of the University. This included testing for staff residing on campus and their families. To ensure accuracy of results, RT-PCR tests were conducted, and the results were communicated to all staff members via messages from the BBMP. This has now become a continuing practice with regular COVID testing organised on campus every month.
Medical Arrangements:
In case any COVID positive cases are detected, necessary arrangements have been made by the University for isolation at the Health Centre on campus and all COVID care protocols are strictly followed. Medications to treat COVID-19 are also available for distribution at the Health Centre. Meanwhile, NLSIU has coordinated with BBMP officials, who have identified two hospitals for any COVID-19 related emergencies from NLSIU, to ensure availability of resources and timely care. Free masks have also been made available at the Main Gate security block.
Sanitisation:
The University administration is also carrying out daily extensive fumigation and sanitisation on campus including hostels, canteen, academic block, learning centre, library, staff quarters, and the security blocks to maintain hygiene. Thermal screening at the campus entrance has also been made mandatory for visitors.
Online classes:
All academic classes are being conducted online to ensure safety for both students and faculty. The University is committed to maintaining the academic calendar while ensuring that our students, faculty and staff are not exposed to any undue risks arising from the pandemic.