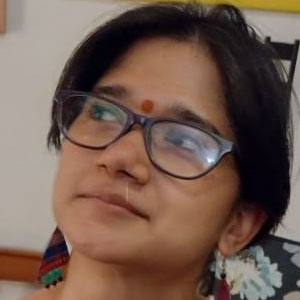 Sebanti Chatterjee
Teaching Associate
Teaching
Academic Programmes
B.A., LL.B. (Hons.)
Courses
Sociology of India, Visual Culture
Gender Studies
Social Research Methods
Classical Sociological Thought
Social Institutions
Urban Social System
Visual Socialogy
Sociology – Anthropology of Sound
Visuality and Social Transformation
Social Anthropology of the Contemporary World
Sociology of Kinship
Education
Ph.D Sociology | Delhi School of Economics, Delhi University | 2013  – 2020
M.Phil Social Sciences | Centre for Studies in Social Sciences, Kolkatta | 2010 – 2012
M.A. Sociology | Jadavpur University, Kolkatta | 2008 – 2010
B.A. Sociology | Presidency College, Kolkatta | 2005 – 2008
Research
Anthropologist of Sound Studies in contemporary South Asia with an interest in Cultural Anthropology, Urban Sociology, Sociology of Religion and Gender Studies.
Work Experience
Guest Faculty, Jesus and Mary College, Delhi University | December 2020 – April 2021
Teaching Associate, NLSIU, Bengaluru | December 2020 – February 2021
Guest Faculty, Christ University, Bengaluru | August 2020 – December 2020
Assistant Professor, Sharda University, July 2019 – July 2020
Grants and Fellowships
Co-Recipient, Arts Research programme grant, India Foundation for the Arts, Bangalore for documentary film 'Ki Sur' (The Voice) featuring four vocal artists across Mizoram and Meghalaya, December 2019 – December 2021
Sylff Research Aborad award, Tokyo Fondation and Nippon Foundation. October-December 2016 at Royal Holloway University, London.
ICSSR Doctoral Fellowship, June 15, 2016 – 2018
Sasakawa Young Leaders Fellowship Fund (SYLFF), Tokyo Foundation and Nippon Foundation, Japan; August 2009- July 2010, Researched "Searching for a professional identity:  a Sociological Perspective on Western Classical Musicians of Contemporary Kolkota.
Editorial Experience
Deputy Editor, Serenade Magazine, June 2017 – March 2018
Books
2021, (Monograph), Choral Voices in Goa and Shillong, under contract with Bloomsbury Academic ('Music and Sound Studies'Series), New York, USA
Book Chapters
2012. Dealing with "Western Classical Music' in Indian Music Schools. A case study in Kolkata, Bangalore, Goa and mumbai in Knigge, Jens and Niessen, Anne (eds.) Music Education : Concepts, Practice and Political Dimensions, Verlag Die BlaueEule (Co-authored with Prof. Bemd Clausen), ISBN-978-3-89924346
Short Pieces
"How Healer and other Korean dramas quietly deal with abandonment, possible self-care strategies", Firstpost, 8th June 2021
"Of Dooubts, Desires and Duties: Cosi Fan Tutte at Royal Opera House, London", Serenade, October 31, 2016
"Youngest Festival n Goa: Kelevan World Sacred Music Festival", Serenade, March, 29, 2016
Journal Articles
2020. 'Performing Bollywood Broadway: Shillong Chamber Choir as the Bollywood's Other'  Society and Culture in South Asia 6(2): 304 – 327′ ISSN: 23938617
2020. Promises of the Kwai: Discovering Voices that Sing in Rajan Bhumika and Chodhury Suranjana (eds.) Poetics and Politics of the 'everyday': Engaging with India's northeast. Cafe Dissensus (54), ISSN:2373-177X
2019. 'Child Play India Foundation – A New mode of Community music making in India' Revista do forum Internacional de Estudoesem Musica e Danca, Vol 4 No.4 (2017)' 231-239; ISSN-2184-6138
2013. "What Score Have You Got? Music Pedagogy in Indian Classroom', Journal of Sociology, Culture and Social Category 6; ISSN:09765212
2012. "Bood Review: Jose Pereira, Micael Martins and Antonio Da Costa (ed.) 2010. Song of Goa: Crown of Mandos' in Journal of Sociology, Culture and Public Policy 5, ISSN: 09765212
Conferences and Lectures
Panel discussion on 'Resistance through Music' at the Department of Sociology, Bharati College, University of Delhi for their annual fest Episteme titled Symphony on February 27th 2020.
'Choral traditions in Goa and Shillong : Negotiating identities and Artistic Traditions' at Jadavpur University, Kolkatta as part of JU-SYLFF lecture series on 6th January 2020
'Child's Play India Foundation – exploring a new mode of community music making in India', at the 4th International Post Graduation Forum for Studies in Music and Dance and The Department of Communication and Art of the University of Aveiro from the 5th – 7th December 2017 at Aveiro, Portugal.
'Towards a Choral Repertoire at Ambedkar University', Karampura for a two day seminar on music, 1st and 2nd March 2017
'Understanding the emergence of Goan Sacred Music : Role of Rachol Seminary' at the first Musicology Symposium, Ketevan World Sacred Music Festival at the Central Library, Panjim 16-18th February, 2016
'Of Kwai and Kokum: Sounds from Distinct Landscapes' at the Christian Congregational Music Conference : Local and Global Perspectives at Ripon College, Cuddesdon, Oxford, UK from August 4-7 2015
Presented a paper titled 'Making of a Choral Repertoire in Shillong : sounds in translation' at the 2015 World Conference of the International Council for Traditional Music (ICTM) in Astana, Kazakhstan, from 16 July to 22 July 2015.
Projects
Curated the module : Choral Traditions in India for Sahapedia (June 2019)
Guest contributor to the Firstpost podcast CINEmatters : a definitive guide to the Cinema of Northeast India (March 2021 onwards)
Membership in Academic Institutions
SYLFF Network
Student member of International Council of Traditional Music