Introducing the Dr N R Madhava Menon Doctoral Scholarship for PhD students
September 1, 2020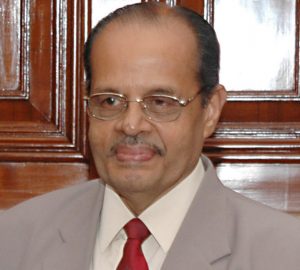 At NLSIU, our pursuit of academic excellence goes hand in hand with efforts in raising our research output quality to the highest standards. Continuing these efforts in 2020, the University is delighted to introduce its first PhD scholarship in honour of the University's Founder-Director Dr N R Madhava Menon.
'The Dr N R Madhava Menon Doctoral Scholarship' is a three-year programme that will sponsor three meritorious students admitted to NLSIU's PhD Programme. GE India has partnered with the University for an overall sponsorship value of around ₹75 lakh which will fund 3 Scholars for 2020-2023.
The Scholarship ensures that scholars of the highest calibre and merit are recognised and encouraged to pursue their goals, and helps make the degree a competitive and highly regarded programme, on par with international fellowships.
On Sep 1, NLISU and GE India announced 'The Dr N R Madhava Menon Doctoral Scholarship' over a virtual MoU signing ceremony.
Vice Chancellor, NLSIU, Prof (Dr.) Sudhir Krishnaswamy, said, "The Dr. N. R. Madhava Menon Doctoral Scholarship was created to honour and celebrate the role of our Founder who pioneered legal education reform in India. This Scholarship programme will identify and support PhD Research Scholars at NLSIU to make an exceptional contribution to legal knowledge and legal education and to become future leaders in India."
The Scholarship is also an attempt to deepen the University's engagement with research initiatives and high technology industries in Bangalore and emerge as a leading research hub.
Eligibility: All candidates accepted for the doctoral programme at NLSIU will be eligible to apply for this scholarship. The three candidates will be selected by interviews conducted by the selection panel based on academic excellence, compelling trajectory and potential of their study proposal. The selected candidates must be full-time PhD scholars who will continue to demonstrate adequate progress in their doctoral studies during the term of their scholarship.
Benefits: The Menon Scholars will get fully funded opportunities including annual tuition fees, monthly stipend, a laptop and travel costs for attending a conference.
Srijoni Sen, Assistant Professor, NLSIU said that the University wants to build a promising community of scholars with mentoring and support from legal luminaries and renowned experts. The intention is for the Dr. Menon Scholarship to become an aspirational scholarship for meritorious students who want to engage in higher education and legal research in India, where such prestigious scholarships are relatively lacking.
General Counsel, GE- South Asia, John Thaliath, said, "GE is honored to support the scholarship of deserving PhD candidates who will take forward the rich research tradition of NLSIU. GE has stood for upholding the highest virtues of integrity and commitment to excellence. We believe that the same rigour needs to be cultivated within budding talent in humanities especially in the field of legal studies."