NLSIU Grad Aces Civil Services Exam
August 4, 2020
Jeydev C S, NLS 'LLB 2018 was ranked 5th in the UPSC exam results announced this week. He joins a growing list of alumni who have joined the Civil Services and served with distinction. NLSIU is proud to be a part of his journey and to have educated future leaders in our national life.
Jeydev C S, NLS 'LLB 2018 was ranked 5th in the UPSC exam results announced this week. He joins a growing list of alumni who have joined the Civil Services and served with distinction. NLSIU is proud to be a part of his journey and to have educated future leaders in our national life.
Soon after the results were announced, Jeydev's first reaction was one of relief. "This exam can be an arduous process, often beset with a great deal of uncertainty. So it really feels like a load off my shoulders… I wouldn't have predicted this specific outcome: one hopes for the best, but prepares for the worst," said Jeydev, who hopes to join the Indian Administrative Services.
This was Jeydev's second attempt after his first try in the summer of 2018 when he was still in his final year of NLS.
"In retrospect, it seems ill-advised to have deluded myself into thinking I could stand a chance juggling this and Law School fifth year. I decided to reassess and commit a full year to serious study to this end. At an alumni dinner a month later, a senior offered some reassurance when he said I would regret not giving it another go, if I were convinced the goal was worthwhile," Jeydev said, who admitted he worked much harder in his second attempt.
Jeydev was always motivated towards a career in the public service and believes the civil service offers an unmatched opportunity to be part of the policy design and implementation processes in governance.
"In the Indian system, these processes are often through the law as an instrument of policy – both primary and subsidiary rules. Law School exposed me to the various forms this could take – cold doctrinal precedent, normative guidelines, and procedural rules. In that sense, it felt like a fairly natural progression to aim for a career in government," he said.
Alumni and Peer Influence
Jeydev is aware that several NLS alumni have joined the civil services over the years but one in particular influenced him.
"Saket M (NLS 'LLB 2011) visited campus in my third year after his selection to the Indian Foreign Service. He spoke at length about his journey and the ways in which the Law School experience enriched and enabled it. This was quite motivational and showed that our small community could compete toe-to-toe with the rest of the country in good old-fashioned open competition, even with the most recent change in the examination format," he said.
Another inspiration for Jeydev was his friend and batchmate Atheeth Sajeevan (NLS 'LLB 2018) who joined the Indian Foreign Service in 2019.
The NLS Difference
"My time at the National Law School was certainly the most transformative experience of my life. It snapped me out of my genteel bubble in Bangalore, and exposed me to some real facets of the diversity of our country. Our peer group was truly exceptional and despite our frequent agreements and disagreements, the prevailing culture of critical reflection certainly made me a better person. Some of our teachers were truly exceptional, and their wisdom certainly lent a perspective unrivalled by any book or amateur attempts at arrogant auto didacticism. Coupled with a pragmatic education in managing expectations, deadlines, "knowing the examiner" and "learning what to unlearn", the Law School experience certainly holds one in good stead when facing the endless chasm this exam can feel like," Jeydev said.
Alumni Reactions
Srikar M S, IAS, Commissioner – Commercial Taxes Department, Government of Karnataka | Srikar M S, NLS 'LLB 1998, was the first NLS graduate to enter the civil services.
"It is heartening to see a significant number of NLS graduates entering the civil services over the past decade or more. When I got into the Indian Administrative Service in 1999, it was seen as an aberration in Law School. I guess it is more acceptable now and thankfully so! It seems that many more law graduates are interested in the public sphere, in public policy and having a role in making the State function better."
Understanding of law helpful for civil servants: "Diversity of career choices that the students make is not only an asset to the Law School in the long run but is also testimony to the choices that the National Law School environment provides to its students. A thorough grounding in and understanding of law is definitely a quality that civil servants would fare well with in their myriad assignments in government whether as an administrator, a diplomat, a senior police officer, tax administrator or working for other public sector organisations.
Public policy formulation and implementation, whether international or domestic, is definitely strengthened when their practitioners have a thorough legal background. The civil services, in my opinion, is greatly benefited with diverse streams joining their ranks."
Grace Lalrindiki Pachuau, IAS, Additional Registrar- Cooperative Societies, Tamil Nadu | NLS 'LLB 2010
I would like to convey my heartiest congratulations to NLS graduates who made it into civil services this year. I am extremely happy that more NLS graduates are opting for these exams. I would also like to acknowledge Vice Chancellor Prof Sudhir Krishnaswamy's efforts as he has a keen interest on this front.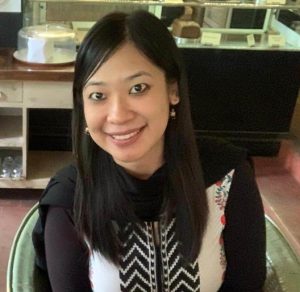 An alternate career option: Hopefully, NLS can encourage more students to have an active interest in civil services. Most students opt for law firms or litigation but civil services can be a great alternate career option for law graduates.
Stark Contrast: Civil Services were not a very popular option earlier but it is heartening to see more law graduates taking it up. This is a stark contrast to the situation that was prevalent 10 years ago. Over the last 5 years especially, there has been remarkable change as more law graduates seem to be opting for them. I have been hearing of at least two or three NLS grads getting into civil services every other year. Hopefully, the numbers could increase further in the future as we can put our heads together and help bring about a change.
Advantage of a law background: Law graduates have a big advantage over others in the field of civil services, especially in the early stages of their career. There is an ease of preparation as we are already well acquainted with the Indian Constitution and can easily interpret and implement legal provisions thanks to our background in law. A law background definitely helps in effective discharge of duties. For example, legal knowledge is very useful when implementing provisions in IPC or CrPC which is especially useful in the Administrative Services. A law background is also of immense utility in IRS, IFS and IPS.