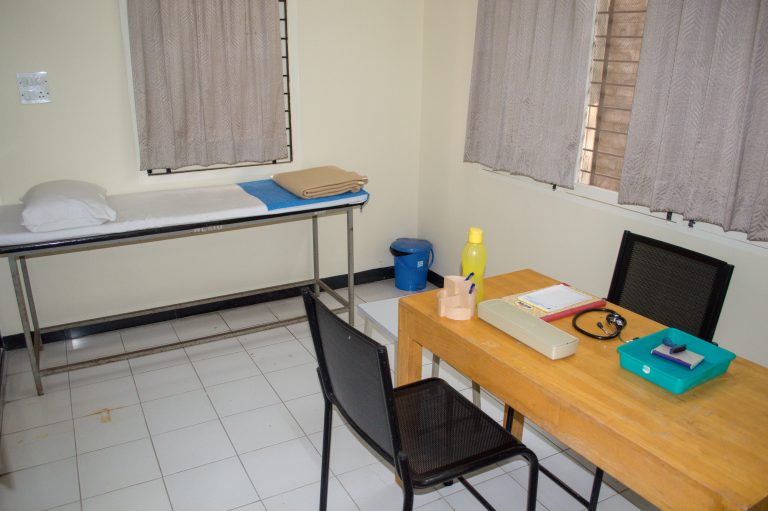 The Health Centre on campus was set up to attend to immediate necessities of healthcare. The Centre is located behind the Training Centre. Ms. Malini is the qualified Nurse at the Health Centre and resides on campus. The NLS Health Centre is a secondary health facility that is able to offer minor in-patient and testing services, with a well-stocked pharmacy for common illnesses. Our medical team will refer you to specialists in nearby hospitals if required and assist you with insurance formalities. Records of all medical consultations are confidential.
The Health Centre has been recently revamped to upgrade our nursing and medical services in a tie up with a Healthcare organisation. The Centre operates from 9 am to 6 pm, on all seven days of the week .
The Resident Doctor is available from 10 am to 4 pm Tuesday – Sunday, with nursing facilities available on all days.
Our medical team comprises:
1. Resident Doctor
2. Qualified Nurse
3. Qualified Nurse (NLS)
4. Pharmacist & Manager
If you would like to meet the doctor, please schedule an appointment in advance by writing into , or walk-in during office hours.
In case of an emergency, please reach out to the NLS Nurse, Ms Malini or write to
If you have any further concerns, please contact the Student Welfare Officer at
Medical Insurance Policy
The University has procured health insurance for students under the Group Mediclaim Insurance Policy with M/s. New India Assurance Co. Ltd. Our medical insurance policy covers all students for a variety of medical needs including COVID care. The policy documents for students are accessible below:
Students may take the assistance of Ms. Prathibha V.K. at the reception in claiming reimbursements.
Health Protocols
To ensure an efficient system for management of all matters pertaining to student health and medical emergencies, NLSIU maintains the following protocols:
Medical Concerns: For medical concerns, please reach out to the University nurse, Ms. Malini at the Health Centre between 9.30 AM and 5 PM on working days and over phone beyond office hours.
The Nurse will meet and examine student concerns and identify appropriate actions. For minor medical matters, the Nurse will take appropriate action in consultation with the Resident Doctor. For any medical matter requiring external support, consultations or hospitalization, we will engage external medical support on the advice of the Resident Doctor.
University vehicles are used for emergency transport, if ambulance services are unavailable. The Administrative Officer of the Residence Life Team will assist the Nurse in arranging any urgent transport facilities.
In case of any other concerns, the Nurse may reach out to the relevant Hall Warden for advice and / or assistance on the course of action.
Maintenance of records: The Nurse maintains a record of all cases in a digital format for effective monitoring of all pending matters. This includes:
(I) the name of the student,
(II) residence details including the name of the residence hall and room number
(III) nature of the complaint
(IV) the initial diagnosis
(V) suggested course of action, and
(VI) current status update of the case
Health Coaching
The University is working with a Health Coach and Nutritionist for the current trimester. She will be available on campus on Wednesdays & Thursdays for one-on-one consulting sessions regarding health and nutrition at the Learning Centre. Please reach out to her at to book an appointment.
About our Health Coach: Ms. Mari B is a Certified Health and Nutrition Coach from IIN, New York. She focuses on understanding and facilitating the promotion of primary health foods and holistic health. She has successfully founded the '3 Day Cleanse' meal service in Bangalore and also conducted a number of talks and workshops around managing health through simple, daily practices. Please visit her website for more details: https://www.maribwellness.com/
Mental Health and Emotional Well-Being
The NLS Administration along with the Office of Student Affairs (OSA) has worked with the Student Bar Association (SBA) to carefully review the mental health and emotional well-being needs of the student community. We care about every member of our University community and seek to support your holistic development during your time at NLSIU.
The OSA will make the following services available to the student community over the academic term from November 2020 to February 2021. Reach out to for guidance and support on mental health.
1. Counselling Services
Five dedicated counsellors are available for counselling sessions, either online or onsite, upon request and counsellor's availability. Please find their profiles and availability here.
Students need to use their NLS ID to email the counsellors to seek an appointment in advance. This service is available to students free of charge.
2. Clinical Therapy and App-based Services via

Amaha

:
Clinical therapy services with Amaha's therapists are available to all the students. Please find the profiles of the therapists here.
Students will have to download the Amaha app on their phones and request a session via the app. All students must have received an email from Amaha on their NLS id to download the app. Students are required to use their NLS id to register on the app to use the services free of charge. Please note that there is no cap on the number of therapy sessions you book.
Amaha is a self-help app that enables mental health and well-being support for each user. It facilitates early intervention by providing a series of clinical self-help tools (remote, anonymous, 24/7). Developed over the last 2.5 years, it provides for self-awareness through free assessments and a range of CBT based self-help tools delivered as personalised programmes.
3. Psychiatric Referrals
Counsellors & therapists may recommend a psychiatric referral. The University has collaborated with a well-qualified and experienced Bangalore-based Psychiatrist. Please write to for the terms of engagement.
4. Consultation Hours with the Student Welfare Officer
Our Student Welfare Officer will be available to meet with students for any issue or concern they need help with or want to discuss. Please write to the Student Welfare Officer to schedule an appointment.
Making mental health a priority
We will continue to work on our mental health policy to make it more inclusive and expansive. In addition to these services, we will be organising sensitization workshops planned to build awareness and address existing gaps in mental health awareness. At the end of the term, we will garner structured feedback from you on the aforementioned services before continuing with them for the next term.
We look for your support in destigmatising mental health and emotional well-being in our community. Let us step up and offer support to each other while also taking care of ourselves. With continued collaborative efforts, let us make our community healthier and more sensitive to issues of mental health.