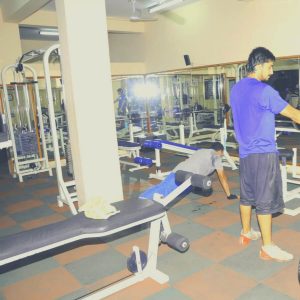 The Health Centre on Campus was set up to attend to immediate necessities of health care. The college has institutional arrangement with S.K. Hospital, Nagarbhavi, situated close by, to provide hospital attention including in-hospital care where required.
Dr Poornima is in charge of the Health Centre.
Mrs. Malini is the qualified Nurse at the Health Centre and is resident on campus. For any health concerns, please write to .
Mental Health and Emotional Well-Being
The NLS Administration along with the Office of Student Affairs (OSA) has worked with the Student Bar Association (SBA) to carefully review the mental health and emotional well-being needs of the student community. We care about every member of our University community and seek to support your holistic development during your time at NLSIU.
To this end, the OSA will make the following services available to the student community over the next academic term in 2020. Reach out to for guidance and support on mental health.
1. InnerHour
This is a self-help app that enables mental health and well-being support for each user. It facilitates early intervention by providing a series of clinical self-help tools (remote, anonymous 24/7).
Developed over the last 2.5 years, it provides for self-awareness through free assessments and a range of CBT based self-help tools delivered as personalised programmes. It uses algorithms and data/intelligence with the guidance of trained therapists to identify unique user needs and create a highly personalised programme suitable for each user.
Each student will receive an email on their NLS ID to download the app, register and use the services free of charge.
2. TalkCampus
This is an app that focuses on cultivating a global peer-support community of college-going students to enable a safe space to share their thoughts, worries, and concerns.
College life can be stressful in numerous ways and this app works with a mission to ensure that no student struggles alone and that they have access to support 24/7 with real-time escalation. This is a safe social network where students can talk anonymously about their worries and how they are really feeling any time of the day or night with students from all over the world.
Each student can download the app using this link (https://www.talklife.co/nlsiu). Students are required to use their NLS ID to register and use the services free of charge.
3. Counselling and Therapy
NLS has three dedicated Counselors who are available for one-to-one counselling and therapy sessions upon request. Please find their profiles and availability here. Until the students are back on campus, these meetings will be organized on Zoom.
Students need to use their NLS ID to email them to seek an appointment in advance. This is available to students free of charge.
4. Consultation Hours with the Student Welfare Officer
Our Student Welfare Officer will be available to meet with students for any issue or concern they need help with or want to discuss. Please feel free to pick a time to meet with the SWO here. You can also write to . Until students are back on campus, these meetings will be organized on Zoom.
In addition to these services, we will continue with our existing Student Peer Support Network and the Faculty Mentorship Programme. We will email students regarding access to these programmes later this term.
5. Making mental health a priority
We will continue to work on our mental health policy to make it more inclusive and expansive. This effort will also be supplemented by other sensitization workshops planned for the rest of the term to build awareness and address existing gaps in mental health awareness. At the end of the term, we will garner structured feedback from students on the aforementioned services before continuing with them for the next term.
We look for your support in destigmatising mental health and emotional well-being in our community. Let us step up and offer support to each other while also taking care of ourselves. With continued collaborative efforts, we can make our community healthier and more sensitive to issues of mental health.