Welcome to NLSIU!
NLSIU is a fully residential learning community. We aim to offer all our students the benefits of belonging to a vibrant and diverse student community – both inside and outside the classroom.
Situated in Nagarbhavi, Bangalore, NLSIU sits on a lush green campus of 23 acres that offers ample space for students to unwind after a day of intense learning. The campus comprises an academic block, student hostels, faculty quarters, a state-of-the-art library, canteens, a health centre, gym facilities, and discussion rooms among other spaces for academic and community based activities.
Find your Community:
Studying and living on campus can be a uniquely enriching experience for any student, and can depend greatly on the relationships and interaction they have with their peers. Student life is organized by self governing student groups. Students are encouraged to participate in campus initiatives and community based events that include cultural activities, student led associations, food festivals, and more. For more details on student activities, visit our Clubs & Activities Page.
Hostel Accommodation
Male students: Ganga, Cauvery, Himalaya and Hoogli are the hostels for men.
Female students: Nilgiris, Narmada, Yamuna, Gangotri, Vindhyas (Annexe block) and Annapoorna (Mess Block) are the hostels for women.
First year students: Students of the first year are generally provided separate accommodation and allotted shared rooms.
Second year and upwards:
Students may be allotted:
Triple-seater rooms which may be partitioned into cubicles with a curtain;
Twin-seater rooms
Single rooms
Hostel amenities:
Each student is provided a cot, cupboard, chair and desk
Hot water and Laundry facilities
24*7 Electricity and Internet Connectivity
Please note, students are advised to bring their own mattresses, curtains and bed-linen, as well as blankets and warm clothing for cold weather during November-January.
The wardens stay on campus and students are free to approach them regarding any problem, inconvenience, or ill health.
Campus Facilities
Besides strengthening and continually improving on our programmes, the University is committed to provide students with access to facilities that enable a holistic environment on campus.
Smart Classrooms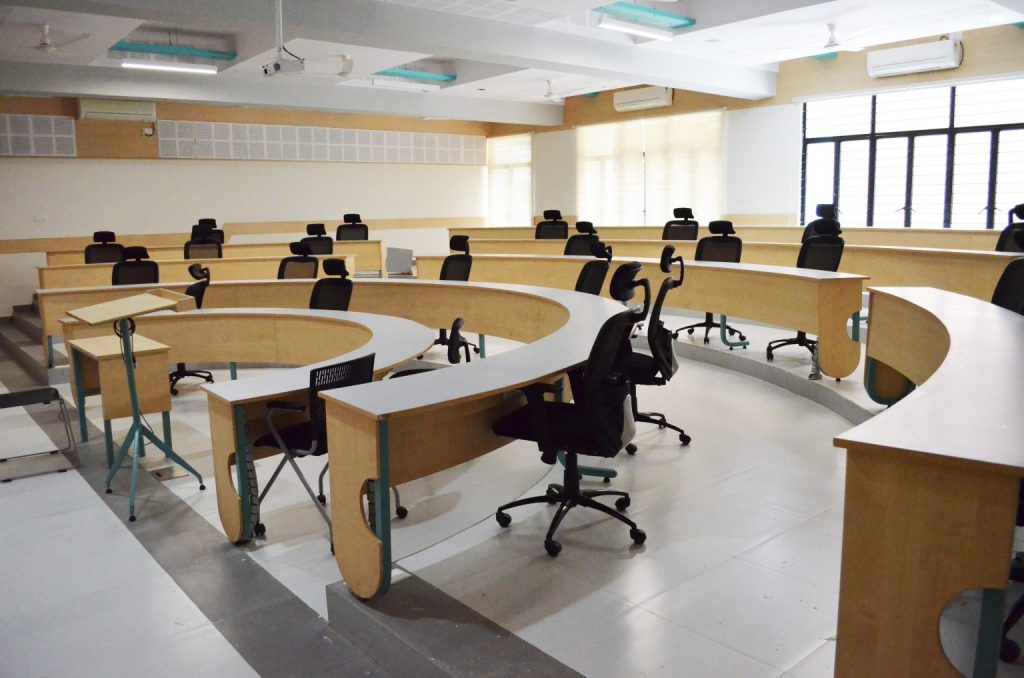 A total of 7 new classrooms and 2 conference rooms were constructed during AY 2021-22. These classrooms can seat between 80 to 120 students, and 2 conference rooms. The new classrooms in this Block are designed to optimise a socratic model of teaching that allows students and faculty interaction visually and aurally. The classrooms are equipped with high-quality acoustic systems, projectors, retractable screens and LED lights. Students will have access to power supply at their desks and enhance Wi Fi access at all times.
Dining & Catering
Besides the hostel mess, the University is developing a comprehensive plan for all catering services on campus including the Boys Hostel, Girls Hostel, Canteen and Training Centre areas. In November 2021 we opened the 'Quess Cafe' at the Training Centre on a trial basis. Located across the basketball court, the Cafe has a seating capacity of around 60 members, and offers a variety of meal and snack options.
Organic Produce: To ensure chemical-free and good quality produce for the NLSIU community, the University reached out to Spudnik Farms, an alumni-led network of Community-Supported Agriculture farms in and around Bangalore, that connects consumers directly with pesticide-free, organic fruits and vegetables. Produce from Spudnik Farms has been used for meals prepared in the Men's and Women's hostels last term and we are exploring longer term arrangements with them.
We have engaged a nutritionist to help with menu planning and in the weeks ahead you will see incremental improvements in the delivery of catering services in all four facilities.
Training Centre Canteen: The University has begun catering services for Faculty and Staff at the Training Centre Canteen between 8.30 AM – 5.30 PM on all working days.
Timings:
Breakfast: 8:30 AM – 10:30 AM
Mid-morning: 10:30 AM – 12:00 Noon
Lunch: 1:00 PM – 03:00 PM
Evening Snacks: 3:00 PM – 05:30 PM
Gym
The gym, which was located in a 990 sq ft. indoor space earlier, was moved to a newly-developed 1,575-sq ft. space in the Training Centre in 2021. The new space is well ventilated, with adequate toilets, showers and changing rooms. With the revised safety guidelines in place, housekeeping staff ensure regular cleaning and sanitising of the facility. The University has recently purchased new high quality gym equipment to supplement our existing facilities. Later this year, a third instalment of high grade training equipment will be delivered and installed. This includes advanced equipment for targeted workouts and high-intensity interval training.
Gym timings:
6 AM to 9 AM
11 AM to 1 PM
4 PM to 9 PM.
Contact: Gym instructor Mr. Naveen Kumar B.S., or an Assistant, will be available during these times.
Sports Facilities
The University has made several upgrades to its existing sports facilities including a new 200-metre running track near the football field. All sports facilities, including the Football Field, Basketball Court, Throwball Court, Volleyball Courts, Tennis Court, and the Badminton Courts have been cleaned up and marked and will be open to students, staff and faculty from 6 am to 9 pm. The University is also actively exploring partnerships to set up a dedicated sports centre on campus in the near future.
The University will develop several sports programmes including a running programme and coaching support for several sports.
Creche
As part of the benefits we provide to our staff, the University has opened an in-house Crèche from 14th March 2022. The crèche is located behind the Training Centre where the old Gymnasium was located.
The University has refurbished the space and equipped it with an indoor and outdoor play area and child-friendly furniture. We will continue to enhance the features of the crèche across the next few months.
Timings: 9:30 am to 5:30 pm on all working days.
Contact: Ms. Shivrajamma
Medical facilities
For health and medical facilities, please visit our Health & Wellness page.