Meet our new faculty member | Dr. Mrinal Satish
September 7, 2020
We are happy to announce a new addition to our faculty for the Academic Year 2020-21. Dr Mrinal Sathish, NLS 'LLB 2001, has returned to NLSIU to join us as Professor of Law. His area of teaching is Criminal Law and he has previously been a faculty member at the National Judicial Academy, Bhopal, and at the National Law University, Delhi .
The University extends a warm welcome to Dr Satish. We asked him to share more about himself, his academic interests and his recent work.
Can you tell us a little bit about yourself?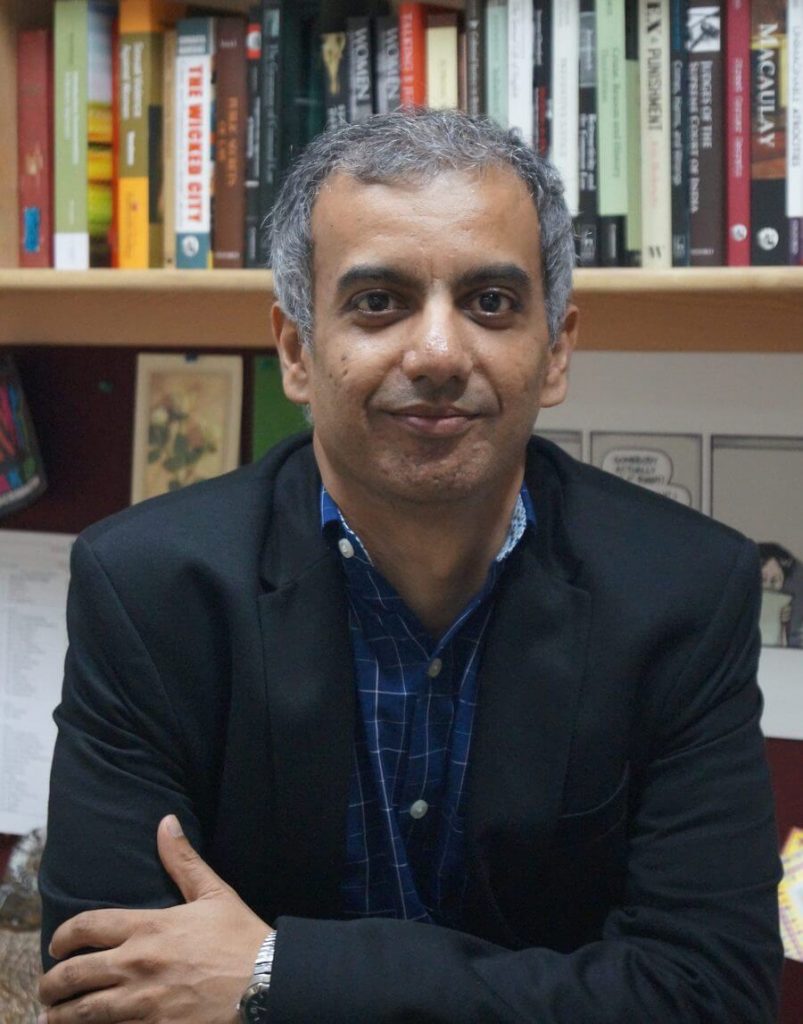 I am from Shimoga in Karnataka. I grew up and did my schooling in Belgaum, Bangalore, Bhadravati and Shimoga. I am a graduate of the LL.B and LL.M programmes at NLSIU. I began my teaching career at NLSIU, where I initially worked for 4 years. I then went to Yale Law School, USA, where I got my LL.M and JSD (Doctor of Science in Law) degrees. I have been a faculty member at the National Judicial Academy, Bhopal, and at the National Law University, Delhi. I have also been the Chairperson of the Delhi Judicial Academy. Other than my professional interests, I enjoy travelling, reading, and watching true crime shows/docuseries.
What is your area of teaching? How did your interest in Criminal Law begin?
I have focussed on Criminal Law throughout my career. My fascination with the field began right from my second year at law school, when we were taught criminal law. In my final year of law school I was a teaching assistant to Prof. S.V. Joga Rao for the criminal law course. That was a career-defining moment for me. I realised how much I enjoyed teaching, and criminal law. This passion for teaching and criminal law led me to return to NLSIU to teach after a short stint as a corporate lawyer.
The importance of Criminal Law as a subject in your opinion:
Criminal law impacts our daily lives in many ways. People are fascinated by crime, as the current unhealthy media circus around actor Rhea Chakraborty indicates. It is also a political issue, as is exemplified by the 2020 US Presidential elections. In the recent past, I have focused on sexual offences laws.
My doctoral dissertation was on sentencing for rape in India. I was also part of the research team of the Justice Verma Committee that suggested reforms to rape laws in 2013. One of the recommendations of the committee was a definition of "consent" in the context of sexual activities. As the Committee noted in its report, the objectives of the Committee's recommendations were not only about criminalizing actions or recommending punishments, but to shape and guide people's behaviour. Since criminal law sets normative frameworks to guide people's behaviour, failing which it curtails liberty, it is a very important area of law. Criminal Procedure on the other hand is a charter for protection of people's rights in their interaction with the criminal justice system. Hence, criminal law as a subject is not only interesting to study, but also a particularly important facet of people's lives.
Tell us about your association with NLS and the experiences at the University.
I am what I am today thanks to NLS. My association with NLS began in 1996, when I moved to Bangalore from a small city in Karnataka to join the ninth batch of the LL.B programme. At that time, the University was short of hostel space, and put around 25 of us in a dormitory. That was my introduction to NLS!
Having to live, and study with 25 others was quite an experience, which made all of us close friends, and also gave us various interesting life experiences. The academic programme was rigorous and provided us opportunities to engage in a vast array of activities. As a student, I worked extensively with the Legal Services Clinic, and with research centres such as the Centre for Child and the Law, and The Institute of Law and Ethics in Medicine, amongst others.
These experiences have shaped my life, and my career choices. The faculty, and the administrative staff played a very important role in guiding us both academically and personally, in what were still initial years of the law school. I learnt a lot (and continue to learn) from my professors, peers, and students.
Your thoughts on starting your teaching journey at NLS? What are your plans ahead?
I am excited to begin what will be my third stint as a faculty member at NLS. NLS has always taken the lead in introducing and updating approaches to legal education – be it in terms of course syllabi, pedagogy, or research. With NLS entering its fourth decade, it is an exciting time for us to innovate further. I look forward to working with the faculty, staff, and students at NLS, and contributing to the field of law and legal education.
Dr. Mrinal Satish's work
Book
Discretion, Discrimination and the Rule of Law: Reforming Rape Sentencing in India (Cambridge University Press, 2016)
Opinion Pieces
The Farooqui Judgments Interpretation of Consent Ignores Decades of Rape Law Reform and Catastrophically Affects Rape Adjudication, Caravan (October 2017)
Gender and the Nation: In Defence of the Victim, Indian Express (December 2017)
Forget the Chatter to the Contrary, the 2013 Rape Law Amendments Are a Step Forward, The Wire (August 2016)
Rape is Rape: No Exceptions, Indian Express (March 2013)
Virginity and Rape Sentencing, Times of India (Crest Edition, January 2013)
Articles
Testing Chastity, Evidencing Rape: Impact of Medical Jurisprudence on Rape Adjudication in India, Economic and Political Weekly (October 2014)
In the News
Saikat Datta, Interview: Though India's Rape Law has been overhauled it still lacks a sentencing policy, Scroll, December 2016
Soutik Biswas, How Myths and Stereotypes Colour Rape Sentencing in India, BBC, January 2017
Apoorva Mandhani, Delhi HC quotes with approval submissions by amicus curiae Dr. Mrinal Satish, Executive Director of the Centre for Constitutional Law, Policy, and Governance, NLU Delhi (September 2015).