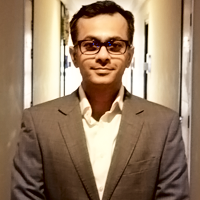 Bhavin Patel
Visiting Faculty
and
Consultant, Bayside Tech
Education
B.A., Ll.B. (Hons), National Law School of India University – 2002
Profile
Bhavin Patel has 18 years of experience across the legal, technology, and education industries. He successfully helped launch and scale two start-ups, and is now working on his third venture. He has worked across in-house legal departments (ITC Ltd., IDfy), and law firms (DSK Legal, Aureus Law Partners), primarily in the area of commercial legal advisory services. Bhavin has been part of the founding team of start-ups that provided services to the legal industry (LST, Rainmaker, Bayside Tech),
Bhavin specialises in privacy laws. Along with his law firm experience, he routinely advises clients on data protection issues, KYC, AML, CFT, and general corporate matters and commercial contracts.  He area of expertise includes devising privacy strategies for businesses involved in the collection, processing, and storage of personal data.
He also led the team that conceptualised, designed, and delivered India's first All India Bar Examination, and has worked in the field of test design and delivery as a consultant with NLSIU and the Consortium of National Law Universities.
Teaching Experience
Bhavin has experience teaching at the pre-law, law, and post-qualification stages in online and in-person formats, primarily in the areas of legal reasoning, writing, and research, law and technology, as well as introductory courses on various legal systems of the world. Bhavin has delivered guest lectures at the Jindal Global Law School, and has been invited to deliver a 'Law and Technology' bootcamp for the Daksha Fellowship programme. He is engaged with various programmes of the Distance Education Department, NLSIU as a visiting faculty.