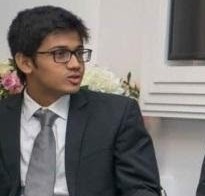 Dhruva Gandhi
Visiting Faculty | Term II
Teaching
Academic Programmes
5-Year B.A., LL.B. (Hons.)
Courses
Nov 2021
Jul 2020
Education
B.A. LL.B (Hons.), NLSIU
BCL, University of Oxford
Publications
Location Indirect Discrimination in India, NUJS Law Review (2020) forthcoming.
Encouraging proportionality in India's response to Covid-19, Oxford Political Review (2020).
Clipping the wings of the Prosecution in a Criminal Trial- An Erroneous Exclusion of 'Mental Facts' from Section 27 of the Indian Evidence Act, 30(1) NATIONAL LAW SCHOOL OF INDIA REVIEW (2018).
 GAAR to Override DTAAs: Can the Constitution or Limitation of Benefits Clauses prevent this menace?, 10(2) NUJS LAW REVIEW (2017) with Gaurav Bhawnani.