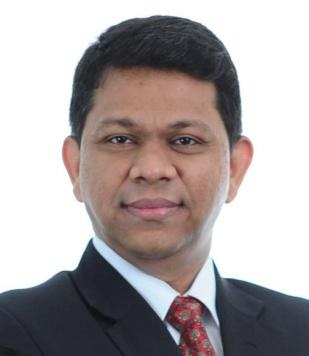 Ganesh Chandru
Visiting Faculty
and
Partner, Dua Associates
Teaching
Academic Programmes
5-Year B.A., LL.B. (Hons.)
Courses
Mar 2021
Alternative Dispute Resolution
Education
Bachelor of Laws (5-years Integrated Course), University of Madras –  1994
Master of Laws (International & Constitutional Law), University of Madras – 1997
Master of Laws, National University of Singapore – 2001
Graduate Certificate in International Arbitration, National University of Singapore – 2004
Qualified Lawyers Transfer Test, College of Law, UK – 2004
Graduate Diploma in Singapore Law, National University of Singapore – 2007
Postgraduate Practical Law Course, Board of Legal Education, Singapore – 2007
Profile
Ganesh Chandru is a Partner at Dua Associates and he specialises in International and Domestic Arbitration as well as Commercial Litigation. He is admitted to practice in India, England & Wales and Singapore, and is a Fellow of the Chartered Institute of Arbitrators, UK and the Singapore Institute of Arbitrators.
Ganesh's practice encompasses advising and representing parties in international arbitration matters (under Rules of SIAC, ICC, LCIA, SCMA, UNCITRAL as well as ad hoc) and arbitration matters seated in India that are conducted pursuant to the Arbitration and Conciliation Act, 1996. He also advises and represents parties in litigation matters before the courts. He has handled cases arising from transactions relating to Oil & Gas; Infrastructure; Projects & Construction; Power / Energy; Telecom & IT; Banking & Finance; Joint Ventures; and General Commercial matters.
Prior to relocating to India in 2015, Ganesh spent more than 16 years in Singapore during which time he worked with some of the top International law firms and Singapore law firms. Between 2002 and 2007, Ganesh was the Counsel & Assistant Registrar of the SIAC. He supervised the administration of about 500 arbitrations during his 5-year stint at SIAC and also pioneered SIAC's initiatives in India.
He has been recognised in the 'Global Arbitration Review 100 (2009)' as a "Significant" name and has been listed as one of the "Future Leaders" by 'Who's Who Legal' and the 'Global Arbitration Review (GAR)', London in the 2017 and 2018 editions of 'Arbitration: Future Leaders'.
During his law school days, Ganesh was an avid participant in moot court competitions, and he represented India at the Philip C. Jessup International Law Moot Court Competition in Washington DC. He was awarded the NUS Research Scholarship and was conferred a Master of Laws degree by the National University of Singapore for his thesis on 'International Commercial Arbitration and Information Technology'.
Publications
A Comparative Analysis of Arbitral Legislations – India, Singapore & England, Arbitration in India (Netherlands: Wolters Kluwer, 2021)
India Chapter, Global Legal Insights: International Arbitration, 5th edition (London: Global Legal Group, 2019).
India Chapter, Global Legal Insights: International Arbitration, 4th edition (London: Global Legal Group, 2018).
Singapore Chapter, The International Comparative Legal Guide to International Arbitration, 4th edition (London: Global Legal Group, 2007).
Arbitration in Singapore, Trett Digest (Issue 31, Spring 2006).
Growth and Development of International Commercial Arbitration in Singapore, Vol. 6 International Arbitration Law Review (London: Sweet & Maxwell, June 2003).
Editor, Dispute Resolution in Asia (published by Baker & McKenzie, September 2001)