Acknowledging 14 Years of Dedicated Service | Ms. Usha D S
September 30, 2022
On September 30, 2022, Ms. Usha D S retires after dedicating 14 years of her life to NLSIU. We thank her for the years of loyal and committed service to the University and wish her all the very best for her life ahead. In this interview, she recalls her journey at NLS, and recounts key memories along the way.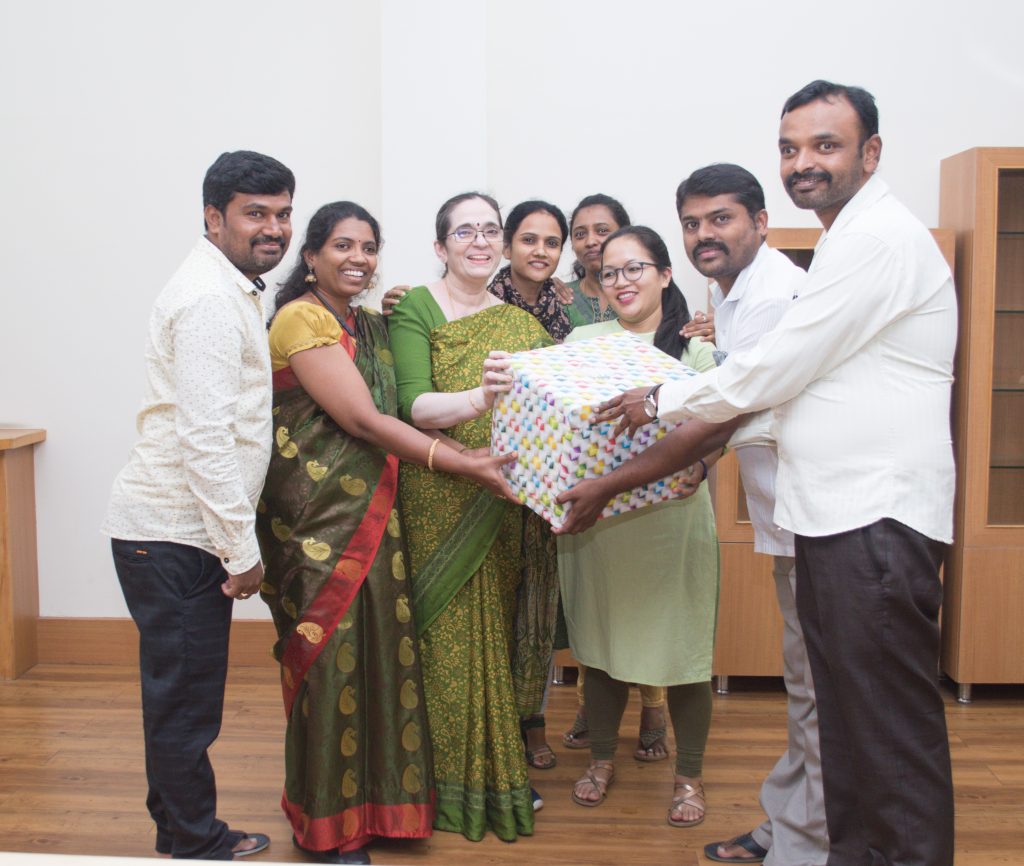 Hailing from Bengaluru, Ms. Usha graduated with a Bachelor's Degree in Science from Bangalore University. During her time at NLS, she worked under the leadership of three Vice-Chancellors – Prof. A Jayagovind, Prof. R Venkata Rao, and Prof. Sudhir Krishnaswamy. Over the years, she has worked with the Distance Education Department (now PACE), the Finance department, the Vice Chancellor's office, and the Academic Administration Department.
In July 2021, she was promoted as Assistant Manager, Academic Administration Department where she led the AAD team and contributed significantly to all activities of the department.
How the NLS journey began:
After my graduation, I had worked for some years in a corporate firm that manufactured electronic typewriters. Subsequently, I took a break due to personal commitments, and for several years, I was involved in part-time work. In 2008, I saw an advertisement where 8 posts in the University were open and applied for the post of Office Assistant. Shortly after that, I was interviewed by a panel which included the then Vice-Chancellor Prof. Jayagovind and then Registrar Prof. Vijayakumar, and was selected for the post. I then joined the University on April 11, 2008.
Your experience at NLS:
Since I worked with various departments, I was involved in several activities of the Universities. During my time at the AAD, the VC's Office and the Distance Education Department (which is now PACE), I was involved in various activities including admissions, examinations, preparation of class schedules, responding to queries, etc. I also assisted with the Student Exchange Programme for five years between 2013 and 2018.
My longest and most memorable stint was at the Vice-Chancellor's Office from 2013 -2021 during which I was responsible for coordinating and assisting in the various activities of the Vice-Chancellor and the University, coordinating with internal and external stakeholders, and assisting in internal and external correspondences on behalf of the NLSIU administration.
Fond Memories:
My interactions with students has been the highlight of my time here at NLS. I got to interact with them in various capacities during my time across departments, and these interactions are some of the cherished memories I will carry with me.
It makes me feel good even today when some of our students remember the smallest of things and get in touch. I remember one former student being very apprehensive about the student exchange programme. She was very skeptical about her chances of being selected for the programme, so much so that she was hesitant to apply. I had a conversation with her and just gave a small nudge of encouragement at the time following which she applied and eventually got selected for the programme. Even this year, I received wishes from her for Teachers Day even though I'm not a teacher!
Another incident I recall is helping out a former student who needed some help with scanning his documents. He remembered it even after graduating from the University and said he referred to my email every time he needed to access those documents.
In such instances, we were just doing our job, but we feel so happy when such small things are remembered and appreciated.
Looking ahead:
Now that I'm retiring, I look forward to spending a lot of time with my family, and also attend to some of the older members of my family and help take care of them. I also plan to watch a lot more television now that I have more time on my hands!