Movie Screening | Bosnian Film | Quo Vadis, Aida?
Where:
Krishnappa Memorial Hall, OAB
When:
Friday, December 16, 2022, 7:00 pm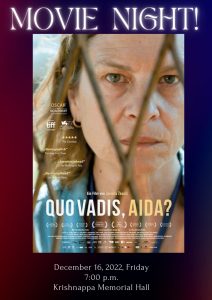 Following up on the success of 'Kumbalangi Nights' movie screening, we will be screening the Oscar nominated and critically acclaimed Bosnian film Quo Vadis, Aida? (Where are you going, Aida?) this week. The screening will take place on December 16, 2022 at the Krishnappa Memorial Hall, OAB from 7 PM onwards.
Quo Vadis, Aida? is an intensely moving, compelling portrayal of the events that unfolded in Srebrenica during the Bosnian war. The film will be screened with subtitles. The 2020 Bosnian film is written, produced and directed by Jasmila Žbanić. It was nominated for Best International Feature Film at the 93rd Academy Awards and won the Award for Best Film at the 34th European Film Awards.
Official trailer (with subtitles) available here
Reviews: Sight and Sound, The Guardian and The Times
Rotten Tomatoes: 100% approval
See you all there!