NLS Student part of Winning Team at the Unleash Global Innovation Lab 2022
December 22, 2022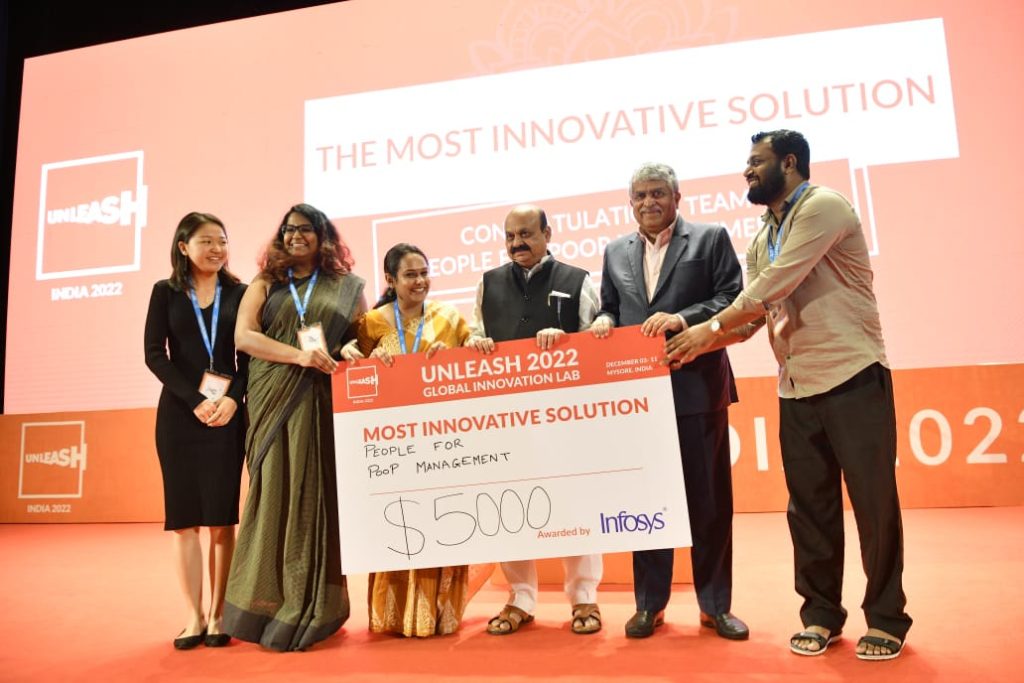 We congratulate MPP student Manaswini B for her achievement at the Unleash Global Innovation Lab 2022. Manaswini and her team members won the "Most Innovative Solution Award" for their prototype that addressed manual cleaning of septic tanks and open disposal of faecal sludge in Nachole Municipality in Bangladesh. The team received the award from Karnataka Chief Minister Shri. Basavaraj Bommai and Infosys Co-founder Mr. Nandan Nilekani. The event was held at the Infosys Campus, Mysuru.
We asked Manaswini to talk about her experience of participating in the event and on receiving the award.
Team
The team comprised five members from across four countries:
Manaswini Buddappagari, second year Master's in Public Policy student, NLSIU
Jakaria Tuhin, a development management graduate from Bangladesh
Riti Mehrotra, a CSR professional from India
Risa Kashiwagi, an electronics communication and environmental design engineering student from Japan
Mohammed Rafees, an environmental civil engineer from Sri Lanka
On the experience of participating in the event:
The Unleash experience has been enriching and invaluable. To work and interact with talents, facilitators and experts from across the world, and to exchange ideas and solutions across SDG tracks, across countries was truly insightful. Since our team was so diverse, we were able to constantly challenge each other's ideas and ensure that our pitch was good. Personally, it was an honour to represent the Institute of Public Policy, NLSIU at this event.
On the prototype and the idea behind it:
Our team came up with an idea to provide safe faecal sludge emptying and transportation service through a modified mechanised tri-wheeler, fitted with a portable vacuum pump, faecal sludge collection tank and diesel generator. Our
target area is Nachole municipality in Bangladesh, where 92% households are not connected via proper/pucca roads which means the municipal faecal sludge collection trucks cannot reach them, thus our intervention will help bridge the gap and ensure last-mile access. Our intervention has the potential to be quick, hygienic, safe and affordable while minimising spills and preventing the sludge from being dumped into the water bodies. Through our intervention, we also hope to partner with other organisations and the local government to ensure re-skilling and integration of manual cleaners in this process.
On receiving the award:
We were completely surprised and overjoyed when we reached the finals, let alone win an award. We were able to refine our solution at every stage and incorporate feedback from the judges which I think was instrumental in helping us win this award.