NLSIU Announces Ajoy Halder Memorial Scholarship
September 6, 2021
National Law School of India University announces the Ajoy Halder Memorial Scholarship in memory of NLS alum Ajoy Halder who passed away due to COVID earlier this year. The scholarship, commencing in the Academic Year 2021-22, will support deserving students for a period of five years.
This is the first scholarship at NLS that has been named after an alumnus of the University. Ajoy Halder, NLS 'LLB 2004, was a former partner of HSA Advocates and had worked with several leading law firms including Pinsent Masons in Singapore, as well as DSK Legal, Trilegal, Amarchand Mangaldas and Lexadigm. He later set up his own law firm 'Halder & Associates' in 2017. He had over 16 years of experience in advising on general corporate, project development and project finance transactions.
This scholarship has been instituted with the support of his friends Kush Mehra and Paroma Dutt Mehra, who knew Ajoy for over 16 years.
About The Donors:
Kush Mehra and his wife Paroma Dutt are based in New Delhi. Kush Mehra is the President and Chief Business Officer of the payments company Pine Labs. Paroma Dutt is a Mass Communication and PR Professional who has been associated with several global PR agencies.
We spoke to Kush Mehra and Paroma Dutt who shared their memories with Ajoy and explained why they were keen on setting up this scholarship in memory of their friend.
Tell us about your association with Ajoy.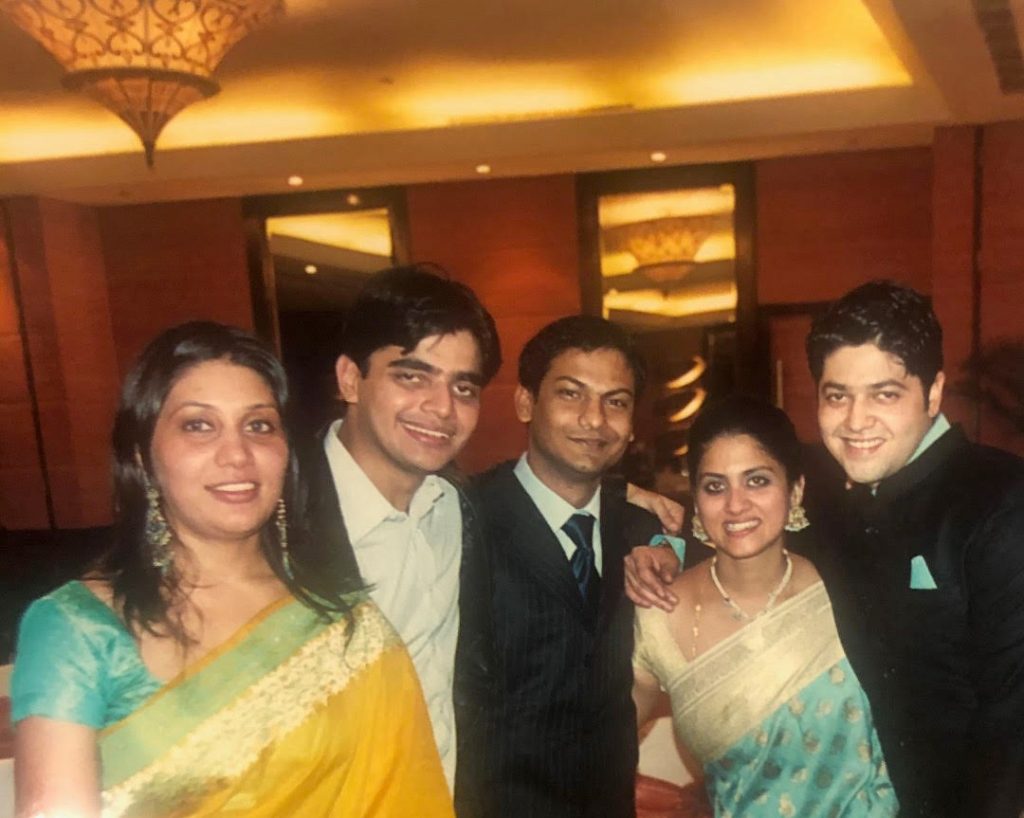 Paroma Dutt: Ajoy was truly A Joy. A joy to be around, A joy to love and A joy to have in your life.
He was my best friend and was instrumental in getting Kush and me together. He was my fellow Bengali in Delhi and Mumbai and we would meet every week. I remember how we would speak in our mother tongue and enjoy Alu Posto, Pui Saag and Kosha Mangsho with childlike excitement. I will always always miss and forever cherish our time together and am eternally grateful for his friendship. He lives on in my heart and I hope I can live like him, with passion and generosity, without judgement or prejudice.
Kush Mehra: He was a very helpful, kind and generous person, and someone we could always count on, the kind who is just a phone call away. He was one of those constants in our lives, like family. He was an extremely courageous and fearless guy – To use a cricketing term, he would be the one always batting on the front foot. He was full of dreams and aspirations and always had a big picture view. For him, everything had to be grand.
His loss was a very untimely one during the second wave of the pandemic. In fact, he was days away from getting married when he lost the battle to COVID.
What inspired you to set up this scholarship?
Ajoy himself came from a humble background and had lost his father at a young age (his father too was around 40 years old at the time of passing). He had a lot of struggles but he made it on his own to NLS, with no sponsorship or godfather to help him.
He was an extremely spirited guy. I hadn't seen someone so positive and forthcoming and confident, wanting to make it big, and to live a good life. He went on to work in some really good law firms before setting up his own firm. He had all the zeal despite his humble strappings and made it big on his own terms. So, I really feel a lot of upcoming bright students can model themselves after him.
We want to support students like Ajoy, who come from humble backgrounds and have stars in their eyes, and want to do something big – and what better way than to associate Ajoy's name with such students. Hence, we were keen on setting up this scholarship in his name.
At the end of the day, it is about Ajoy and his story.
Remembering Ajoy:
Recalling her time with her dear friend, Paroma Dutt has penned a poem in memory of Ajoy Halder:
"A bright smile on a shy boy,
Many called him Holdy, but i said Ajoy…
He walked by my side and played his part,
Of a true friend , till the end & from the start.
He was generous, stubborn and proud,
You could spot him in a crowd,
Once u got to know him ,there was no turning back,
For always he held your heart and had your back
He was a person and a feeling,
He was a dreamer and he was charming,
He was ambitious & restless,
Often he was nothing more than a romantic mess
He worked hard and yet could be lazy as hell,
Ajoy's anger on his face you could read and tell,
He and I shared, laughs & secrets…a lot,
And amazingly we never ever fought."
The University mourns the loss of Ajoy Halder who is fondly remembered by his batchmates and the larger alumni community for his enthusiasm and generosity. We expresses our heartfelt condolences and support to all those affected by the loss of a beloved member of the NLSIU Community.