NLSIU Announces Col. Prakash Manik Bhat Memorial Scholarship 
November 12, 2021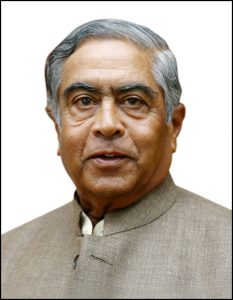 NLSIU announces the Col. Prakash Manik Bhat Memorial Scholarship, instituted with the support of Aditya Vikram Bhat, NLS 'LLB 2003, in memory of his father Col. Prakash Manik Bhat who passed on earlier this year. Aditya Bhat is Senior Partner at AZB & Partners.
The scholarship will fully support one student enrolled in the B.A., LL.B. (Hons.) Programme of NLSIU for the duration of five academic years, commencing Academic year 2021-2022. The Scholarship will include tuition fee, facilities fee, hostel & mess fee as well as a stipend to the beneficiary.
Sharing the reasons behind instituting this scholarship, Aditya said: "Everyone who graduated from law school has (or ought to have) the instinct and moral obligation to give back to the University and its current constituents. Some of us have been fortunate enough to do it in various ways and means including scholarship, sponsorship for moots and legal services clinics, etc.
When my father passed in 2021, I thought that instead of continuing on an ad-hoc basis, it was time to make a serious offer to enable the university to absorb a student who couldn't afford an education. I wanted to help enable students to be confident so that they need to only focus on the academic and campus life and not worry about where the next fee instalment would be coming from. I wanted to do it in my father's name so that any good will and blessings that accrue, would accrue to his memory and consciousness. This was the endeavour. It is my intention that this scholarship continue in perpetuity. My father was a decorated Army officer who spent nearly his entire adult life in the service of the country. Even after his retirement he continued to serve and touch the lives of the people that he served with. On the personal front, he was my first teacher. Among other things, he was single handedly responsible for my reading habits. He handed me a copy of RL Stevenson's Treasure Island for my 5th birthday. I vividly remember the moment he handed the book to me. I asked if I was too young to understand it. He replied saying that he was there to explain the meanings of words I didn't know. His consciousness will similarly continue to guide me and the recipients of the scholarship. "
Setting up a scholarship in collaboration with the University is a dream Aditya has nurtured for several years now. It is also not the first time that Aditya has contributed to the University with regard to financial aid. In the past, he has generously contributed to such initiatives including support for faculty expenses for an elective course during AY 2019-20, and sponsoring a BA LLB (Hons) student during AY 2020-21.