NLSIU Signs MoU with Meghalaya Government to offer Fellowships for Legal and Policy Research
April 5, 2022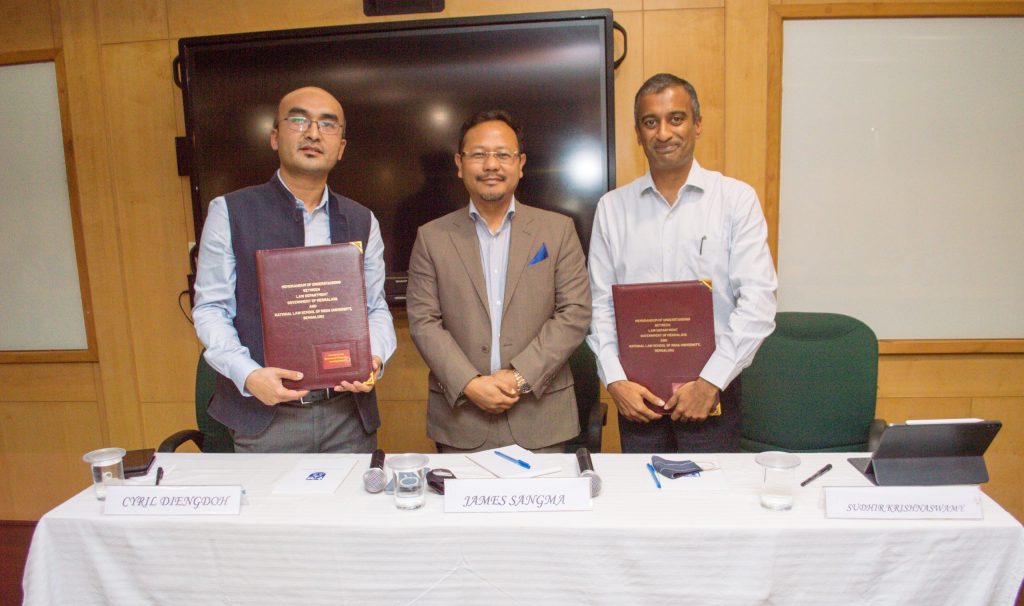 The National Law School of India University signed an MoU with the Government of Meghalaya on Monday, to jointly offer Fellowships for Legal and Policy Research. The one-year fellowship will allow NLSIU graduates to work in the Meghalaya Government and gain experience on the current challenges of law and policy. The MoU will also facilitate capacity building exercises and training for Meghalaya Government officials by NLSIU.
The MoU was signed by Shri. Cyril V Diengdoh, Secretary of Law Department, Government of Meghalaya, and NLSIU Vice-Chancellor Dr. Sudhir Krishnaswamy at the NLSIU campus. The event was attended by Minister of Home and Law,  Government of Meghalaya, Shri. James P K Sangma, NLSIU Registrar Dr Nigam Nuggehalli, Course Director, Institute of Public Policy, Dr Sony Pellissery, NLSIU faculty members Prof Srijoni Sen and Prof Babu Mathew, and Consultant, Meghalaya Government, Anirban Paul (NLS 2021).
The MoU covers two key aspects:
1. The P.A. Sangma Fellowship for Legal and Policy Research
Named after the former chief minister of Meghalaya and speaker of Lok Sabha, Shri. Purno A. Sangma, this Fellowship will allow NLSIU graduates to undertake research activities in Meghalaya. The Fellowship will be open to graduates from the B.A.LL.B (Hons.), LLM, and Masters in Public Policy programmes of NLSIU. The duration of the fellowship is one year with a monthly stipend. A Fellowship Certificate will be awarded on successful completion of Fellowship.
Minister Sangma said that this will be a great learning experience for the qualifying candidates as the transition from the classroom environment to the ground realities of law and policy in implementation, would prove invaluable. "They will see the challenges that our State faces everyday and work on solutions toward the same. Tomorrow, once they climb the ladder in their respective careers, the practical orientation they receive along with the insider view of governance they experience will hold them in good stead while working towards achieving social goals," he said.
Further updates about the fellowship will be announced on our website. 
2. Capacity building in the Meghalaya Government
As part of this MoU, NLS faculty members will provide Capacity Building programs for Law Officers of Law and other departments of the State Government on various aspects of governance such as regulatory drafting, awarding of contracts, etc. The first training session will involve training on regulatory drafting.
Mr. Sangma emphasised on the need for capacity building from time to time. With a highly advancing technological era, changing regulatory atmosphere, and changing needs of people, he said that even policies and legal frameworks have to evolve with and within such an environment. He expressed that this is where the MoU will help the officers of the Meghalaya Government.
"Being a relatively new state which turned 50 this year, a lot of catching up needs to be done, many new areas to be looked into, and many older areas have to be reassessed and evaluated. We are sure that NLS will be able to provide us the training we need to fill in those gaps.  It is a privilege to have signed the MoU with NLS because it will bring great benefits to our officers," he said.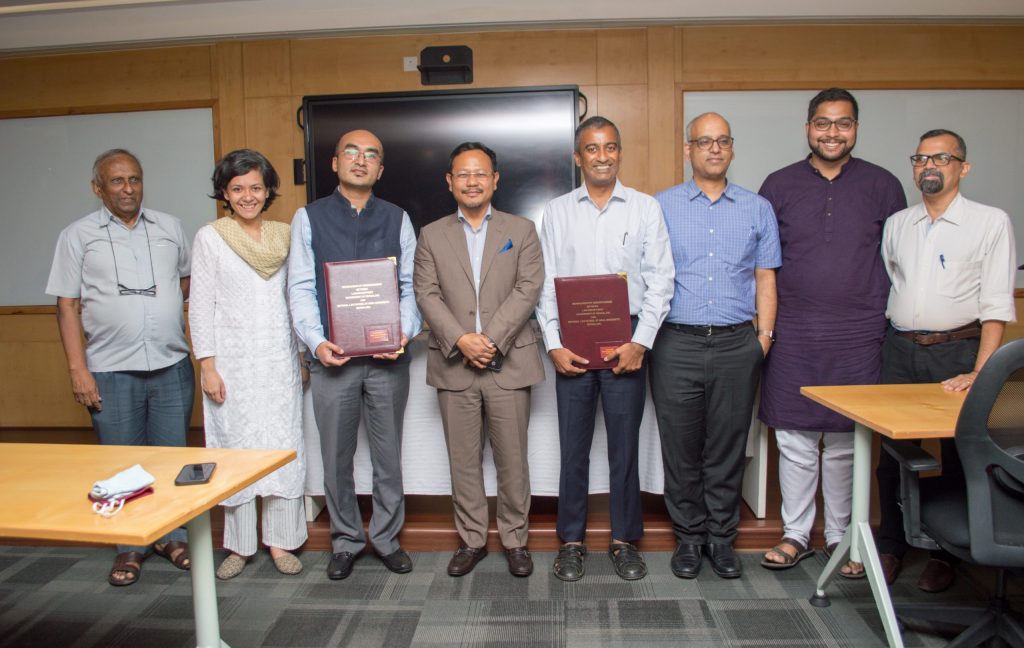 "Excited to partner with the Meghalaya Government":
NLSIU Vice-Chancellor Dr. Sudhir Krishnaswamy said that the fellowship will benefit graduates of the University, including the graduating batch of 2022 who will be eligible to apply for the fellowship. "It is not often that Universities look to engage in a geographically diverse manner.  Over three decades, NLSIU has engaged with Governments across Centres and States to contribute to law and public policy reform. The University is excited to partner with the Meghalaya Government as it celebrates 50 years of its statehood, and its exciting new plans for the redevelopment of the State. The MoU signed today institutes the PA Sangma Fellowship, and capacity building in the Meghalaya Government. This is the first concrete step and we look forward to intensifying this collaboration in the years ahead," he said.
The Vice Chancellor also thanked MPP Professors Sony Pellissery and Srijoni Sen for their active efforts toward formalising the MoU. "Fellowships play a big role in nurturing and mentoring young graduates. This fellowship will benefit young graduates who are keen to gain work experience, and provide exposure into the world of governance with mentoring by the administration of Meghalaya," said Prof Pellissery.
Applications are open for the programme till May 10, 2022. For more details, click here.