November 2021 Term | Back To Campus!
November 16, 2021
From quiet classrooms, deserted corridors, empty basketball courts and football grounds that had become the norm for over a year, the NLSIU campus has donned a different look this term.
With students pouring back to the campus and the faculty returning in full strength, the air is abuzz with activity – conversations and debates can be heard through the classroom windows, noisy chatter fills the corridors, and a ball can finally be seen on the courts. Even the dogs on campus seem happier now that they have their favourite humans around to get an unregulated supply of food.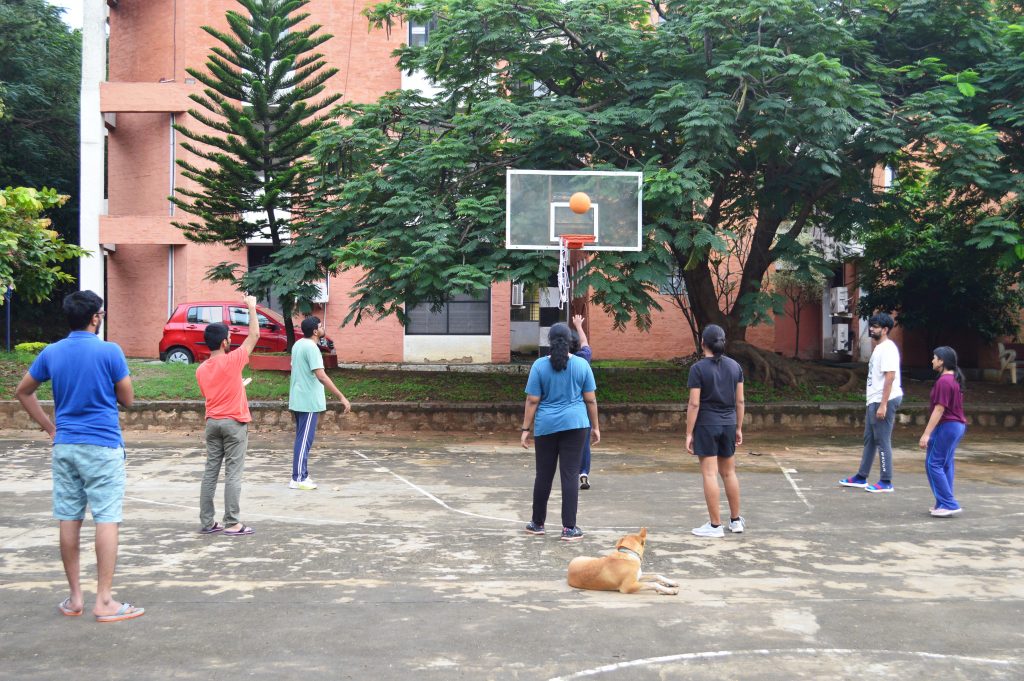 This month, the campus is brimming with the enthusiasm of 660 students enrolled in the various on-campus programmes of the University.
Shreyas Sinha, who completed the first year of his BA LLB (Hons) programme online, and is now on campus for his second year, said, "Coming to campus has been a thrilling experience so far. It finally feels that I am getting the best of NLS (and not just the academic rigour!). There was definitely a certain distance during the online classes and I am glad that now that we're all on campus, things are a lot better. The vibe of the campus, the faculty, and my friends are phenomenal!"
This term  marks the opening of the new academic block, which was renovated earlier this year, complete with upgraded classrooms, seven in total, with a total capacity of 90 students. The University has also made several improvements to its student-facilities considering hygiene and COVID-safety requirements. Hostel rooms have also been redesigned with larger windows for improved air circulation and light penetration. Meanwhile, the gym has been shifted to a 1,575-sq feet open venue, where only 20 members are allowed at a time.  The campus also has set-up a new cafe that is open from 7 am to 10pm, and offers food at subsidized prices. Read more about what's new on campus this term here.
Sharing her back-to-campus experience, LL.M. student Taniya Razak, said, "Initially, online classes felt a bit isolated. The readings were sort of intimidating. But now, the feeling of finally being on campus is delightful. The academic atmosphere of the University is best felt inside the halls of residence. I was excited to meet my peers, and interactions with them have been rewarding. This forms an important part of my experience at NLS. Library hours and offline classes after months, almost a year, have been refreshing."
It is not just students who are excited to switch from online to offline mode. Assistant Professor, Srijoni Sen, said: "The passion of classroom debates was terribly missed in online classes. Now that students are back on campus, they are engaging in lively dialogue in class, which makes it interesting for everyone."
Echoing similar sentiments, Associate Professor of Law, Dr Aparna Chandra said: "The energy and spontaneity of a physical classroom experience cannot be substituted for during online classes.  To have those back and forth interactions and pause to see the reactions of each other is any day preferred over an online session where some videos may not even be turned on!"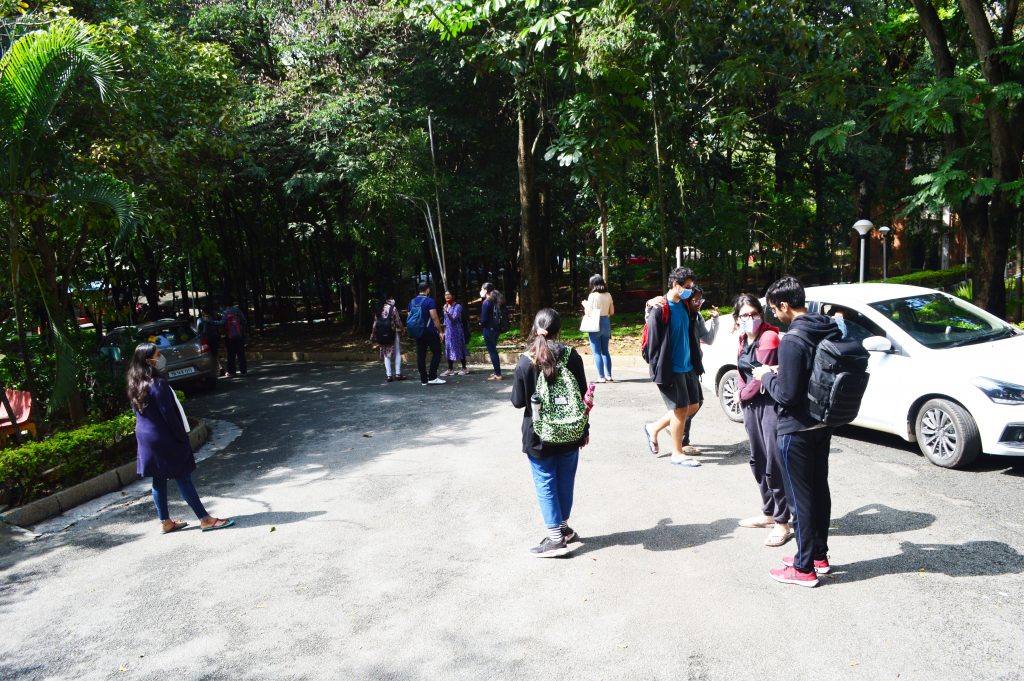 Maintaining Health & Safety on Campus
The University has enforced COVID safety measures on campus to not only prevent the spread of the virus, but also to provide the best care in case of detection of any COVID positive cases. This includes fumigation and sanitisation on campus and medical arrangements to attend to all student concerns. The gym has also been shifted to an open venue with COVID-related restrictions in mind.
The University is continuing COVID testing on campus to ensure health and safety of the NLS Community. Nearly 100 students have been tested on campus so far and the University will continue to conduct RT-PCR tests for the remaining students over the coming weeks. The University, in coordination with the BBMP, is also conducting vaccination camps for all students in keeping with the COVID protocols.
Meanwhile, the Health Centre has made all necessary arrangements for isolation and treatment in case of detection of any COVID symptoms in the student community. The University has also arranged for Doctor visits four times a week to attend to medical concerns in the NLS Community. Medicines have also been made available free of cost at the Health Centre.