Phase I of the Karnataka Women Police Project Complete
January 20, 2023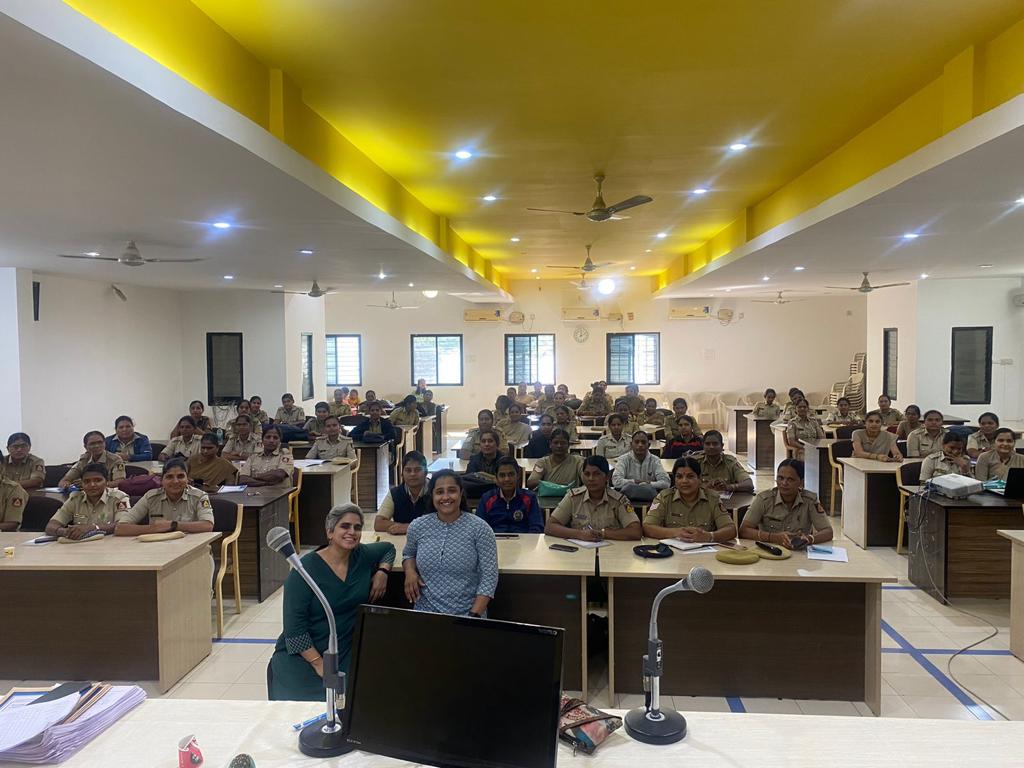 The Project for Benchmarking and Strengthening the Role of Women in Karnataka Police at NLSIU has completed Phase 1 of its research, and has begun a number of initiatives under the second phase of this study. 
The Project was undertaken in 2022 to conduct an independent assessment of the status, role and challenges facing police women at different levels within the state police. 
Over the course of this fieldwork, the project team has interacted with nearly 250 police personnel, male and female, across 7 districts. This includes one-on-one interviews with around 50 officers (Sub-Inspectors, Inspectors, Superintendents of Police, Additional Superintendents of Police and Additional Director General of Police) and focus group discussions with around 200 women Constables and Head Constables. 
Background
The project involves two phases. While Phase 1 involves a district and police station-wise assessment of women's representation at different ranks across the state, Phase 2 involves the ground assessment of challenges faced by policewomen in Karnataka.
The pilot of this fieldwork was carried out in Bengaluru Urban and Rural districts. The research covered women's police stations in Basavanagudi, Banashankari Traffic Station, Cubbon Park Police Station, Nelamangala Town and Rural Police Station, and included interactions with around 40 police personnel. Further research was conducted on a broader scale, covering stations in the rest of Karnataka. Following the pilot, the project covered multiple districts across Karnataka, such as Bangalore Urban and Rural, Mysore, Mandya, Chikkaballapura, Udupi, Kalaburagi, Raichur, and Kodagu.
Phase 1
During Phase 1, the team conducted several field-based interactions with police forces, interviewing officers in each district and conducting group discussions with the female staff in a particular district. Typically, the project covered at least two police stations in each sub-division, including interviews with the officers in the police station and interactions with at least one woman constable and/or head constable from every police station in the district. In other words, the project covered roughly 50 police personnel in each district. 
Throughout the project, police stations were chosen on the basis of the number of women staff and officers and in some cases as specifically recommended by the superintendent of police. The interactions with personnel also involve completing a survey questionnaire which has been filled out by approximately 250 police personnel (officers and staff) till date. This also includes approximately 27 women officers and approximately 170 women staff.
Interviews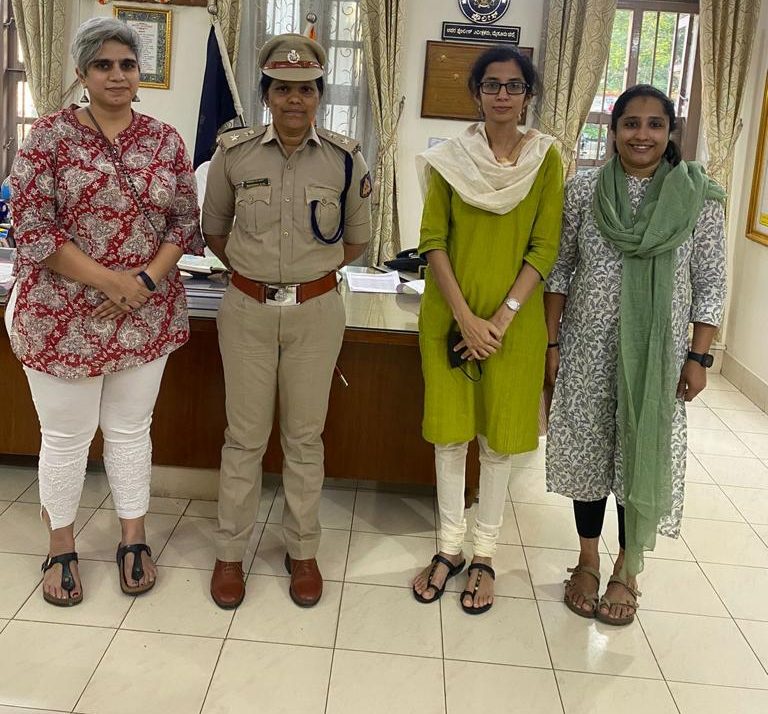 In January 2023, the researchers conducted an interview with Ms Dharani Devi, Superintendent of Police, Kolar Gold Fields district. She is among four women SPs in charge of districts in Karnataka at present, others being Ms Isha Pant (Kalaburagi district), Ms Seema Latkar (Mysore district) and Ms Uma Prashanth (Chikkamagaluru district).
The team has had the opportunity to interact with each of them, document their experiences as policewomen, and learn about initiatives they've undertaken to support and encourage women personnel in service. They discussed the SPs' views on the project, empowerment of women in the department and initiatives that may be undertaken to increase the number of women in the department in line with the latest reservation scheme of 25% employment for women.
The project is now in its last leg of research, and has already released an explainer note covering the legal provisions which mandatorily require the presence and involvement of women police personnel; hard copies have been distributed across the covered districts. A report with the findings along with targeted recommendations on actionable measures for strengthening the role of women in policing will be submitted to the Karnataka State Police by May 2023.