Strengthening Partnerships | JSW School of Law Team Visits NLSIU
May 19, 2023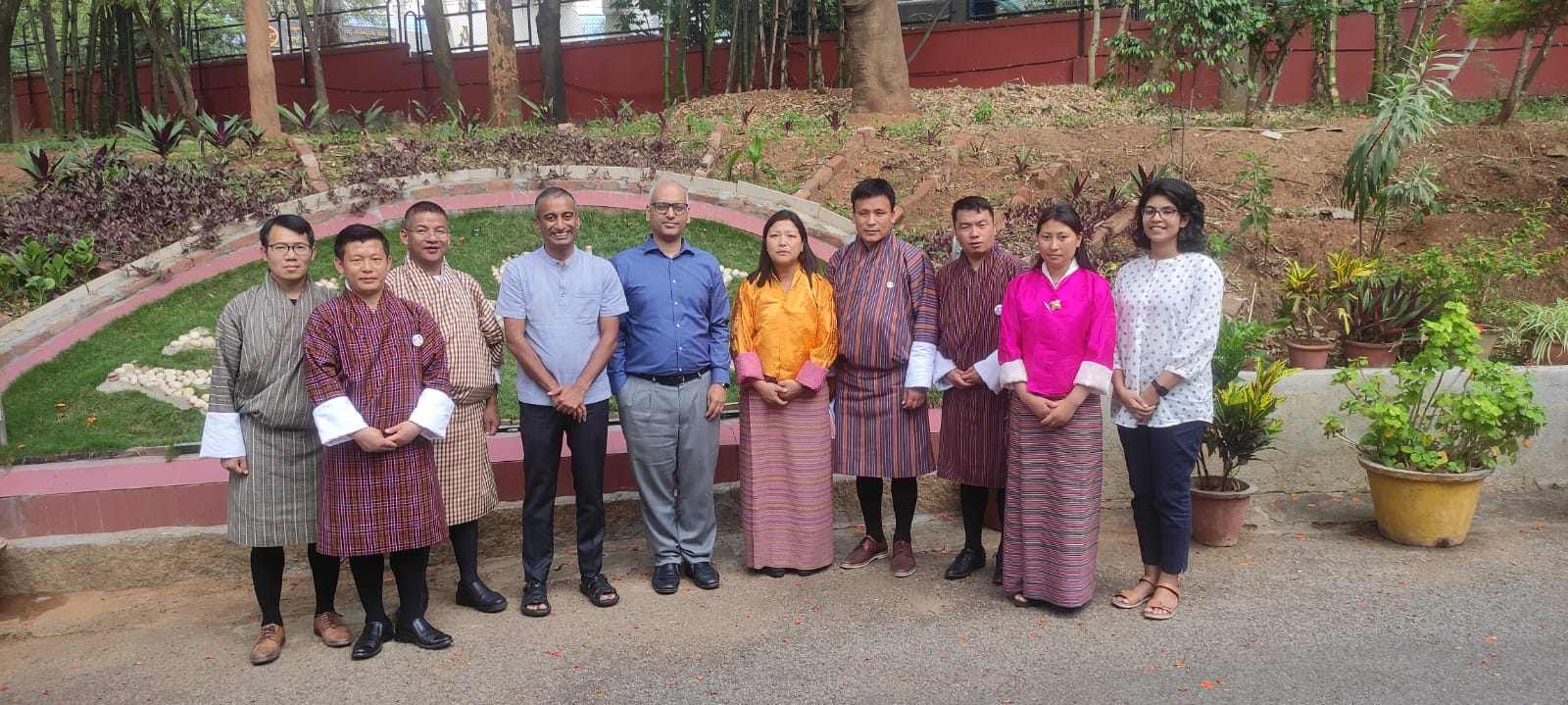 On May 16 & 17, NLSIU was delighted to host faculty and administrators of the Jigme Singye Wangchuck (JSW) School of Law, Bhutan. Earlier this year, NLSIU extended its partnership with the JSW School of Law which was initiated in 2019. This partnership was established with an intent to facilitate knowledge exchange between the two universities.
A seven member delegation from the JSW law school visited the NLSIU campus which included:
Prof. Sonam Tshering, Focal Officer for the MoU & JSW Summer School Team Member, and Assistant Dean, JSW Law Research Center
Prof. Dema Lham, Associate Dean for Academic Affairs & Summer School Team  Member
Prof. Nima Dorji, Assistant Professor & Summer School Team Member
Mr. Tenzin Wangchuk (PhD), Registrar (Head of Administration and Finance)
Mr. Geden, Programme/ Planning Officer, Office of the Registrar
Mr. Sonam Jamtsho, Junior Human Resource Officer
Ms. Dechen Wangmo, Junior Finance Officer
During their visit, the team met with various academic and administrative members and students at NLSIU. This included a meeting with the Vice Chancellor and Registrar to discuss the next steps with regard to the partnership, interactions with the Environmental Law and Constitutional Law faculty clusters, and a meeting with the Dean of Research to discuss the research processes at NLSIU. The team then met with the Director – Clinics regarding the electives offered at NLS and attended an elective class on campus. They were also introduced to the department of Professional and Continuing Education (PACE) which offers NLSIU's online and hybrid programmes.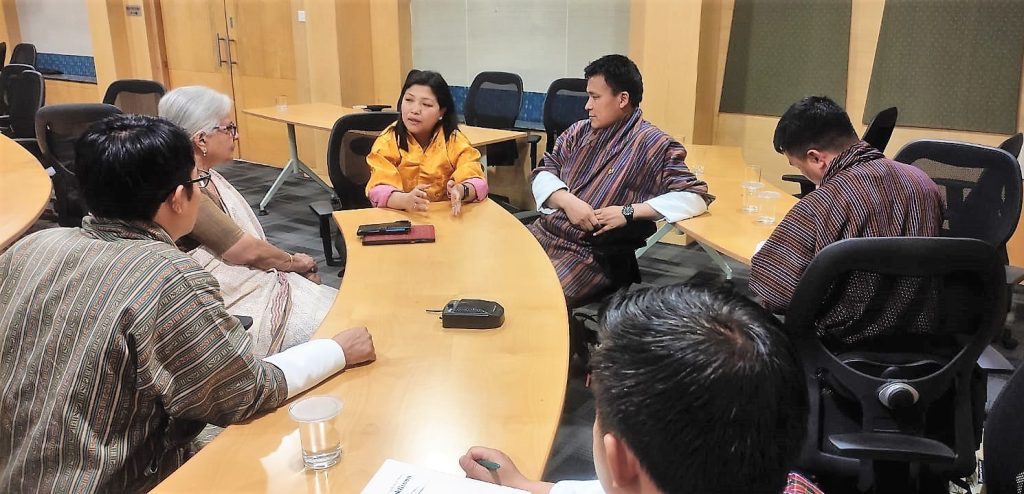 The team was taken on a campus tour during which they were briefed about the University's Master Plan and the ongoing infrastructural upgrades on campus. The team also interacted with NLS students and discussed the JSW's Summer School Program, being held from June 26 – July 10, 2023. The summer school program is a collaboration between JSW, NLSIU, and NUS, Singapore. The team later attended a faculty seminar delivered by Dr. Arul George Scaria and concluded their visit with a faculty dinner.
JSW's Registrar Mr. Tenzin Wangchuk said: "It has been a very useful and experiential visit particularly because our school in  Bhutan is quite young while NLS has around 35 years of experience. So, we are on a learning mission to look at how academic and research activities are conducted, and also get an idea of the campus setting. We had an opportunity to attend classes, and were very impressed about how the classes are so collaborative and interactive. We look forward to a lot of actionable activities as part of the MoU in the months ahead, starting with the faculty and student exchange."
For Prof. Dema Lham, it was her third visit to Bengaluru city. Reflecting on the two days spent at our campus, she said: "JSW School of Law is delighted and very excited to have this partnership that we established through an MoU in 2019. Many things couldn't happen at the time due to COVID but now, we are very excited to carry forward the discussion we've had with NLSIU during these two days and also further strengthen the relationship. We are looking forward to doing many things together."
Following the team's meeting with NLSIU's Vice Chancellor and Registrar, Prof. Lham said that the two schools would be keen to collaborate on faculty and student exchanges, research, conferences and other areas that can be explored in the future. "Both sides seem very interested, so that has inspired us to carry forward this relationship and work as quickly as possible to kickstart these collaborations. JSW is very new, so coming here has benefited us in terms of gathering a lot of information, learning about the best practices that NLSIU follows, and also dealing with any challenges when it comes to starting a new initiative/programme at a law school. The team is very grateful for all the meetings, and information shared by various members at the law school," she said.
Heritage Walk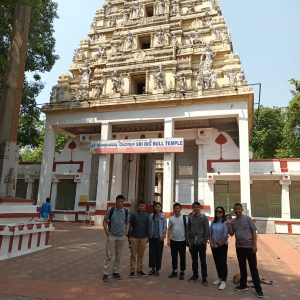 On May 18, NLSIU organised a heritage walk for the delegation with the support of Bengaluru By Foot at Basavanagudi – an area associated closely with South Indian culture, arts, food and music. The guests were given a "Darshan" of some of the better known temples and monuments associated with its founder Kempe Gowda, and the Bull temple, among other stops in the city. The walk ended with a traditional banana leaf meal.
Prof. Lham said: "I look forward to seeing the ISKCON temple which I have always wanted to visit. We hope to take it slow, explore the city, and get to know Bengaluru better. But I'm sure we'll have many opportunities to come back and do many things in the future here," she added.
Strengthening engagements in South Asia
NLSIU has previously hosted delegates from South Asian nations including Bhutan, Nepal, Bangladesh, Maldives, Sri Lanka, and Myanmar. Students from Bhutan have also enrolled into NLSIU's programmes in the past. Our alumni from Bhutan include Ms. Sonam Deki Retty (NLS BA LLB 2014), Senior Attorney, On deputation to his Majesty's Secretariat from the Office of the Attorney General; Ms. Jangchub Choden Gyamtsho (NLS BA LLB 2021), Attorney, Office of the Attorney General; Ugyen Tshering (NLS BA LLB 2002), Member of Parliament at National Council of Bhutan, and Ugyen Dorji (NLS BA LLB 2002), who was previously an advocate at UD and Partners.
With such partnerships, we hope to welcome more students and faculty from Bhutan, and foster a culture of collaboration and the productive exchange of ideas among institutions across different geographies.
NLSIU's Visit to JSW School of Law, Bhutan 
In February 2023, a team from NLSIU comprising Vice-Chancellor Prof. Sudhir Krishnaswamy, and faculty members Ms. Preeti Pratishruti Dash and Mr. Harsha N, had visited the JSW School of Law's campus in Paro, Bhutan, which marked a renewed partnership between the two universities. Read more about that visit here.
Gallery