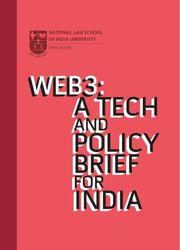 Title: Web3: A Tech and Policy Brief for India
Published on: December 15, 2022
This policy brief is authored by Srijoni Sen and Srija Gadamsetti.
Abstract: During the second week of November 2022, many tech enthusiasts found themselves bewildered at the rapidly unfolding events surrounding cryptocurrency exchange FTX and its now infamous founder, Sam Bankman-Fried. There are multiple reports of poor oversight of the company, improper usage of customer funds for a sister trading firm, ill-advised investments and exploitation of regulatory gaps. Whatever the effect of this public collapse of a leading player on the crypto industry might be, it has definitely captured the attention of the world and turned the spotlight towards the wider ambit of Web3. FTX declared bankruptcy on November 11, leaving many of its investors devasted over the possible evaporation of their funds. Hence, this episode certainly shatters the idea that the developments in the Web3 operate in a separate technological plane and do not affect regular consumers and the 'real' economy. This downfall emphasises the need to understand Web3 technologies and the implications of the changes ushered in by their arrival.
Although the set of technologies together known as Web3 has seen a lot of attention in media and policy making circles in the last few years, the terms used and approaches adopted have varied widely. India has been characterised as the third largest market for Web3 in the world with over 450 Web3 related start-ups; regulatory activity has also been high, with the Reserve Bank of India making progress on launching the Centralised Digital Bank Currency (CBDC) and the Finance Bill, 2022 proposing a tax on the transfer of Virtual Digital Assets (VDAs), that include the growing Non-Fungible Tokens (NFTs), crypto-assets and other digital assets.
Discussions on law and policy in this space have been broadly ushered together under the umbrella scope of tech without acknowledging the nuance and differences of the underlying technologies that together form the Web3. This primer is an attempt to connect technology and policy developments in the Web3 space for India.
It, first, gives a brief overview of Web3 and its components. Then, it looks at defining some key examples of technologies in the paradigm. Finally, we will look at some of the key policy questions facing Indian regulators with respect to Web3.