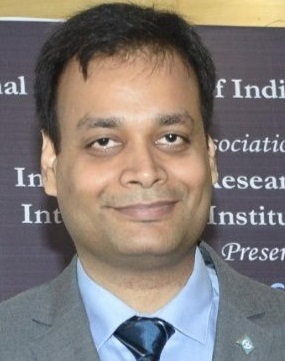 Kumar Abhijeet
Visiting Faculty
Teaching
Academic Programmes
5-Year B.A., LL.B. (Hons.)
Courses
Education
Master of Laws degree (2011) from National Law School of India University (NLSIU), Bangalore.
Post Graduate Diploma in International Trade Law from Indian Law Institute, Delhi
Bachelor of Laws degree (2009) from Faculty of Law, University of Delhi
Bachelor of Science degree (2003) from Kirori Mal College, University of Delhi
Areas of Teaching
Jurisprudence, Environmental Law, Alternate Dispute Resolution, Human Rights, Aviation  and Space Law, impact of science and technology on society, International Law.
Accomplishments
Linnaeus-Palme fellow to Royal Institute of Technology, Stockholm (Sweden)
Erasmus Mundus fellow to Department of Public International Law, Gent University, Belgium.
Research Scholar at the Institute of Air and Space Law, University of Cologne, Germany.
Visited Hague Academy of International Law, Netherlands to participate in the programme '50 Years of Space Law'.
An alumnus of IVLP – A U.S. Government premier professional exchange program for emerging international opinion leaders. Under the auspices of IVLP he was invited to visit many of the top US governmental and non-governmental space organizations including NASA.

Member of the International Institute of Space Law (IISL), Paris and International Law Association (India Branch).
Publications
Published articles in journals of national and international repute including German Journal of Air and Space Law – one of the world's oldest journals (started 1929), published quarterly in three languages.
Co-edited books with Prof. (Dr.) R. Venkata Rao, Vice-Chancellor, NLSIU. The latest one titled "Recent Developments in Space Law – Opportunities and Challenges" has been published by Springer.
Presented paper for three consecutive times in the prestigious International Astronautical Congress (2015 Jerusalem, Israel; 2016 Guadalajara, Mexico; 2017 Adelaide, Australia) – the world's largest convention of global space agencies and space industry. His presented paper has been published in the IISL Annual Proceedings.