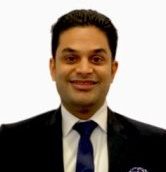 Shivam Singh
Visiting Faculty
and
Visiting Faculty, Columbia University, New York, USA
Counsel, Supreme Court and High Courts of India Company | Chamber 20A
Teaching
Academic Programmes
5-Year B.A., LL.B. (Hons.)
Courses
Jul 2020
Seminar Courses:
Sports Law
Education
B.A., LL.B. (Hons.), National Law School of India University, 2005-2010.
LL.M. Columbia Law School, 2012-2013
Research Fellowship, Sports Law, Harvard Law School, Sports Law Clinic
His Work
Appointed as an Amicus Curiae by the Supreme Court of India in 2016 for a murder appeal.
Prosecuted a gang-rape and murder appeal at SC wherein the HC had quashed criminal proceedings against the accused.
Defense counsel in one of India's most complex criminal trials (Coal Scam Trial).
Represented an education sector regulator in multiple disputes at the Supreme Court, Delhi HC and Patna HC.
Appeared before the DHC in a PIL that led to inclusion of "Mandatory Sports Arbitration Clauses" in National Sports Federations' rules
Pupil counsel at the office of the Advocate General, Government of Bihar at the Patna HC for 2 years.