Alumni Feature | Sanjukta Sikdar: A Law Student Turned Chef-Entrepreneur
December 4, 2021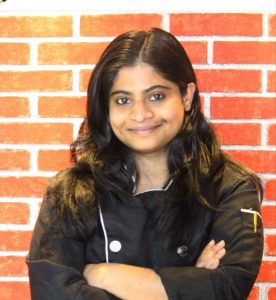 A bitter argument with her parents may have landed her at the gates of NLSIU, but the time she spent here put her in the driver's seat of a career ride that realised her lifelong dream. Sanjukta Sikdar, NLS 'LLB 2016, never wanted to pursue law. So when she decided to get a degree in law, she thought she was only fulfilling her parents' wish. Little did she know that the five years she was due to spend here were going to prepare her for a very different journey.
Today, the alumna is a chef-entrepreneur with over half-a-decade's worth of experience in F&B. She started her venture 'The Circle Dream,' as a cloud kitchen during the peak of the pandemic. Within a year, it garnered high ratings on the food delivery platforms Swiggy and Zomato. The brand now has a dine-in space in Koramangala, Bengaluru, and serves some of the best pizzas in town along with other Italian delicacies. In this interview, she shares more about her journey.
What brought you to NLSIU?
Like it was in those days, I had written entrance exams and applied for various courses. I'd written AIEEE, CLAT and even applied for a psychology course abroad. But my heart was always set on being a chef.
My parents were rather traditional in their approach toward my academics. So we made a deal! I promised to get a degree first, and then I'd be free to explore my passion. So, when the CLAT results were announced, my father was the most excited. And as per the deal, I came to Bengaluru and started college.
How would you describe your time here?
Having had a relatively privileged upbringing in New Delhi, there are quite a few elements of society that one is ignorant of and blissfully so. Law school aided me towards lifting those blinders for all time to come, and grooming one for the world lying in wait outside of the four walls of your hostel room, or the sheltered roofs of the NLSIU library, or the oblivious contents of one's textbooks. Conversations with friends at terrace parties, mess table deliberations, writing research papers and projects, heated arguments at the Chetta in the middle of the night over black coffee or a cold Bournvita, or those few times when classes threw up notions worth pondering over for a period of time.
I cannot, in good conscience say, that I had ever excelled academically at NLSIU. I was a silent spectator almost always during my time at NLSIU. However, there are so many things that I delightfully look back on – things that I've gotten perspective on over the past few years since graduating – things I haven't had a chance to acknowledge to anyone, least of all to myself.
What was your key takeaway from NLSIU?
Learning skill-sets such as research, speaking eloquently and confidently, amassing knowledge not simply for the sake of it, but in order to derive one's own opinions and communicating them confidently; understanding how people belonging to different demographics and separate strata of society may think and feel. All of these are learnings have propelled me to do better in my career, and be in a position to try harder with my business than I'd have been able to without these skills.
Any words of advice for budding entrepreneurs?
Among an ocean of myths I'd like to break that parlay into the business world, there's one that has stayed with me the longest – 'You will inevitably fail at times, or make mistakes that were unprecedented. The idea is one must expect these setbacks and learn to accept them for what they are. Planning and looking for solutions is a great concept, albeit not always the most fruitful approach. There will always be a few things beyond your reach no matter how many things you do right.'
My take on this piece of wisdom is that it is one thing to expect these follies or misfortunes and a whole other ball game to experience and live through them, while learning to maintain your calm and cool. This is probably the hardest thing to imbibe into one's personality, especially when you feel as though you're being thrashed from left, right & centre for a period of time. Always try and remember, that this may never change, not even once you think you've become successful. This exasperation may very well be here to stay, and we just need to make our peace with it in order to move on and do great things that we've ambitiously envisioned.
A committed founder and visionary, Sanjukta says that all her personal goals today are tied to her venture. The Circle Dream is set to launch two more outlets in Bengaluru next year. Parallelly, she is scaling the catering side of her business, and is working on launching on-site catering soon. The startup is currently in talks with several venture capital firms to raise their seed funding of $1 million.