NLSIU Team Declared Runner-Up At Cross Examination Moot 2021
December 6, 2021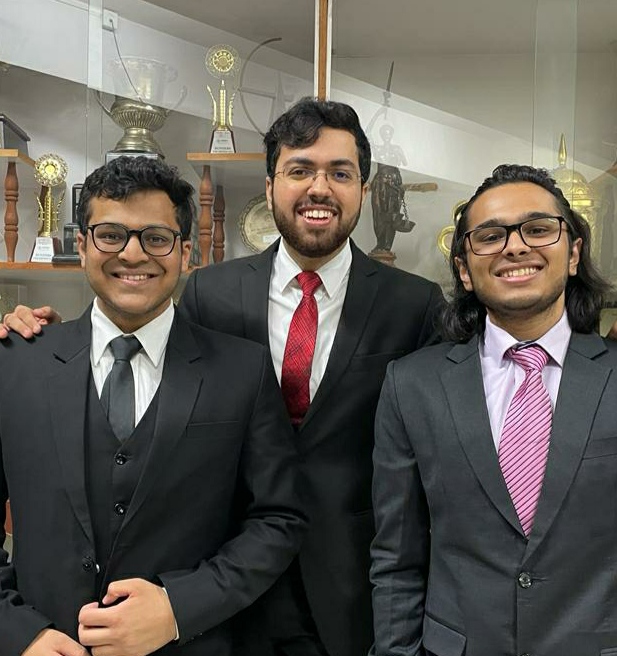 The three-member team representing NLSIU was declared as the Runner-up at the World Finals of the Cross Examination Moot 2021. The team members, Darsan Guruvayurappan, Devansh Kaushik, and Vasu Aggarwal, are currently in their fourth year of the BA LLB (Hons.) programme.
The Cross Examination Moot is an International Moot Court Competition with an exclusive focus on cross-examination techniques in international arbitration. The Moot is hosted by Sciences Po, Paris, France, and supported by the Permanent Court of Arbitration, Queen Mary University of London, New York University and the National University of Singapore. The moot hosted teams from across 22 nationalities.
The oral hearings, originally scheduled to take place in Paris, France, took place online due to COVID-19 constraints, between November 22 and 26, 2021.
The 2021 mock case was prepared by Members of the Permanent Court of Arbitration, and concerned a dispute over the construction of a renewable energy plant, involving issues like delays in the construction, scope of the works, and damages discussions related to the calculation of penalties, price adjustment, and discounted cash flow. Teams cross-examined the commercial managers that negotiated the contract, the chiefs of operations that supervised
and oversaw the works, and real-world economic experts on damages.
The team from NLSIU cleared four preliminary rounds to emerge as the only Indian team to break into the Quarter Finals. The team went against the team from Sciences PO, Paris in the Quarter Finals and Queen Mary University of London in the Semi-Finals to emerge as the Finalists, along with Yaroslav Mudryi National Law University, Ukraine.
The team members shared a few insights into the overall experience of the competition.
On the experience:
This was a very unique experience for us as we had never participated in a cross examination moot like this before. Despite not having formally studied cross examination yet, NLS equipped us with the skills required to learn it on our own. It was challenging to go against far more qualified international teams, some of which comprised practicing lawyers pursuing further studies. It was an amazing learning experience to compete before an international pool of judges, who were all accredited international arbitrators. Their feedback helped us grow and develop our skills throughout the competition. We hope future teams from NLS are able to participate physically, perform even better, and bring home the winner trophy going forward!
On how the 'Cross Examination Moot' compared to other moots:
This moot was markedly different from the kind of mooting we are accustomed too. It is very different to argue a well-researched and prepared legal argument, when compared to getting a favourable factual admission from a hostile witness through subtle questioning, and linking the same with our legal submissions. The moot even had an interesting inter-disciplinary twist, requiring us to delve into economic theory when cross examining a real-world quantum expert on assessment of damages. This required fine coordination among ourselves and required us to learn and adapt on the go. In hindsight, these 5 days were more like a unique crash course on cross examination in international arbitration.
Acknowledging those who helped the team at NLS:
Cross-examining actual quantum experts on their testimony was a thrilling experience. We are grateful to our professors at NLS such as Mr. Ganesh Chandru who taught us Alternative Dispute Resolution; Mr. Vikas Mahendra who laid a good foundation for Cross-examination in Arbitration through his seminar course, and Prof. T.S Somashekhar, our Professor for Economics, who advised us on the assessment of quantum of damages.