Alumnus Contributes to University Infrastructure Development
April 21, 2022
National Law School of India University is grateful to alumnus Mrinal Chandran (BA LLB 2000) for his contribution towards infrastructure development at the University.
On pledging the contribution, Mrinal said, "NLSIU has played a huge role in how my future turned out. I have always been appreciative of the frame of reference it gave me for my life and also for the incredible people I got to meet, many of whom I'm fortunate to have as friends. I felt keenly of wanting to contribute and give back in the hope that others have the benefit of a similar experience."
"I think of NLS as an institution on the move. It has an enormous role to play in the future of this nation. It has a leadership today that inspires great confidence and has the vision to orient the institution in the right direction. To be able to contribute and empower their efforts was my other keen motivator."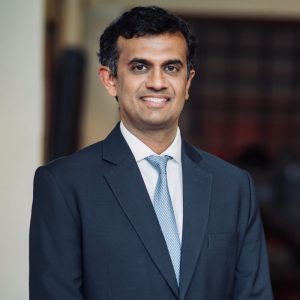 Mrinal's larger vision is of supporting underfunded causes at the University. "I can see that there are an array of things that the University would like to invest in, and there will be important capital allocation decisions that I'm sure the Vice-Chancellor and his team are considering as part of their vision for the institution. The task of institution building and implementing their vision is best left to them in my view. At this moment as an alum, I'd like to empower them with the autonomy and the resources to implement this vision," he said.
Mrinal's contribution, which will be disbursed over five years, will be utilised in the redevelopment of the pathway and exterior works at the canteen situated in the Old Academic Block.
The contribution comes close on the heels of Alumni Giving Month, a month-long systematic fundraising campaign run by the University.
On engaging with the team at NLSIU and ease of contributing, Mrinal expressed, "Kudos to the team at NLS that has designed this process to be so simple. It was seamless. I also appreciate the proactive outreach from them and their support in helping with the contribution. They outlined a plan that was easy to understand and which would allow me to commit funds in a way that would give the University the flexibility to plan for longer term and more capital intensive projects, which makes complete sense. I hope that in my small way I have facilitated that approach."
Mrinal is General Counsel at India Resurgence Fund – a joint venture between Bain Capital Credit and Piramal Enterprises, which invests in distressed and turnaround situations. Mrinal has nearly 2 decades of experience in deal analysis, structuring, deal execution, restructurings and workouts, insolvency, asset management and fund raising across private credit, debt acquisitions, private equity, PIPEs and buyouts.  Mrinal also participates in a number of industry forums and chambers of commerce on policy issues including emerging themes on ESG.  He was earlier part of the founding team and Managing Director at a high yield credit lender. Prior to that Mrinal was at Clearwater Capital Partners, an Asia focused distressed assets investment manager.
After completing his graduation at NLSIU, Mrinal went on to get his LL.M. in Banking and Financial Laws from Boston University School of Law, and is also an alum of the Harvard Business School.