Launching Alumni Giving Month 2022
January 29, 2022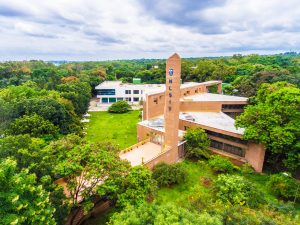 With the Inclusion and Expansion Plan 2021-25, NLSIU has expanded its student, staff and faculty numbers, added new academic programmes and commenced infrastructure projects to accommodate this expanded community.
As key stakeholders of this institution, alumni are critical to this new chapter in NLSIU's development. The pandemic has reduced the scope of in-person events as well as regular visits to the University campus. As a response, the University has ramped up its digital outreach and communications, through a revamped website, a new alumni portal and quarterly newsletters.
Alongside providing the alumni community updates on various initiatives at the University, Giving Month is another initiative to invite alumni support in jointly achieving the University's development goals. NLSIU has received financial support from foundations, corporates, individuals and the Government towards student financial aid, infrastructure development and research. Alumni, having benefited from this support and a transformative education at NLSIU, have generously reached out individually or in small groups to give back as a matter of routine. This is in addition to the University's COVID fundraise and the student financial aid drive for AY 2021-22.
Recognising this desire to give back, we envisage Giving Month as an annual event to facilitate contributions in a smooth and efficient manner towards identified priorities. This year, Giving Month will run through the month of February with each week focusing on a different avenue of growth for the University.
Each week of February will delve deeper on a separate focus track for the University's development. Click on the respective focus track to read more and make a contribution:
These projects are key to achieving NLSIU's ambitious growth plans and fortifying its position as the leading law school in the country. Alumni investment in a University's growth plans are a hallmark of leading mature universities globally, and we invite your support in this next phase of NLSIU's growth.
Payment gateways for each cause will be hosted on GiveIndia, a reputable Indian donation platform. The University will share information and updates throughout Giving Month on GiveIndia, NLSIU's alumni platform, University webpage, and our social media handles: Instagram, LinkedIn, Facebook and Twitter. Our overseas contributors should note that contributions through GiveIndia will receive 80G (India), 501 (c) (3) (US) and Gift Aid (UK) exemptions. The GiveIndia pages will remain live for making donations beyond Giving Month.
We are happy to discuss batch gifts, project-specific contributions or larger contributions (greater than Rs 15 lakhs) with appropriate donor acknowledgements. Please contact or to discuss this further.