Event: Artificial Intelligence and Human Rights | Building a Rights-Based Perspective
Where:
Bangalore International Centre
No. 7, 4th Main Road, Domlur II Stage, Bangalore
When:
Wednesday, November 30, 2022, 6:00 pm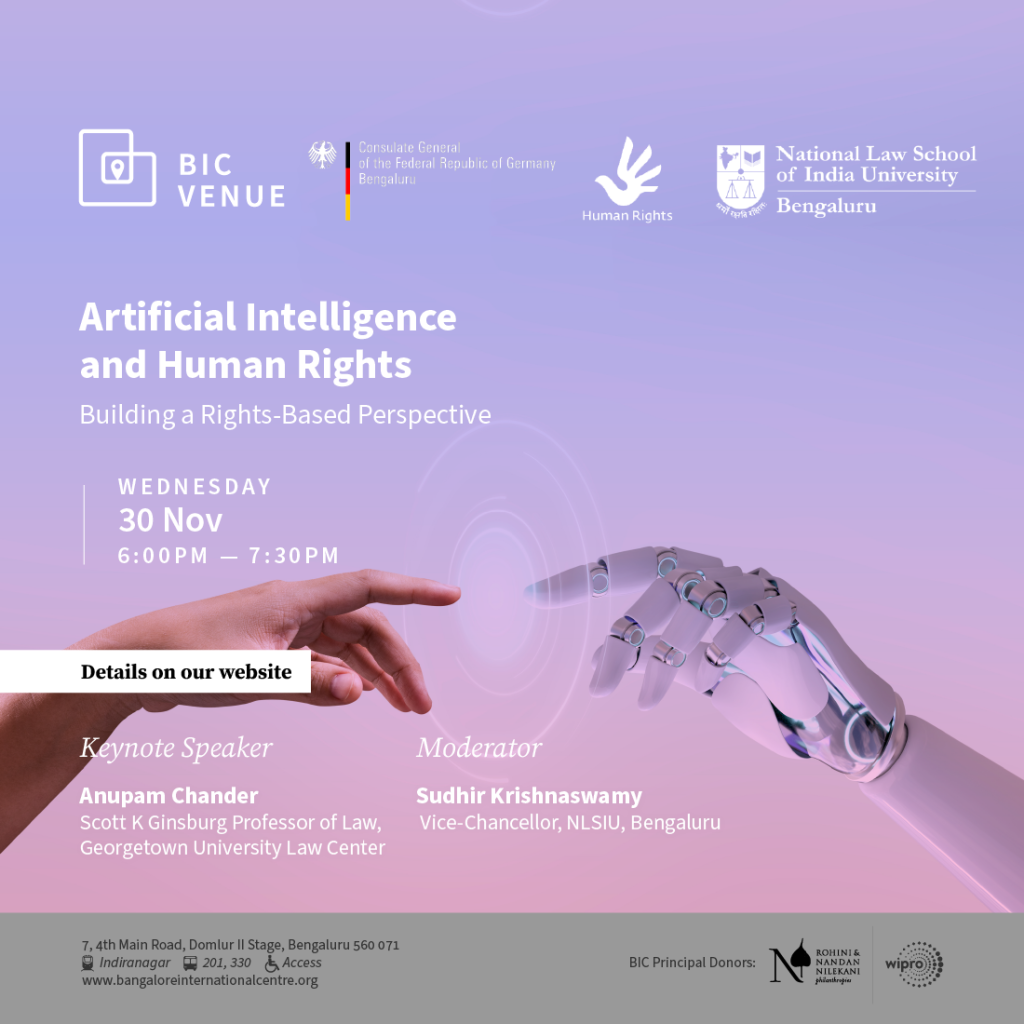 We invite you to a discussion on 'Artificial Intelligence and Human Rights' organised at the Bangalore International Centre on Wednesday, 30th November.  The event will be held from 6 pm to 7.30 pm.
The discussion is a part of a project at the National Law School of India University, supported by the Consulate General of the Federal Republic of Germany, Bengaluru. This project is an effort to bring together a multidisciplinary understanding of Artificial Intelligence's impact on human rights, and locate these conversations in local contexts and vocabularies. The event will include a Keynote Speech by Prof. Anupam Chander, Scott K. Ginsburg Professor of Law and Technology at Georgetown University Law Center, followed by a panel discussion moderated by NLSIU Vice-Chancellor, Prof. Sudhir Krishnaswamy.
How do I attend the event?
The event is open to the public. To attend this event, please RSVP here.
Panelists:
Prof. Anupam Chander
Scott K Ginsburg Professor of Law, Georgetown University Law Center

Anupam Chander is Scott K. Ginsburg Professor of Law and Technology at Georgetown University Law Center. The author of The Electronic Silk Road, he is an expert on the global regulation of new technologies. He has been a visiting law professor at Yale, the University of Chicago, Stanford, Cornell, and Tsinghua. He previously served as the Director of the California International Law Center and Martin Luther King, Jr. Professor of Law at UC Davis. He serves as an Adjunct Senior Research Scholar at Columbia University's School of International and Public Affairs, a faculty advisor to Georgetown's Institute for Technology Law and Policy, and a faculty affiliate of Yale's Information Society Project. He is the founder of the Georgetown Global TechNet Working Group.
A recipient of an Andrew Mellon grant on the topic of surveillance and Google Research Awards, he has served on ICTSD/World Economic Forum expert groups on the digital economy and as a consultant to UNCTAD and the World Bank. He serves as the principal book reviews editor of the Journal of International Economic Law.
Anita Gurumurthy
Executive Director, IT for Change
Anita Gurumurthy is a founding member and executive director of IT for Change where she leads research on the platform economy, data and AI governance, democracy in the digital age, and feminist frameworks on digital justice. Anita actively engages in national and international advocacy on digital rights and contributes regularly to academic and media spaces. She serves as advisor and expert on various bodies including the United Nations Secretary-General's 10-Member Group in support of the Technology Facilitation Mechanism , the Paris Peace Forum's working group on algorithmic governance, Save the Children's ICT4D Brain Trust, and Minderoo Tech & Policy Lab's Board.
Siddharth Das
Co-founder, Univ.AI
Siddharth co-founded Univ.AI after a decade-long career in India's fast growing fintech sector. Most recently, he served as CEO, Reliance Jio Money, the fintech arm of Jio. Earlier, he was COO of PayZippy, Flipkart's first payments business, and COO of CRIF-HIghMark, India's only and leading Credit Bureau focussed on credit for the underprivileged. Before moving to India, and into fintech, Siddharth spent a decade in San Francisco working first, as product manager for tech companies, and later as an Analytics business leader for FICO, the company that invented credit scoring. He holds a graduate degree from the Massachusetts Institute of Technology (MIT), and an undergraduate degree from Indian Institute of Technology (IIT), Roorkee. Siddharth is a creator, whose interests range from architecture to audiophile sound. At the moment, he's building a modernist house he designed, and alongside, working on finishing his third sound system.
Following this public event, an academic workshop will also be held at the NLSIU campus on 1st December 2022. The workshop will be a closed-doors event.