Giving Month | Pathways To Sustainability at NLSIU 
February 14, 2022
Giving Month is an initiative to provide the alumni community updates on key initiatives at NLSIU, and invite their support in jointly achieving the University's development goals.
Each week of February will delve deeper on a separate focus area for the University's development. This week's focus is Sustainability & Student Welfare. To contribute to these initiatives at NLSIU, please click here. 
Environmental sustainability is at the core of NLSIU's plans to redesign and further develop its campus in 2022 and the years ahead. The University has already taken its incremental first steps toward carbon neutrality through various initiatives. Our objective is to make NLS a 'net zero campus' on energy, water and waste in a phased manner. 
To set these plans in motion, NLSIU recently conducted a preliminary environmental audit on campus for energy, water, waste and air management. Based on the findings, the University has planned further interventions on campus.
Here are some of the sustainability measures presently implemented at NLSIU: 
Rain Water Harvesting
NLSIU has initiated several measures to conserve water on campus. This includes installation of Rain Water Harvesting (RWH) units and digging of harvesting pits.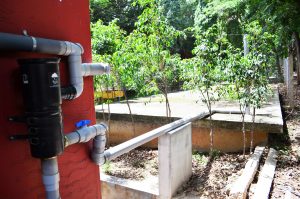 The installation of rainwater harvesting units commenced with four phases between July 2020 and December 2021. The RWH units were installed across various locations, covering an area of 2,683 sq metres – Yamuna, Hoogly and Annapoorna hostels, Learning Centre and Training Centre. 
Due to a larger tank capacity of 1.6 lakh litres at the Training Centre to store rainwater, the RWH unit installed here not only serves as a water resource for this Centre, but also for the Staff Quarters, the Himalaya Hostel and the Academic Block.
With the completion of the four phases, these RWH units are estimated to yield over 18 lakh litres of rainwater for use over the course of the rainy season. 
University Estate Officer and Engineer, Mr. V N Suryanarayana said that with the installation of these units, the amount of water being pumped on campus will reduce by 25%. The University is continuing to explore more such locations on campus including the library and the New Academic Block as potential locations to install RWH units.  
Harvesting Pits:
Harvesting pits have also been dug at various points of the campus for water to be collected. Executive Assistant, NLSIU, Mr. M Gururaj, said that the pits have been dug to direct rain water from the roads to flow into these pits. "The pits have been dug opposite to the Vice-Chancellor's office, the staff quarters and the women's hostel. Some of the pits have been dug where borewells were previously installed and the water level had receded. These pits will primarily ensure that the groundwater levels are at a sufficient level and help in providing water to the flora on campus," he said. 
Harvesting measures were undertaken on campus earlier too. During their period of study at NLS, our alumni Dheer Bhatnagar, Aditya Kumar, and Surbhi Kuwelker received Resolution Fellowships in 2010 to establish 'Indian Monsoons,' a rainwater harvesting pilot project on the NLS campus. The project employed a mixture of borewell recharge systems and infiltration wells. Rainwater was directed into harvesting pits that were dug on the NLS campus, which especially helped in the recharge of the groundwater table, thereby reducing the pressure on borewells.
With the implementation of the NLSIU's Redevelopment Master Plan, the University will conserve more water and further recharge the groundwater table in the years ahead as nature-based solutions guide further development and interventions on our campus. "Our aim is to ensure that any further developments on campus will be included as part of the existing natural systems of the University," said the Master Plan Architect, Venkataramanan Associates. 
Proposed Sewage Treatment Plant
The University plans to set up a Sewage Treatment Plant (STP) on campus to further reduce consumption of water. This STP will treat and recycle sewage water that will be re-used for irrigation, cleaning & maintenance, and flush tanks. The STP will not only help conserve water but also will reduce the pressure on the existing borewell and pumps on campus.
The University is currently engaging with the Master Plan Architect to chalk out a plan for the installation of the STP. 
Enhancements to the rainwater harvesting system and construction of a sewage treatment plant will radically change water usage at NLSIU. The University seeks the support of the alumni community towards both these initiatives with a contribution of Rs 10 lakhs during Giving Month. To make a contribution, please click here.
Waterless Urinals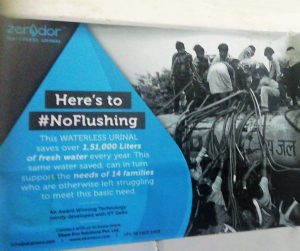 NLSIU has adopted an innovative and economically viable solution to control restroom odour & reduce water consumption. In Academic Year 2019-20, the University installed 70 units of waterless urinals in the men's restrooms of the Academic Block, the New Academic Block, Library, Training Centre, as well as the Ganga and Cauvery hostels. Additionally, the restroom sinks have been fitted with aerated taps for measured water flow to reduce water wastage.   
This 'No-Flush' system can be adopted for any urinal without changing the hardware and thereby is very cost effective. It has helped reduce water consumption by about 75-80 per cent at the University. 
Developed by IIT Delhi, the 'No-Flush Waterless Urinal' units were supplied by the institute to NLSIU free of cost. These urinals offer solutions that are natural and biological in nature and control the odour without the use of harmful chemicals. The University would like to acknowledge IIT-Delhi's efforts in developing and encouraging such eco-friendly methods to conserve water. 
Conserving Energy: NLSIU's Switch to Hybrid Solar Heat Pumps
To reduce the consumption of power, the University has switched to hybrid solar heat pumps on campus last year, thereby ensuring hot water supply round the clock in a sustainable manner.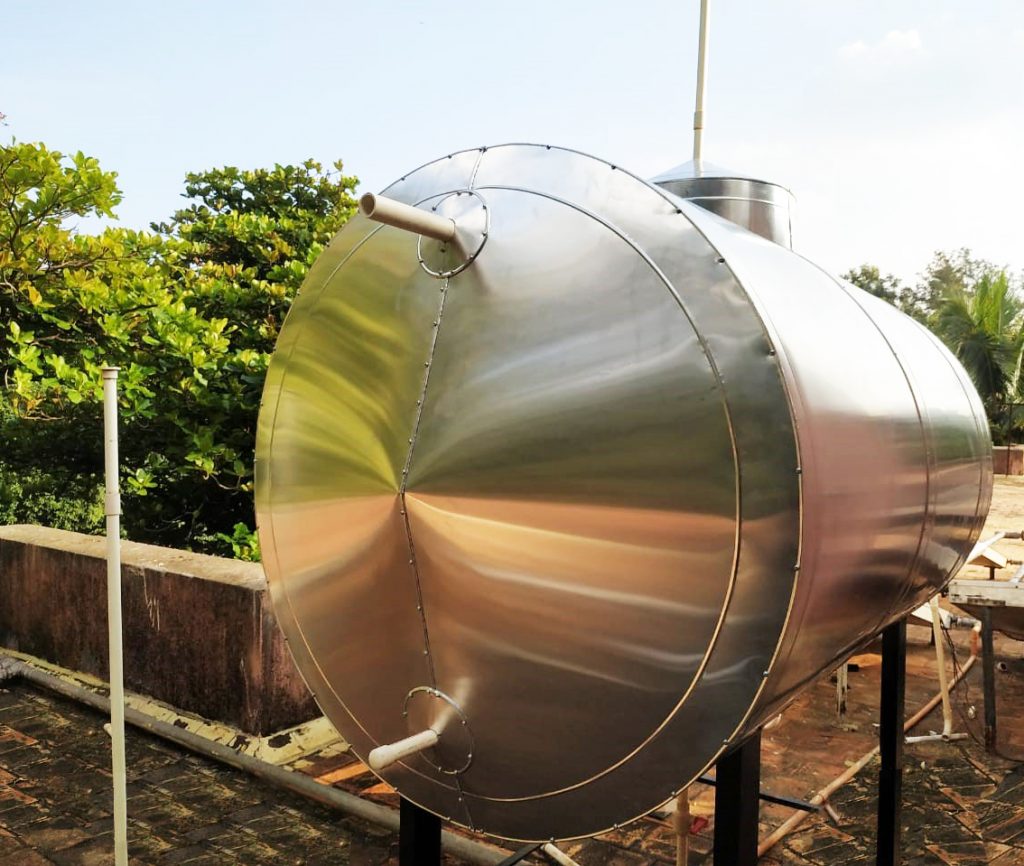 The University has over 100 solar panels installed on campus in various buildings including the hostels (63 panels), the learning centre (10 panels) and the faculty & staff quarters (39 panels). As the functionality of solar panels is highly dependent on weather conditions, the University has adopted a hybrid model of heating with the installation of these systems. 
The hybrid solar heat pump has its own set of controls to ensure that maximum solar energy is utilized. Meanwhile, the auxiliary heating source turns on automatically to ensure hot water in the storage tank at all times. An electric controller determines which power source (solar or heat pump) will be used. 
 These hybrid systems are usually recommended for large buildings with hot water demand. A total of 13 hybrid models have been installed on campus in the Men's hostels,Women's hostels, Learning Centre & the Training Centre.
Reduced Power Consumption
"Earlier, there was use of electrical coils where the consumption of power was much higher. With these hybrid models, we can fix a temperature limit on the heat pumps, after which it automatically cuts off the power supply thereby monitoring the energy consumption. Due to this system, the consumption of power has reduced by 75% in comparison to the previously existing heating systems," said University Estate Officer and Engineer, Mr. V N Suryanarayana. 
Besides reduced energy use, the hybrid models offer pre-emptive alerts with remote monitoring. "We found that the life of heat pumps is also durable, the maintenance is low, and it works well on hard water too. These models are eco-friendly and help in reducing the carbon footprint," explained Mr. Suryanarayana. 
Sourcing of Organic Produce
With a desire to ensure chemical-free and good quality produce for the NLSIU community, the University reached out to Spudnik Farms, a network of Community-Supported Agriculture farms in and around Bangalore that connects consumers directly with pesticide-free, organic fruits and vegetables. Produce from Spudnik Farms has been used for all meals prepared in the Men's and Women's hostels since December 2021.
Founder and CEO of Spudnik Farms, Sumeet Kaur, NLS BA LLB 2005 alumna, explained that the first step in ensuring continuous supply of produce is to forecast the demand. "We worked with the NLSIU hostel staff to create weekly indents (purchase orders) for fruit and vegetables. Since we work directly with farmer collectives, we used the weekly indents to calculate and communicate demand estimates to farmers," she said.  
To ensure quality and safety of the produce, the team monitors production, provides technical assistance to farmers in plant health management using natural farming methodologies, and also picks up the produce from the farmgate/farmer warehouses to supply it to the hostel mess within 16-24 hours of the harvest.
On challenges surrounding sustainable food production:
 "Sustainable food production in the wake of rising prices, falling profits, lack of guaranteed markets and climate change are some of the big challenges facing smallholder farmers today," says Sumeet. She said that this interaction between NLS and Spudnik Farms can help address these challenges as it guarantees consistent and convenient access to good quality organic produce; creates a shorter supply chain (due to local and direct procurements), thereby promoting traceability and freshness of produce; ensures uninterrupted procurement cycles that increases farmer income and reduces food wastage; and also helps farmers with fair price and freedom from market fluctuations.
To contribute and read more updates on NLSIU's sustainability and student welfare initiatives, please click here.
To read other 'Alumni Giving Month' features, please click here.