NLSIU Team Declared Runner-Up at Manfred Lachs Space Law Moot
January 6, 2022
We are happy to share that the team representing NLSIU was declared runner-up at the prestigious Manfred Lachs Space Law Moot Court Competition 2021. Since its inception by the International Institute of Space Law (IISL) in 1992, the Manfred Lachs Space Law Moot Court Competition has grown to cover five world regions: North America, Latin America, Europe, Asia Pacific and Africa. Over 60 teams participate in this competition annually.
The team from NLSIU comprised Anandita Tayal, Rhea Prasad, and Sanyukta Fauzdar, all students from the 3rd year of the BA LLB (Hons) Programme.
Lachs Moot Problem for 2021
The theme of the Moot was: 'PROCLIVIA vs ASTERIA – Case Concerning Mega-Constellations, Autonomous Space Operations and Freedom of Scientific Investigation.'
The 2021 Problem can be found here.
A one-page Synopsis can be found here.
Awards Received by NLSIU at the Moot:
Runners Up, World Finals
Sterns and Tennen Award for Best Oralist at the World Rounds – Rhea Prasad
Eliene Galloway Award for Best Memorial at the World Rounds
We reached out to the team members who shared their experience at the Moot and reflected on the challenges and learnings through the competition.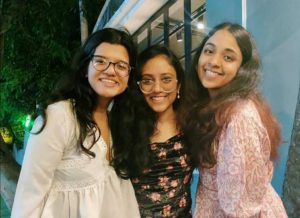 On the Mooting experience:
Participating in the Manfred Lachs Moot Court Competition was a long but truly enriching journey. The issues and the area of law were exciting and highly up-and-coming and provided us with good scope for innovative and creative thinking. It was a unique experience given that we couldn't physically meet during the process. It was challenging, yet fun, to navigate the online modalities as a team. At times, it even acted as a good diversion from the hard times that we saw last year.
Personal evolution: 
"I think I visibly evolved as a person during the one year of this moot, as it helped me hone my skills and build confidence.  We felt honoured to make it to the finals and argue in front of sitting judges of the ICJ. I am very grateful for this opportunity of working on this prestigious moot, with extremely supportive teammates, coaches, and institution, that made my first mooting experience exceptionally remarkable," said Anandita Tayal.
Rhea Prasad On winning the Best Oralist Award:
Mooting had always been an intimidating activity but I think that this experience made me become comfortable and confident in my ability to try new things and approach them in a balanced manner. I think the best part about the moot was that my teammates were very easy to work with. We understood each others' schedules, time constraints and work ethic and were very accommodating and adjusting of the same. We were participating in the moot during difficult times when not everyone was working at their 100% and the fact that we understood each others' headspace really helped the process, especially considering the fact that the moot spanned for a year. We also got the opportunity to interact with seniors and alums who helped us through this process and build relationships with people that would last beyond the moot.
I have a tendency to second-guess and doubt myself, especially in comparison to others. Winning Best Oralist really helped me overcome some of that and made me feel more at ease and sure of myself in an environment like Law School.
Acknowledging the support received from the NLS Community:
Reflecting on her experience, team member Sanyukta Fauzdar said that although mooting online was initially unnerving, the team never felt a lack of support. "Professors, alumni, and students all stepped in to help us prepare and kept constant tabs on our progress. We're also incredibly grateful to the library staff, especially Madhu Sir, who left no stone unturned in entertaining every last one of our requests. Finally, I'm grateful for my teammates: we've built each other up and seen each other grow. When we moot again, there's no one else I'd rather do it with. Lachs was an incredible journey, and we're so glad to have made a tiny contribution to NLS's mooting legacy," she said.