Meet our new faculty member | Dr Aparna Chandra
September 7, 2020
We are happy to welcome another NLS alum who has returned to the University as a faculty member for the Academic Year 2020-21. Dr Aparna Chandra, NLS 'LLB 2006, has taught previously at the National Judicial Academy, Bhopal, at Yale Law School, and most recently at National Law University, Delhi. She has now joined NLSIU as Associate Professor and will be teaching Constitutional Law at the University.
The University extends a warm welcome to her. We asked her to share more about herself, her academic interests and her recent work.
Can you tell us a little bit about yourself?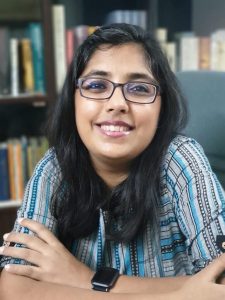 I am from Ranchi in Jharkhand. I graduated from the B.A. LL.B (Hons.) programme at NLS in 2006 and pursued my LL.M and JSD at Yale Law School. I spent a year teaching at NLS in 2009-10. I have also worked at the National Judicial Academy, Bhopal, at Yale Law School as a Tutor in Law, and most recently at National Law University, Delhi as an Assistant Professor and Director of the Centre for Constitutional Law, Policy and Governance.
How did your interest in Constitutional Law begin? Any other areas of interest?
My love for constitutional law dates back to my first year in law school, and to my first constitutional law course. I felt like I was learning a new language, and a new world of ideas and concepts had opened up for me. At that time, I didn't think I would one day end up teaching the subject, mostly because for most of my law school life, I did not think I would end up in academia.
It was during my Teaching Assistantship with Prof Somashekhar in my final year that I fell in love with teaching. My main area of teaching is Constitutional Law. My moral and ethical framework is shaped by feminism, so I bring that to my understanding of the law (and of life). I also work on empirical (particularly quantitative) legal studies.
Feminist engagements with the law began with Lizzy Ma'am's (Prof. V.S. Elizabeth) history courses which sparked my interest. I also took her Feminist Legal Theory seminar in my 5th year and that spoilt me for life!
The importance of Constitutional Law as a subject in your opinion:
I have 60 hours' worth of lectures on this question! The short version would be that Constitutional Law is one of the most foundational law subjects (perhaps second only to Jurisprudence). Constitutions structure how power is shaped and regulated in state and society. They define the nature of our state, our standing and our rights as citizens, and the expanse and limits of legal possibilities and justice claims in our polity.
As engaged citizens, a knowledge of constitutional principles and theories is crucial for developing and sustaining a democratic and rights protective constitutional culture. In this sense, we are all constitutional actors, and we need to be familiar with the constitution to be able to engage with it. More prosaically, since every other law has to be in consonance with the Constitution, familiarity with constitutional law is critical for practitioners in any legal field.
When did your association with NLS begin? Since you are also an NLS alum, could you briefly share something about your NLS experience?
This is my third stint at NLS. I first came to NLS in 2001 as an undergrad. I also taught at NLS in 2009-10. I know how much privilege lies behind this statement – but I loved my law school life! That's possibly why I decided to make a career out of it.
As a student, I got up to a lot of things that I wouldn't have wanted the faculty to know. As a faculty, I can only say, I got up to a lot of things in my student days at NLS that I wouldn't want my students to know!
NLS Memories: Perhaps the one memory that I associate with law school – and it is not even a single memory, more a sense of nostalgia – is evenings on the hostel terrace with friends. If I close my eyes and think about law school, this is the first image that comes to mind.
Your thoughts on starting your teaching journey at NLS?
I am excited, nervous and curious in equal measure. Students are so much smarter and more knowledgeable with each passing year that I feel the need to constantly reinvent my teaching method to effectively contribute to their education. Taking my classes online will also be a new experience, especially since I prefer a discussion-oriented pedagogy. I am also curious to see what the law school culture is like these days.
As a faculty member in my previous stint at NLS, I appreciated much more than I had as a student, the critical role that the administrative and the library staff play in making NLS what it is. I am looking forward to coming back to work with such supportive colleagues.
Plans ahead: My plan, as much as one can plan in these times, is to set up a space to carry out a range of research activities broadly around themes of constitutional justice. At the National Law University, Delhi, I headed the Centre for Constitutional Law, Policy and Governance. That research space was as integral to my work as my teaching. I hope to build upon that experience at NLS.
Recent Work
Articles
Justice Arun Mishra & The Supreme Court's Rule Of Whim
Proportionality in India: A Bridge to Nowhere?
Papers
https://papers.ssrn.com/sol3/cf_dev/AbsByAuth.cfm?per_id=1316755
Books
Prof Chandra is currently under contract with Penguin for a book on the Indian Supreme Court, tentatively titled, The Supreme Court in Crisis. She is co-authoring this book with Sital Kalantry from Cornell Law School and William Hubbard from the University of Chicago Law School.
Prof Chandra is also on the Editorial Boards of: