Meet our new faculty member | Dr Atreyee Majumder
February 11, 2021
We extend a warm welcome to Dr Atreyee Majumder, NLS 'LLB 2006, who joins NLSIU as a faculty member for the upcoming term in 2021. She is a political anthropologist with a focus on the impact of capitalism on space and time. She was an Andrew W. Mellon Fellow at the Jackman Humanities Institute, University of Toronto till 2018. She has previously taught at the School of Development at Azim Premji University, Bangalore and O P Jindal Global University, New Delhi. She has practiced law and conducted legal research in New Delhi on questions of land, environment, water rights and indigeneity. She now joins us as Assistant Professor, Sociology.
We asked her to share more about herself, her academic interests and her recent work.
Can you tell us a little bit about yourself and your interests?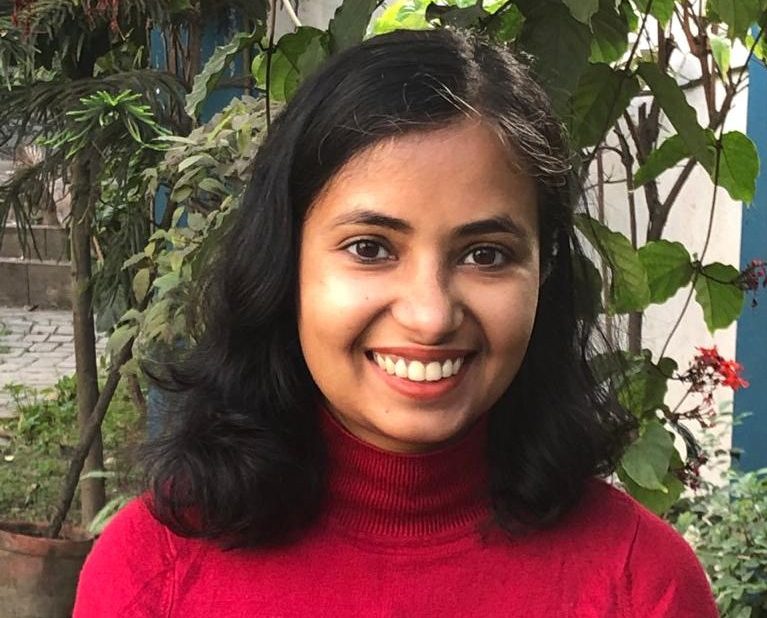 I grew up in Kolkata, went to college in Bangalore, and pursued my doctoral studies from the Department of Anthropology at Yale University. My anthropological research covers the themes of capitalism, built environment, small towns, and now religion.
I have a strong interest in the categories of 'sovereignty' and 'space' and their mutual imbrications. My research is geared primarily towards interrogating how capital and the modern sovereign align, and how this nexus expresses itself on space. My practice of anthropology has always been public-minded. My scholarship and anthropological practice seek not only to make not only insights from the discipline but also the methods and perspectives of anthropology available to the public, especially the marginal sections.
My first monograph, "Time, Space, and Capital in India: Longing and Belonging in an Urban-Industrial Hinterland (Routledge, 2018; paperback 2020)" is about public life inflected by the experience of declining industry in the post-industrial hinterland of Howrah, in eastern India. I am also a published poet, and dabble in the violin.
What are your main areas of teaching? How did your interest in these areas begin?
My research interests influence my teaching repertoire. The analytic of political economy influences all my courses. I have taught a wide range of courses in anthropology and the broader social sciences, as well as in South Asian Studies. These include introductory courses in anthropology/sociology, courses on research methods and experiential education (where we taught undergraduate students to carry out fieldwork projects in north Indian villages near Sonipat), advanced courses on sociological and anthropological theory as well as elective seminars on environmental anthropology, anthropology of law, and urban anthropology.
The most difficult class that I have taught has been an advanced undergraduate course on social and anthropological theory at Jindal University. It was a core course in the major program, and students came to it with varying degrees of preparation. In the environmental politics seminar for advanced undergraduates, which I have taught at various universities including the University of Toronto, my students begin by engaging with the nature-culture divide through Philippe Descola and end by examining policy and law in the domain of climate change and its uneven distribution of responsibility across the global metropole and periphery. This enables students to reflect on dimensions of theory and practice together in the same course.
The importance of Sociology as a subject in your opinion:
My job as a teacher is basically to make the strange familiar and the familiar strange. Being an anthropologist, I will stress on teaching a gamut of skills and content in the social sciences and humanities – which will include sociology, anthropology, religious studies, environment studies, literature and history. This content will be covered in the Sociology 1 and 2 courses, but also in the elective seminars I offer. I believe as a fresher in a law school, the exposure to a whole range of related disciplines is important. This locates the law as a peculiar social creature and sensitises a young mind to the strangeness of the law, and shakes the assumptions behind its power and charisma.
When did your association with NLS begin? Since you are also an NLS alum, could you briefly share your experience at law school?
I came to the NLS as an eighteen-year-old back in July 2001. The current VC was one of our first teachers, and I remember all of us except one person did really badly in the first assignment he gave us. This was no longer school – we learnt. My memories of the Nagarbhavi and the NLS campus are intertwined. Literally, I grew up in this space. The classes on political science by Prof. K. Sitharamam and the constitutional law classes by Prof. U R Rai were my favourites. I was very bad at commercial law, so even if I wanted to join corporate law career paths, I could tell that those paths would not open for me.
Quirk, the literary magazine started in our time, and I was on the first editorial board. I was on the editorial board of Socio-Legal Review. Both of these were fun spaces. We were a rather rebellious lot too. Those moments of teenage rebellion were also our first initiation into the strange political dream that is called 'freedom' in some parts of the world, we learnt quite quickly that it came with responsibilities.
Your thoughts on starting your teaching journey at NLS? What are your plans ahead?
I am very excited to be back at the NLSIU. I hope to have fun and productive conversations with faculty and students. I hope I can draw some students into a reading group to read some important texts of the nineteenth and twentieth centuries. I hope to chat with the groups working with SLR and Quirk, since those are my old haunts. I guarantee that my elective seminars will be difficult and labour-intensive, but I hope that they will be a bit of fun too.
For more on Dr Atreyee Majumder, view her profile and publications at:
https://nls.academia.edu/AtreyeeMajumder