NLSIU Donates Desks to Government Schools
March 16, 2022
As a step toward contributing to Government school education in Bengaluru South district, the National Law School of India University donated over 140 desks on Wednesday, March 16, 2022. These desks will be used to upgrade Government schools across the district including:
| | | |
| --- | --- | --- |
| No. | School Name | Requirement  |
| 1. | Government Model Primary School, Doddagollarahatti  | 30 |
| 2. | Government High School, Doddagollarahatti | 20 |
| 3. | Govt High School, (R.M.S.A), Ullal | 15 |
| 4. | Govt. High School, K Gollahalli | 10 |
| 5. | Govt. Bhadra High School, Cholanayakanahalli | 15 |
| 6. | Govt. Primary School, Arundathi Nagar | 10 |
| 7. | Govt. Primary School, Nagarabhavi | 10 |
| 8. | Govt. Primary School, Moodalapalya | 10 |
The University handed over the desks to the officials of the Deputy Director of Public Instruction, Bengaluru South, who visited the NLS campus on Wednesday. The officials included P. Bylanjanappa, DDPI, Bengaluru South; K. Prakash, Block Education Officer, South-1 range, and Education Coordinators, South-1 range, R Sriranga and Rajesh.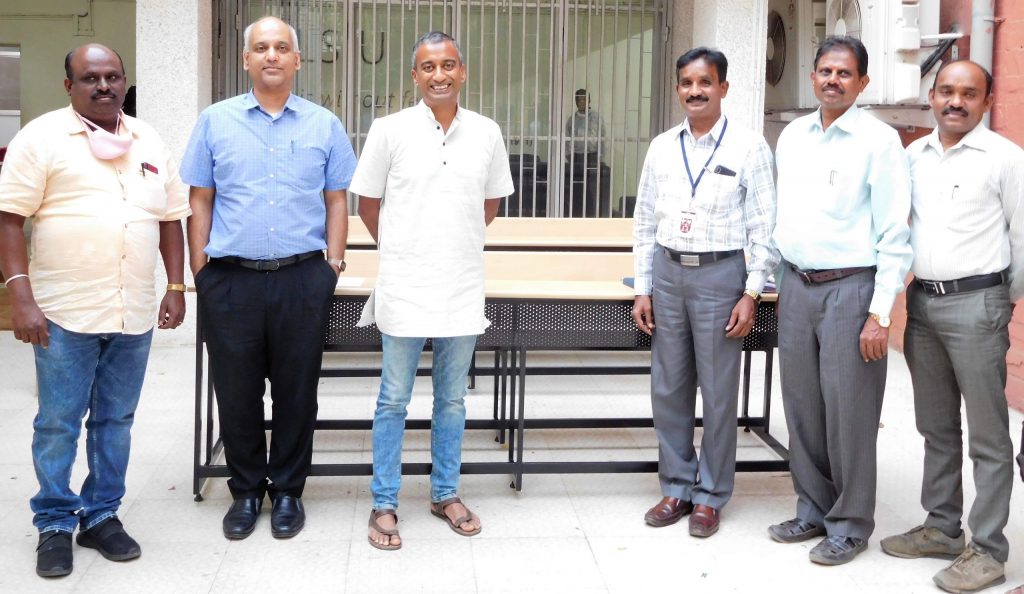 Bylanjanappa, DDPI, Bengaluru South, said that his department conducted a survey in the South district to identify the schools that were in immediate need of  desks. "Several students in these schools do not have sufficient desks to sit on. The desks of NLSIU will be distributed to eight Government schools for students of Grade 6 and upwards. These schools also function as examination centres during the exam season and hence, the desks received today will be highly useful in the coming months for our students. We thank the University for its valuable contribution," he said. 
NLSIU Vice-Chancellor Prof. (Dr.) Sudhir Krishnaswamy emphasised the University's keenness to develop a deeper and sustained collaboration with Government high schools in the district through contributions in cash and kind, making University sports facilities accessible to high school students in the district, and encouraging its faculty, staff, and students to volunteer their time to teach at these schools. "We look forward to working with the DDPI and his team to realise these shared goals in the days ahead," he said. 
For anyone interested to contribute to this effort, please write to