NLSIU Student Wins 2021 Hugh Owen Prize
April 18, 2022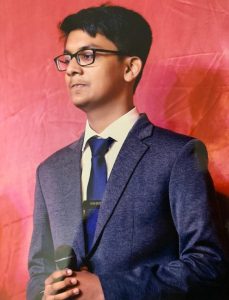 We are pleased to announce that Manhar Bansal, first year BA LLB (Hons) student of NLSIU, was declared the winner of the 2021 Hugh Owen Prize for his essay titled 'Fragment, Fantasy, History: Towards Newer Projects for Re-Imagining National History.' 
The essay was commended for its focus on critically examining the historical imagination in the Indian context, highlighting the significant contestations between mainstream imagination and subaltern understandings that manifest in oral tradition, collective memory, poetry, literature and fiction.
"The essay is written well and presents a compelling argument supported very well by a high quality of research. It brings into question the subaltern histories of India's partition, the development of India's national identity and the very problematic yet often ignored marginalisation of alternative perspectives and plurality. The attention to fantasy, memory and reimagination also presents a very nuanced analysis of Indian history," said Dr Priya Chacko, Head, Department of Politics and International Relations, School of Social Sciences, and President, South Asian Studies Association of Australia in a statement.
The essay was recently published in a Special Issue in the Cafe Dissensus magazine. This Issue has been edited by NLS faculty member Dr. Atreyee Majumder.
About Hugh Owen Prize
Every year, the South Asian Studies Association of Australia (SASAA) offers the Hugh Owen prize for the best undergraduate essay in South Asian studies. For the purposes of the prize, the term 'South Asia' covers the nations of the Indian subcontinent and includes Afghanistan, Bangladesh, Bhutan, India, the Maldives, Myanmar, Nepal, Pakistan, and Sri Lanka. Essays are invited from all disciplines.
The prize (value AUD $250.00) is awarded to the best undergraduate essay on South Asia in any field written as part of an undergraduate course of study each academic year, including Honours. The maximum word limit for the essay is 4000 words.
About Hugh Owen
Hugh Owen was one of the key people behind the drive to establish a professional association of scholars in Australia and New Zealand concerned with the study of South Asia. He undertook the task of setting up the journal, South Asia, and established its pre-eminent standards, style and academic standing. Over the seven years of his editorship,  he succeeded in turning South Asia into a major journal concerned with South Asia studies outside the Indian subcontinent. While heavily involved in this work, Hugh Owen was also a charismatic scholar and teacher and, at the University of Western Australia, was brilliantly successful in building up exciting undergraduate courses in the subject area and also in attracting an array of very bright and enthusiastic postgraduate students. This prize commemorates Hugh's pursuit of excellence and his efforts to achieve that amongst his students.
The prize was set up in 1988 following Hugh's death and is funded by a grant from his estate through Mrs Terry Owen and with the continued support of SASAA.
Source: https://www.southasianstudies.org.au/