Panel Series | Governance Frameworks for Non-Personal Data
When:
Friday, November 20, 2020, 4:30 pm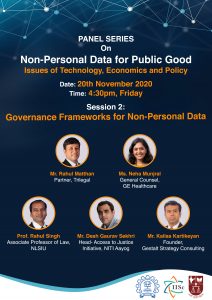 After a successful first session, NLSIU, Bengaluru along with IISc, Bengaluru and IIT-Bombay is organising the second session of the Web Panel series that seeks to explore various facets of viewing non-personal data as public good.
The series of Web Panels revolves around the larger theme of 'Non-Personal Data for Public Good – Issues of Technology, Economics, and Policy,' where we aim to hear from policymakers, industry representatives, researchers and entrepreneurs.
The second session titled 'Governance Frameworks for Non-Personal Data,' focuses on identifying and understanding the new legal constructs and structures outlined in the report on Non-Personal Data Governance Framework and delves on the questions raised around them from a legal and regulatory perspective. Please do join us to hear from the experts and share your inputs to make this discussion fruitful. We hope to make this a fortnightly event with future discussions on possible use cases, the way forward for a legal framework, etc.
Panel Speakers
Mr Rahul Matthan, Partner, Trilegal
Ms Neha Munjral, General Counsel, GE Healthcare
Mr Desh Gaurav Sekhri, Head- Access to Justice Initiative, NITI Aayog
Prof Rahul Singh, Associate Professor of Law, NLSIU
Mr Kailas Kartikeyan, Founder, Gestalt Strategy Consulting
How do I join?
Join the Zoom Meeting here.
Meeting ID: 952 0523 5151
Passcode: 251301
For further queries, please reach out to Rohit Ranjan Rai – +91 84479 07656 and Namrata Agrawal – 78291 21121.