Panel Series | Non Personal Data for Public Good
When:
Friday, November 6, 2020, 4:30 pm
The recent debates around proposed policy frameworks on non-personal data have highlighted both the potential as well as the open concerns on viewing this kind of data as a "public good." To further unpack these issues, IISc, Bengaluru, IIT-Bombay and NLSIU Bangalore are jointly hosting a series of Web Panels on 'Non-Personal Data for Public Good – Issues of Technology, Economics, and Policy,' where we aim to hear from policymakers, industry representatives, researchers and entrepreneurs.
The first panel discussion as part of this series is being held on Friday, November 6, 2020 at 4.30 pm, on the topic: Non-Personal Data – Scope and Challenges. To register for the event, click on this link.
This kick-off discussion will look at the potential for Non-Personal Data (NPD) to provide significant economic and social benefits, and the possible policy framework in which this can take place. The myriad considerations of a suitable policy-frameworkーprotecting individual and community privacy, providing mechanisms to actively share data in a safe and controlled manner, and protect the competitive interests of the economic agents, needs to be balanced. The report by the 'Committee of Experts on Non-Personal Data Governance Framework' is a bold attempt in this direction. Some important, and possibly contentious, issues raised in this report, are the following:
The role and importance of community NPD
Obligations of private companies to share NPD
The role and risks of a National NPD regulatory authority
The new category of data businesses and the associated economic models
The economics of data sharing—how do data providers and application developers benefit from NPD
Technical requirements for a NPD data sharing platform
The panel will bring together a set of experts to discuss these main issues.
Experts Panel
Mr. Parminder Jeet Singh, Executive Director, IT for Change
Dr. Wendy Hall, Regius Professor of Computer Science at the University of Southampton
Mr. Shantanu Bhattacharya, Chief Data Officer, Airtel
Dr. Vijay Chandru, Pioneer at AI Foundry and Professor, BSSE, IISc
Prof. D Manjunath, Professor, Department of Electrical Engineering, IIT Bombay
Moderator: Dr. Inder Gopal (IISc)
About the Panel Series
Non-Personal Data for Public Good – Issues of Technology, Economics, and Policy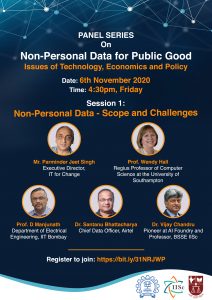 Many governments around the world have placed strict limits on what can be done with personal data that relates to individuals. This follows from the nearly universal recognition that the privacy rights of the individual must be protected. Thus, personal data must be protected from abuse in a manner that can cause harm to the individual or to the group. Non-personal data (NPD), loosely defined as data that does not identify specific individuals, is a more complex matter. While there are privacy and security issues, there is increasing recognition that there is a potential public good that can be achieved by making certain kinds of NPD available to the public and to industry. However, the devil is in the detail and myriad issues emerge that relate to public policy, economics, business models, technology, law, regulation, governance, etc. There have been several efforts around the world to explore these issues. Clearly, these issues depend on the history and culture, and also the state of technological development of each society, and hence require country-specific solutions. This is more so in a large and diverse country like India.
With this backdrop, IISc, IIT-B and NLSIU will jointly host a series of web panels over the rest of 2020 to explore issues related to NPD. Each panel will consist of short presentations by leading experts and practitioners in the field, followed by a moderated panel discussion. Two recent initiatives in India will provide some context for these panels – the recently released report on policy and governance models for NPD, sponsored by Ministry of Electronics and IT (MEITY); the various initiatives on data sharing and data exchange platforms India Urban Data Exchange (IUDX) from Ministry of Housing and Urban Affairs, National Data Highway from MEITY, National Data Sharing and Accessibility Policy from NITI Aayog, etc.
The panels will explore key issues related to NPD described above and also examine the use of NPD in various verticals such as health-care and mobility. Each moderated panel will be a 90-minute discussion among experts and stakeholders. Moderator-led set of questions to each panelist will serve as the opening remarks; a broader Q&A with the audience and a summary presentation by the moderators will follow.
We hope to make this a fortnightly event with future discussions on possible uses cases, the way forward for a legal framework, etc.
Organizing team
Dr. Inder Gopal, CEO of IUDX Program Unit, IISc, Bangalore
Prof D. Manjunath, IIT Bombay
Srijoni Sen, National Law School, Bangalore