Prof (Dr.) N Jayaram awarded Indian Sociological Society's Lifetime Achievement Award for 2020-21
December 11, 2021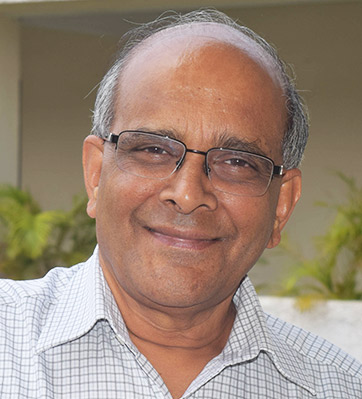 We congratulate NLS Visiting Professor, Prof (Dr.) N Jayaram, for being awarded the Lifetime Achievement Award 2020-2021 by the Indian Sociological Society (ISS) . The award was presented to Dr. Jayaram in view of his immense contribution to the discipline of sociology. The award ceremony was held online during the inaugural session of the 46th All India Sociological Conference on December 8, 2021.
"The Indian Sociological Society takes privilege and honour in presenting the lifetime achievement award to Prof Jayaram in esteemed appreciation and recognition of his meritorious services, accomplishments and contributions to the discipline and profession of sociology," said Paramjit Singh, President of the Indian Sociological Society.
Reacting to this recognition, Dr. Jayaram said: "It is an honour to be conferred the lifetime achievement award by the Indian Sociological Society for the year 2020-21. I thank the Society for this honour and dedicate this award to all my teachers who have made me what I am today, particularly the Late Prof C Rajagopalan and Satish Saberwal, who deserved this award more than me."
About Dr. Jayaram
Teaching & Research Work:
Dr. Jayaram's field of specialisation is Sociology of Education, but he has research interest in other transdisciplinary areas including Theory and Methods, Political Sociology, and Sociology of Diaspora. He has taught Sociology in various capacities at Bangalore University (1972–99) and Goa University (1999–2003), and Research Methodology at the Tata Institute of Social Sciences, Mumbai (2003–15). He was Director of the Institute for Social and Economic Change, Bangalore (2006–08), and Fellow at the Indian Institute of Advanced Study, Shimla (2012–13). He was also Visiting Research Mentor at Christ University, Bengaluru (2016-19) and Visiting Professor of Indian Studies at The University of the West Indies (St Augustine), Trinidad and Tobago.
Recognitions:
He is the recipient of the Dr Paduru Gururaja Bhat Annual Award (2012) and ET Now Education Leadership Award (2013). He was a member of the UGC Subject Panel on Sociology and a Core Member of the UGC Curriculum Development Committee; the National Focus Group on Problems of SC and ST Children, National Council of Educational Research and Training, New Delhi; the Committee to Review the Indian Council of Social Science Research; and the Consultative Team to prepare a Tertiary Education Policy for the Royal Government of Bhutan.
Editorial Work:
Prof Jayaram has had the distinction of being the Managing Editor of the Bulletin (Journal of the Indian Sociological Society) for 15 years from 2000 to 2015. He is a trustee of the Sameeksha Trust which publishes Economic and Political Weekly.
He has also been the Editor of ICSSR Journal of Reviews and Abstracts: Sociology and Social Anthropology, and was on the Editorial Board of the Caribbean Journal of Criminology and Social Psychology (Centre for Criminology and Criminal Justice, The University of the West Indies, St Augustine, Trinidad and Tobago). He has also been associated with the Journal of Comparative Family Studies, The Indian Journal of Social Work, Journal of Educational Planning and Administration, and Rajagiri Journal of Social Development.
He has authored over 140 research papers and 300 book reviews. He has also written/edited/adapted twenty books, some of which are listed below:
Higher Education and Status Retention; Housing in India (co-edited with R.S. Sandhu);
Introductory Sociology; Sociology: Methods and Theories; Sociology of Education in India(two editions);
Social Conflict (co-edited with Satish Saberwal; two editions);
The Indian Diaspora; Keywords: Identity (with Aziz Al-Azmeh, Wang Bin, David A. Hollinger, Mahmood Mamdani and Emmanuel Renault);
On Civil Society: Issues and Perspectives; Social Research Methods: Persistent Issues and Emergent Trends (Special Issue of The Indian Journal of Social Work, 67 (1 & 2), 2006 (Guest ed.);
VKRV Rao: A Passionate Humanitarian (edited with S.L. Rao et al.); Footprints of Development and Change: Essays in Memory of Professor VKRV Rao (co-edited with R.S. Deshpande);
Development of Democratic Routes in the Himalayan 'Borderlands' (Special Issue of Sociological Bulletin, 58 (1), January-April 2009, co-edited with Vibha Arora);
Manual of Style (TISS, Mumbai);
Higher Education and Equality of Opportunities: Cross-National Perspectives (co-edited with Fred Lazin and Matt Evans);
Diversities in the Indian Diaspora (two editions);
Vulnerability and Globalisation: Perspectives and Analyses from India (co-edited with D. Rajasekhar);
Routeing Democracy in the Himalayas: Experiments and Experiences (co-edited with Vibha Arora);
The Bombay School of Sociology: The Stalwarts and Their Legacies (Special Issue of Sociological Bulletin, 62 (2), May–August 2013), and Ideas, Institutions, Processes: Essays in Memory of Satish Saberwal.