Alumni Feature | The fulfillment of giving back: an alumni funded scholarship
July 23, 2021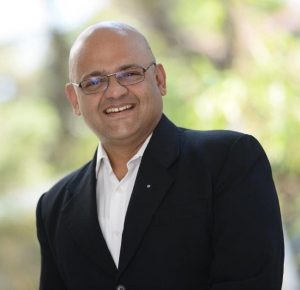 Siddharth Raja, NLS 'LLB 97, instituted the Swaminath and Nirmala Raja scholarship in 2020, which funds a needy student for three years of their academic programme.
"The scholarship we've instituted complements our 'giving back' to our dear alma mater — indeed, it signifies the 'squaring' of the circle, in my view, of all my teaching contributions to NLSIU over the years," Siddharth said.  He runs the scholarship programme along with his wife, Priya Rao, who is an NLSIU alumna from 2000.
Last year, the scholarship was conferred on Devansh Shukla, the son of R.P. Shukla, a senior citizen and advocate practicing in Lucknow. With the pandemic affecting the family's income, Devansh was unable to continue his studies without financial support. Currently, Devansh is in the second year of his Honours programme.
Expressing a deep sense of fulfillment in supporting financial aid efforts at NLSIU, Siddharth said, "We can't think of a better way to say thank you for all the Almighty's blessings on us, than to see at least one student through law school. And we know, my late parents in whose name the Scholarship is instituted and who were both strong votaries of this institution, would be proud and happy too."
Siddharth was a British Council & Foreign and Commonwealth Office Chevening Scholar and J. N. Tata Scholar at the University of Warwick Law School. Siddharth presently runs Saakshya Law. The scholarship initiative by Siddharth and Priya is an inspiration to  current students and alumni in building a sense of belonging and giving back to our community.
To contribute to NLSIU's financial aid drive, click here