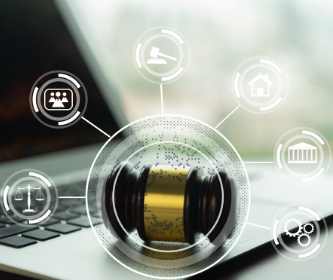 In 2020, NLSIU identified five focus areas where it will develop new interdisciplinary research clusters. These focus areas are: Labour and Work; Climate Justice; State Design and Reform; Access to Justice & Legal System Reform and Law, Technology and Society.
We are excited to announce the launch of the Law, Technology and Society cluster with the support of Ms. Rohini Nilekani, Founder-Chairperson of Arghyam, Co-Founder and Director of EkStep and a philanthropist who has committed to the Giving Pledge. This research cluster will integrate the work of faculty and researchers in law and public policy at NLSIU as well as others from leading institutions in science, technology and management.
The cluster will focus on:
Researching: on interdisciplinary and original empirical research that allows India to develop regulatory strategies and legal frameworks that respond to Indian and developing country contexts. Our researchers will engage with national and international law and policy making to ensure that these concerns shape and influence norm building.
Convening: diverse interests and voices affected by law and regulatory changes in this field that may be overlooked in current policy debates. We will re-engage with existing networks, and create new ones with affected communities, civil society groups, academic institutions and business entities in India and around the world.
Doing: designing and building innovative products and platforms for the public good. These initiatives could include new tools for public information and engagement, pilot projects and experimental governance frameworks for new technologies.
On the announcement, Ms Rohini Nilekani said, "To address some of our most critical and complex problems, we need to imagine approaches that centre both the individual and the system. Increasingly, such approaches are technology-enabled to create spaces where diverse solutions co-exist to work in context. However, there needs to be a horizontal underpinning of values that ensure the technologies and frameworks deployed achieve certain clear societal goals, such as universal access and inclusion. For that, we must surely be technology enabled, but not technology led. I am pleased that NLSIU is undertaking an interdisciplinary approach for this initiative, and hope it will foster many collaborations."
On the significance of the initiative, Sudhir Krishnaswamy, Vice Chancellor of NLSIU said, "We are grateful to Ms Rohini Nilekani and her team for their confidence in NLSIU's ability to initiate and anchor this initiative. NLSIU has historically contributed tremendously to India's technology ecosystem. We've supported research and policy development in collaboration with the government, provided human capital and professional services to India's entrepreneurs and thought leaders in civil society and public interest advocacy groups in this field. This grant will help us grow and ensure that we continue to perform these roles in the 21st century."
Publications
Policy Brief
Web3 and Digital Entertainment: A Tech and Policy Brief for India
March 29, 2023
The era of Web3 is often discussed in terms of finance, economy and technology. Along with these industries, the entertainment industry has also been rapidly evolving with the changes made possible by Web3 technologies. A range of applications, from online gaming to the music industry are adopting Non-Fungible Tokens (NFTs), crypto tokens and virtual reality to change the status quo and also bring about new avenues to interact with their audiences.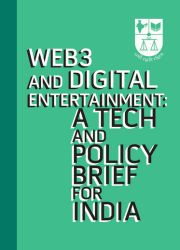 Policy Brief
The Metaverse: A Tech and Policy Brief For India
March 8, 2023
It was the cult classic TV show Star Trek that first helped the public imagine a "communicator" that could fit in one's pocket. This later inspired the design of the flip phone and the wireless bluetooth speaker. History has demonstrated that science fiction and real life eventually collide. The metaverse is a testament to this. The earliest references to it are found in science fiction, with popular media like film and video-games contributing significantly to its conception and popularity.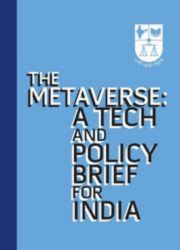 Policy Brief
Web3: A Tech and Policy Brief for India
December 15, 2022
Web3 is a set of emerging technologies comprising blockchain, cryptographic protocols, digital assets, decentralised finance, NFTs, etc. The term is also used in the sense of a new Internet era – following on from Web2 which was characterised by centralised platforms and proprietary protocols, leading to so-called 'walled gardens'. The umbrella term is best understood as a reference to new paradigms in the online world, that transitions from one set of core technologies to another gradually.