Alumni Feature | Litigation is my calling: Animesh Sharma
March 5, 2022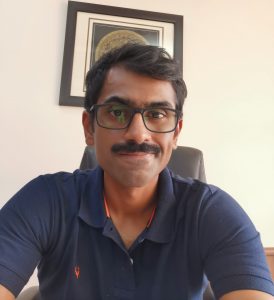 Animesh Sharma, BA LLB 2008, discovered his penchant for the law early in life. While he was keen on taking up the legal profession, which was rather common in his city, he was determined to pursue his studies at a national university. In this interview, he talks about his time at NLSIU, and how it still influences his life and profession today.
What got you interested in pursuing law?
As a child, I was very fond of reading, and I was repeatedly told that one of the professions that bode well with reading, was law. Incidentally, I was also good at arguing, and my understanding of arguing was holding your stand until you're logically convinced otherwise. These were the founding thoughts.
I was also growing on shows like Ally McBeal and The Practice, which made the profession all the more attractive. That is also, perhaps, the reason I ended up becoming a litigating lawyer. Even today, as much as I enjoy the research part of my professional practice, the part that I enjoy the most is arguing and thinking on my feet.
How would you describe your journey to NLSIU?
I cleared the exam in 2003. Back then, in the place that I stayed, law was viewed as a fallback profession. So I had some drab reactions come my way. But I was sure about wanting to study at NLSIU, which was No.1 even then. So the fact that I wanted to travel to another city to study, was also not well received.
Around that time, (pre-CLAT era), every law school had a different exam. As part of the preparations, the University used to send old question papers to candidates. So I put my mind to it and was elated to get selected.
How would you describe your NLSIU experience?
I loved every bit of my time at NLSIU. As much as it was the bursting of a bubble, it was an incredible expansion of one's horizon.
Where you come with a certain level of confidence, from a small town, where you were doing well academically, and perhaps thought yourself a know-it-all, suddenly you're exposed to an environment with so many credible minds. So you're sort of put in your place, but in the best way possible. I loved the fact that it was such a student-driven community, and that students always had their voices heard. And credit to NLSIU for creating and allowing that environment.
I loved mooting. In fact, the first time I traveled abroad was for a mooting event. I traveled to Hong Kong, Singapore. One of my best memories is participating in the Bar Council of India Moot. I was on the Sports Committee. It was during our time when Spiritus was revived. I spent very few days on campus when I was not on the basketball court, badminton court, or tennis court.
NLS is what it is, because of the people who are around you – smart in so many different ways and fields. For me, that's the best thing about NLSIU. I still consider myself best friends with some of my batchmates.
What was life after NLSIU like?
I always envisaged law as being in the courtroom. After I graduated, I had the opportunity to intern with Herbert Smith in London. I was there for a while, but I was too fond of my city and wanted to get into the courtroom. So I chose to come back to Chandigarh and take up litigation.
Here I joined the office of Akshay Bhan, who is also an NLSIU alum from the batch of 1998. And I spent 6 years working with him, which was a great experience. His was a multifaceted office with criminal, tax, and constitutional work. I branched out on my own in 2014. For over 7 years now, I've been running my independent office. I've had the good fortune of working with subsequent graduates from NLSIU as well.
Share your thoughts on taking the professional route of litigation
Litigation is a long-haul journey. It's a marathon and not a sprint. With over 15 years of experience, I still feel like I have a lot of territories to cover. And that is great because, with litigation, you have the opportunity to work at a micro-level, and with individuals, who are actually suffering and need help. This keeps me motivated!
Words of Advice: I would encourage students to imbibe the liberal ethos that NLSIU cultivates. The open-mindedness that I got from NLSIU has held me in good stead and will remain with me forever. Take the time to understand different perspectives. For this, NLSIU presents you with wonderful opportunities. And for students who want to get into litigation, I'd repeat, it's a long journey. You start off on a slow burn, but its fulfilling nonetheless!