Alumni Feature | Living the Teaching Dream: Dr. Gitanjali Ghosh
May 16, 2022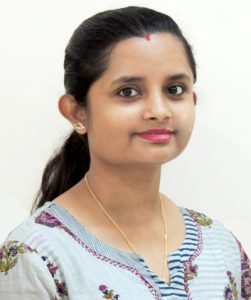 For someone who always wanted to become a teacher, Gitanjali Ghosh created a multidecadal pathway for herself to achieve her dreams and stayed on it till she achieved it. She completed her LLM (2014) and PhD (2019) at NLSIU. Today,  she is Assistant Professor of Law at the National Law University and Judicial Academy, Guwahati, Assam.
In this interview, she talks about her inspiration and the little steps that made her dream come true.
What inspired you to take up law? How did you get into NLSIU?
Ever since I can remember, I've wanted to become a teacher. As I was growing up, I thought I wanted to become a history teacher, quite possibly because my parents are both already lawyers. However, once I finished my 12th, my parents insisted that I take up law. That was the first time CLAT was going to be held. My rank was pretty decent, but not good enough for me to get into NLS. Nevertheless, I chose to do law from North-Eastern Hill University (NEHU), Shillong, and this turned out to be one of the best decisions of my life.
Since I was keen on taking the academic route, professionally, I knew I had to pursue an LLM, and a PhD. So I kept preparing for the entrance exams from my NEHU days. I wrote several PG entrance exams along with CLAT. I cleared all of them, but I distinctly remember seeing my CLAT result. Internet connection in Shillong was poor those days. I downloaded it on my mobile phone, transferred the file to the laptop, and straight away pressed CTRL+F hoping to find my name somewhere. But It was right on top of the page. I had ranked number 5. It remains one of the happiest days of my life.
The specialisation at the Master's level offered by NLSIU – human rights law and international law – made it the must-go institution for me. Most people are awed by NLS before entering campus, but it was the other way for me. My appreciation of NLS grew with every passing day.
How would you describe your time at NLSIU?
I met some of the best people here, and made friends for life. I cannot count any bad memories from my days at NLS. I happened to join my LLM programme almost 20 days late, as the start date clashed with the final days of my LLB programme.  So, it was a tad intimidating. But my classmates helped me a lot, showed me around the library and eased me into the programme. These are things I will not forget!
Along with the great connections with faculty and peers, the kind of time management required to complete the LLM programme, complete with the dissertation and papers, helped me pick up this key skill during my time at NLS.
Could you share a note on your professional journey?
Fortunately, my career panned out how it wanted it to. And I have to mention Prof. Dr. Sarasu Esther Thomas at this point. I was Ma'am's Teaching Assistant, and I also did my LLM dissertation under her supervision. Ma'am then offered me the position of a researcher at the Centre for Women and the Law, which kickstarted my career.
While I had applied to many institutions to pursue my doctoral programme, NLS was my top priority, as I was keen on (hoping to) do my PhD under Sarasu Ma'am's guidance again. Luck was in my favour, and I got everything I wanted. In the following year, I cleared an interview and was appointed Assistant Professor of Law at the National Law University and Judicial Academy. A turning point was when I was appointed as coordinator for the Centre for Child Rights –  the learning from this was immense. I may have delivered 150 lectures on child rights and allied issues.
Any professional aspirations today?
As far as my professional aspirations go, I am living the dream. I wanted to be a teacher, and today I am one. I enjoy the time I spend inside the classroom. However, research-wise, My PhD research focused on customary laws of Northeastern tribes, particularly Mizos and Khasis. I'd like to take this forward with the many more tribes in this area. I also intend to research and write more on child law. My motto is simple –  keep on teaching, keep on researching.
Do you have any words of advice for current and aspiring students?
To aspiring students, I would say, quite naturally NLSIU is one of the best places to spend the formative years of your life and career. But I understand that CLAT is not a very easy exam to clear, especially if you want to achieve the kind of ranks that will get you into India's No.1 Law University. Please be diligent with preparations and approach to CLAT.
To current students, the fact that you are at NLS stands testimony to the brilliant academic career you've had until now. My first piece of advice would be, in the five years you spend here, make friends! Next, you are at NLS for a reason, stay focused on your purpose.
So what does free time in your schedule look like?
With a little one by my side, being a mother is my priority these days. I have always been a voracious reader. I enjoy literature in English, Hindi, Bengali and Assamese. Historical documentaries have a special section in my schedule.
What I hope for is to travel more! With the pandemic situation easing and my parenting responsibilities stabilising, I look forward to visiting new places.