Dr. Sanjay Jain on the Newly Published 8th Edition of V.D. Mahajan's Constitutional Law of India
January 25, 2023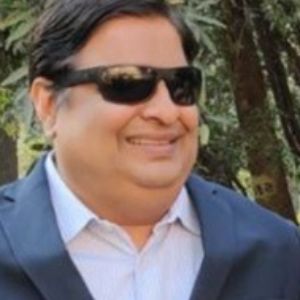 We congratulate NLS faculty member Dr. Sanjay Jain on bringing out the 8th edition of V.D. Mahajan's Constitutional Law of India. Thoroughly revised by Dr. Sanjay Jain after 32 years, this edition of V.D. Mahajan's classic will aid students of Constitutional law in their quest to understand and study this document from a refreshing new perspective.
This edition provides an exhaustive commentary on the Indian constitutional law with a holistic analysis of the latest developments. A remarkable feature of the book is Dr. Jain's contribution in the field of interpretation of constitutional text through the newly introduced Chapter 37, which is reflective of his expertise in the subjects of constitutional law and statutory interpretation and his 25 years of teaching experience.
We spoke to Dr. Jain to share more details on this edition.
What was your vision behind this edition of the book?
I have edited this book after 32 years from its earlier seventh Edition. Due to the absence of discussion on a number of prominent case laws and important constitutional amendments during these decades, several aspects of the book had become outdated. The main objective underlying this book is to present a commentary on the Constitution of India in an easy and accessible language to the Academic, the Bar and the Bench. Particularly, students pursuing Law and Competitive examinations may find the book very useful to comprehend Constitutional  fundamentals.
What are the primary focus areas in the book? Are there any specific issues or challenges that the book addresses?
Being predominantly a Textbook, it engages with the gamut of Indian Constitutional Law. In a limited space, I have made a modest attempt to grapple with contemporary challenges faced by the Constitution in general, and organs of the State in particular. However, the treatment is by and large descriptive. The main highlight of this book is to provide visibility to Disability rights issues as part of Public Law.
I would especially recommend to all readers the illuminating introduction written by Prof. (Dr.) Upendra Baxi, wherein he makes out the case for enabling the law by problematizing its disabling episteme. His introduction breaks new ground in Indian Public Law by inviting the attention of its audience to the phenomena of 'Aspect- blind' , ' Soul-blindness' and 'Soul Dawning'. It is striking how Prof. Baxi deploys the trope of blindness to invite attention of the audience to be sensitive to the ' Multitudinal differences'.
Since you have introduced a new chapter in this edition, could you elaborate on this particular chapter?
Yes, I authored Chapter 37 in which I have delved into interpretative nuances of Indian Constitutional law and has covered a host of issues like Constitutional Silences, unenumerated fundamental rights, doctrine of non-retrogression etc.
Do you think there is a need for more such books? If so, why?
Indeed, there is a need for more books to generate critical thinking and alternative discourses on complex instruments like the Indian Constitution. The more scholarship in this field helps to foster a live marketplace of Ideas.
While the target audience of this book is predominantly students, anyone who wants to become acquainted with the fundamentals of Indian Constitutional law would find this book extremely useful. Even teachers, lawyers and judges may find this book immensely handy for ready reference to contemporary developments in Indian Constitutional law.