NLSIU announces the 'Shri N. T. Vanamamalai Scholarship'
December 22, 2022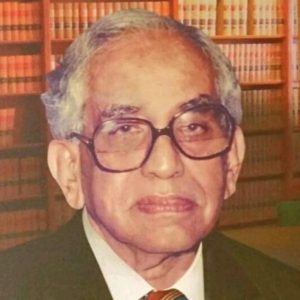 The National Law School of India University announces the 'Shri N. T. Vanamamalai Scholarship', instituted in honour of the late senior advocate and veteran criminal lawyer, Shri. N. T. Vanamamalai. The scholarship is supported by his daughter Akola Krishnan, and his nephew Prashanth Venkatesh, NLS BA LLB 2003.
The scholarship will cover the annual student fee of one or more student(s) admitted to NLSIU for a consecutive period of five years. This will include Tuition and Facilities Fees, as well as Hostel and Mess fees.
About Shri N. T. Vanamamalai: Shri. Vanamamalai (popularly known as NTV), whose career spanned over 50 years, was an acclaimed lawyer and activist in Tamil Nadu. He handled several well-known cases involving clients ranging from the common man to celebrities and prominent leaders. Throughout his career, he worked tirelessly to advance the causes of the underprivileged, and adhered to his principle of providing pro bono services to those seeking social justice. As a mentor, he personally trained many associates who have gone on to become respected justices and senior advocates.
Speaking about the initiative, Akola said: "We wanted to set up the scholarship to preserve the memory of my father whose mission was to uplift the lives of those who were voiceless and oppressed. We hope the students will follow his example of holding himself to the highest ethical standards both professionally and personally, and carry on his legacy of integrity, civic engagement, and the pursuit of excellence."
Reflecting on his own personal journey, Prashanth said he was inspired to take up the law entirely because of his daily dinner table conversations with his uncle. "My  interactions with him as a law student and an intern in his chambers enabled me to evolve a legal apparatus focussing on thinking critically and communicating effectively. On Shri Vanamamalai's birth centenary year, I wanted to honour his memory by giving something back to my alma mater NLS (an institution wholly endorsed by him when I was admitted as a first year law student!). This scholarship should enable a student to achieve a wholesome professional education without the worry about funding it. As a fervent proponent of the need for access to education for everyone, I believe that Shri Vanamamalai himself would approve of it," he said.
About the Sponsors
Akola Krishnan: Akola is Shri. Vanamamalai's only daughter who lives in the U.S. She graduated from IIT Madras with a Masters in Chemistry and earned  her doctorate in Chemistry from Carnegie Mellon University, U.S.A. She retired after a long career in Johnson and Johnson Inc. in Information Technology management.
Prashanth Venkatesh: After graduating with his bachelor's degree from NLS, he went on to complete his post-graduation in law from the London School of Economics and Political Science as a Chevening scholar. Prashanth has worked as a lawyer in prestigious Indian and international law firms and law chambers in Delhi, London, Bangalore and Singapore. Currently, he is a Managing Director at Broad Peak Investment Advisers in Singapore.