NLSIU Opens New In-House Creche
March 18, 2022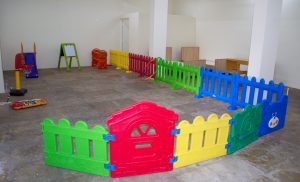 The University's efforts at inclusivity include active wellbeing measures for the overall NLSIU community. As one of these inclusivity measures, the University is pleased to announce the opening of the in-house Crèche to benefit both staff and faculty on campus.
The new crèche, which was opened on March 14, 2022, is located in a green, well-ventilated space behind the Training Centre where the old Gymnasium was located.
Over the last few weeks, the University has refurbished the space and equipped it with an indoor play area that is equipped with child-friendly furniture, and an outdoor play area with swings. We will continue to enhance the features of the crèche across the next few months. The Crèche will be operational from 9:30 am to 5:30 pm on all working days.
Speaking about this initiative, NLSIU's People and Culture Officer, Anjali Varma said: "The University recognizes that working parents need quality childcare infrastructure and support on the premises, and towards this we have opened the on-site Creche as a benefit for our faculty and staff. We hope to see many employees use this facility over the next few months."
For any queries, please contact our staff member Ms. Shivrajamma.