November 2022 Term | What's New on Campus?
November 2, 2022
As our faculty and students return for the second term of the academic year, we are gearing up for a host of activities and events to kickstart our November 2022 term on a high note. To start with, we have a line up of interesting faculty seminars, consultations & workshops on various topics, as well as an opening week concert of Indian Classical Dhrupad vocalists in the first two weeks of term.
In preparation of our students' return to campus, our teams at the University have been busy at work to upgrade several facilities including the hostels and dining facilities. Some of the key changes on campus this term include:
Library Transformation
As we begin work on implementing the University's Master Plan, the Library will be the first precinct to be transformed. In light of this, the Library has been shifted to the New Academic Block for the current trimester. This library space will have a dedicated entrance, separate from the main NAB entrance.
Books and journals will be available in the Seminar Rooms on the ground floor and first floor. The majority of our book collection and journals that are not available online will be on display (as at present). The remaining volumes will be stored and available on call through the library team.
Each student will be allowed to issue up to 2 books at a time.
Reading desks with ergonomic seats will be spread out in the NAB common use areas for use as quiet work desks. Issued books may be carried out to these desks.
Access to the library's digital resources will continue seamlessly in the same manner as at present.
Additional access to AIR Online will be available from November 2022.
Note: The library will be closed to the general public from October 2022 until further notice (March 2023). For other details, please visit library.nls.ac.in
NAB Quadrangle
We are happy to announce that the quadrangle at the New Academic Block will be open from Monday, November 7, 2022. The development of this quad has been possible thanks to the generous contribution from the Class of 2004, and the intense efforts of the NLS staff over the last few weeks.
The alumni contribution by the Class of 2004 was made in memory of their classmate Ajoy Halder who passed away in 2021. A plaque in his name has also been installed in the new quad.
Ashu's Coffee has set up its kiosk at the NAB Quad, and will be serving different varieties of coffee, tea, milkshakes, and several snack options. Seating arrangements have been made as well – the existing set of canopies along with the stone benches that were previously in the Navalgund Park have been shifted here. Additionally, 12 new stone benches have been placed in this space.
A stone pathway has been created which allows  access to the quad from outside the NAB as well. As a safety precaution, the outer boundary of the quad has been covered with a net. Over the next 12 months, we will redevelop the entire NAB precinct as part of implementing Phase 2 of the NLSIU Master Plan.
Healthier Food and Beverage Options
With an aim to provide healthier menu options to the NLS community, the University in consultation with the health coach Ms. Mari B has brought in several new food and beverage options on campus. Quick service dining options in and around the NAB precinct have also been ramped up in the new term.
A counter has been placed in the NAB foyer serving the same menu that was previously served at their Library counter.
The well-known Ashu's Coffee is setting up a kiosk in the NAB Quad, and will be serving the same menu as their main store on the Nagarbhavi Main Road.
Two new vending machines have been brought in for the term, and placed at the OAB Canteen and the Ground Floor of the NAB.
Please note, the counter in the NAB foyer, the Ashu Coffee & Snacks kiosk in the NAB Quad, and the Nescafe kiosk will be open till 10 pm on all days.
Health Centre Upgrades
The NLS Health Centre has been recently revamped to upgrade our nursing and medical services in a tie up with a Healthcare organisation.
The Centre will operate from 9 am to 6 pm, on all seven days of the week .
The Resident Doctor is available from 10 am to 4 pm Tuesday – Sunday, with nursing facilities available on all days.
Our medical team will refer you to specialists in nearby hospitals if required and assist you with insurance formalities. Our medical team comprises:
1. Resident Doctor
2. Qualified Nurse
3. Qualified Nurse (NLS)
4. Pharmacist & Manager
To consult the doctor, please schedule an appointment in advance by writing into , or walk-in during office hours. If you have any further concerns, please contact the University nurse Ms. Malini () or our new Student Welfare Officer Ms. Sunita Prabhu ().
Who's New on Campus?

Dr. Anindita Jaiswal Jaishiv has joined us this term as Assistant Professor of Law. Prior to joining NLSIU, she has worked at Jindal Global Law School (OP Jindal University), NALSAR, and at the law firm Majmudar & Partners, Mumbai. She has taught courses on company law, FEMA (foreign exchange management law), comparative public law, property law, entrepreneurship and law, and strategic diversity.
Read her interview here.
Dr. Karthick Ram Manoharan has joined us as Assistant Professor, Social Sciences. He has previously worked as Senior Lecturer at the School of Development, Azim Premji University, as Assistant Professor of Political Science at the Centre for Studies in Social Sciences, Calcutta, and as Marie Sklodowska Curie Actions Individual Fellow at the University of Wolverhampton. During his time at the University of Wolverhampton, he gained the qualification of Senior Fellow of the Higher Education Academy (SFHEA). He has taught courses on political theory/philosophy/thought, in a global perspective.
Read his interview here.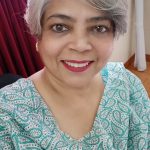 Ms. Sunita Prabhu is our new Student Welfare Officer. Sunita is a counselor and a humanistic psychotherapist with a strong administrative background. She brings more than 18 years of work experience, having worked exclusively in the field of education. She joins us from Yenepoya University, Mangalore, where she was working as Student Welfare Officer.
In her role as Student Welfare Officer, Sunita will work with the student body and the Residential Life team. To reach out to her, please write to or .
Read her interview here.