Alumni Feature | Aparna Mittal on Samāna: Making a Difference with Equality
July 15, 2021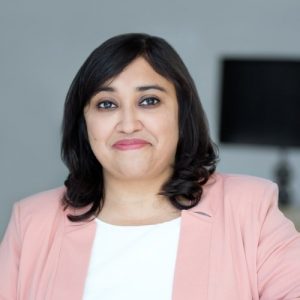 In 2017, Aparna Mittal, NLS 'LLB 2005, had worked with some of the leading law firms in the country, and been a Partner for over five years. While her work was intellectually exciting, somewhere in her journey, the NLSIU alum felt that her worldview was beginning to get limited to the "privileged bubble" she lived in.
It is this thought that gave birth to India's leading consultancy focused on equality and inclusion. Samāna Centre for Gender, Policy and Law, set up in 2018, specialises in gender and LGBTQ inclusion. About her vision, Aparna says "I believe in multidimensional learning and professional growth, and have always wanted to do more than what the defined path entailed. I had a very clear vision for how I could use my experience and skills to make corporate India  and workplaces inclusive, equitable and safe for all segments of diversity such as gender, religion, faith, ethnicity, race, age, abilities, caste, socio-economic backgrounds, sexual orientation and more."
However, given the Indian market, the initial phase was not devoid of challenges. Aparna invested a significant amount of time building awareness around the business and legal imperatives of equity, equal opportunity and inclusion. "In the first year, a lot of our work entailed seeding these ideas in India and in the corporate landscape. In the past few years, our advisory work and curated interventions and programmes have impacted more than one million people, and have garnered interest from clients in Europe, APAC and the US," she added.
Today, the venture engages in multi-themed advisory work across impact investment and ESG, entrepreneurship development and financial empowerment, workplace diversity, equity and inclusion, gender mainstreaming in philanthropy, anti-discrimination and anti-harassment frameworks. "A key differentiator in Samāna's approach is that our work and inputs are comprehensive and highly customised for clients' business and sector. We work holistically,  covering legal, policy, data analysis, human resource, D&I, and all related aspects," Aparna posits.
Last year, Aparna was invited to join the advisory board of ET HRWorld, a human resources-focused platform of the Economic Times, and the Task Force on Diversity & Inclusion set up by the Federation of Indian Chambers of Commerce & Industry (FICCI); both with an aim to give direction to and guide corporate India's efforts on equity and inclusion.
Imbibing Inclusive Living
Aparna spoke about her years at NLSIU, saying "In addition to a strong foundation in law and social sciences, law school taught me the importance of independent thinking and critical analysis, which is an essential tool for any lawyer, as it helps you approach any issue or problem with knowledge and confidence, and bring your own unique perspective to it." Aparna Mittal was the Vice-President of the Student Bar Association (2003-04) , and graduated in 2005 with a BA LLB (Hons) degree.
She believes her time at the University played a pivotal role in her personal and professional development. "Given the vibrant and diverse student community, faculty and staff at NLSIU, it also gave me the rare opportunity to closely work, live and interact with people from across India (and abroad as well), and in doing so really imbibe what inclusive living and multiculturalism is all about."
Words of Advice
"Use the time at NLSIU to discover and explore your own unique personality, your ideologies, values, and skills; try and figure out what your own aspirations are, what area of law do you enjoy engaging with the most, what form of legal work do you find the most fascinating or exciting; and develop a strong community of friends and allies to last a lifetime.
"Making choices based on quality, range and depth of learning and experience (and not merely based on quantitative goals or peer-pressure), will always give you a strong foundation – no matter what direction your professional life takes (or even if you change directions, like I did, after more than a decade of practice!)."