A Bouquet of Choices: Exploring Electives at NLSIU
May 30, 2022
In addition to the core courses taught at NLSIU, we offer a range of elective courses to allow our students to explore their areas of interest in a systematic and comprehensive manner. This enables students to interact with, and learn from a pick of the very best in diverse areas of law, as well as the intersection of law with other disciplines. 
As we end the Academic Year 2021-22, we take a look at some of the courses that were offered as electives during the year; the elective programme in particular has seen an expansion with a diverse basket of courses offered across the three terms. In AY 2021-22, we delivered a total of 76 elective courses. 
Besides NLSIU's own faculty, electives are often taught by practitioners and other experts who come in as visiting faculty. In AY 2021-22, a total of 64 external faculty taught electives at NLSIU – either individually or through co-teaching methods. 
AY 2021-22:
Term I – 29 elective courses
Term II – 25 elective courses
Term III – 27 elective courses offered (Students opted for 22 of these courses)
Students choose between 2-4 electives each term.
While offering electives, the University maintains a healthy mix of commercial and corporate laws along with focus on emerging areas in law. Our electives this year had a mix of social sciences, law and technology, as well as contemporary themes relating to citizenship rights. 
"These electives allow us to explore themes in depth that core courses do not allow. As a faculty member, we also get to explore areas of our own academic interest with senior students who have deep engagement in the field. This leads to a highly motivated and a well-informed cohort and a classroom set-up where students are trained in a multidimensional manner," said NLS faculty and UG Council Chairperson, Dr. Saurabh Bhattacharjee.   
Another key feature of the elective programme is the mixing of students from different streams of BA LLB, LLM and MPP due to which different perspectives come together in the classrooms.
Prof. Saurabh said that NLSIU will continue to focus more on clinic as well as practice oriented electives in the coming terms, with a more hands-on approach to the subjects.
I. Exploring emerging areas of law
Several electives offer a glimpse into the emerging areas of law. Some of these include topics such as Data politics and the law, Gender, medicine and the law, and Ecotaxes –  areas that are not commonly taught at law schools. In the last term, the University offered three elective courses on specialised facets of intersections of law and gender. 
The University is keen to incorporate more emerging areas of law in our elective programme including forensics, nanotechnology, science and technology and its intersections with law. Public policy and the law is also another area of focus as the University is keen to offer more options to MPP students. 
II. Interdisciplinarity
Interdisciplinarity is at the core of the NLS pedagogy and this does not exclude our elective courses. During this year, NLS introduced several innovative courses as well as trial specific courses. About 25-30% of our electives involve topics related to humanities, or at the intersection of law and humanities. 
In the March 2022 term, several interdisciplinary topics were explored such as Sports and the law, Political ideas in the 20th century,  Intersection of law, policy and economics and even Climate Justice – this was not just on climate change, but also in terms of a sociological approach and the impact of climate justice debates on indigenous communities, as well as exploration of the rights of these communities. 
Another unique elective that was offered in the last term was Theatre and the Law. This course is designed to inculcate analytical and critical thinking towards questions of law and justice. 
Through such electives, NLS seeks to foreground the interconnectedness of law as a socially embedded institution.
Diksha Lamba, who taught this course at NLS, said: "Bracketing off law from its historical, social, economic, and political contexts is to deny its foundations and to limit the possibilities of change. Theatre and law, as a course, cuts open these embedded connections. The practice of Theatre and performance involves donning different masks, and this course shows how artists have used masks to unmask the role of law in perpetuating power-play and injustice."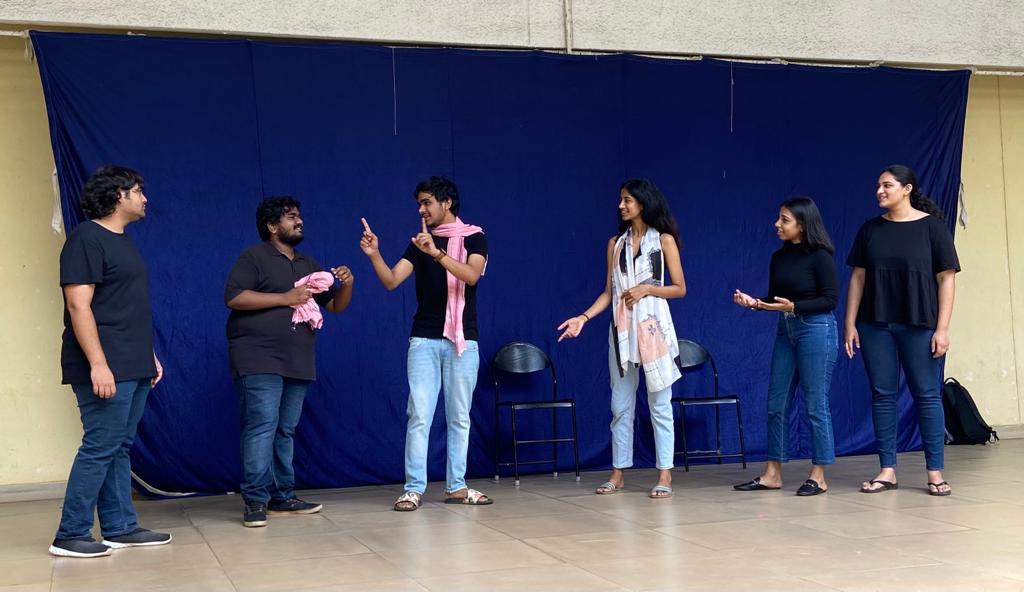 As part of this elective, students also performed a play based on Manto's short story 'New Constitution' on campus. The short play was incorporated in the course to enhance their confidence and public speaking skills. "In a world that demands cut-throat competition, theatre exercises conducted as part of the course tried to build a collaborative space. Apart from making them more equipped and more articulate, I believe the course taught them to be cognizant of where they are speaking from," said Diksha. 
As the term ends, she hopes the conversations that began in class continue to evolve as students gear up to enter the professional world. "The students are bright and well-read which makes the classroom a challenging space. I can confidently say that I have learnt as much as they have in our sessions together," she added. 
III. Growing role of NLS alumni in teaching electives
We were delighted to see the increasing participation of our alumni in teaching electives at NLSIU; some even returned in different terms to continue offering their electives to new batches. In the last term, as many as 14 alumni expressed interest in teaching electives of which 10 were selected to offer courses. In the March 2022 term, seven of our elective courses were taught by alumni.
Alumni L. Viswanathan (BA LLB 1994), Gaurav Gupte (BA LLB 2005) and Dhananjay Kumar (BA LLB 2006) shared their experience of co-teaching their course on 'Restructuring and Insolvency Resolution of Companies in India' in March 2021 and March 2022 terms at NLS.  
"It was a very enriching experience for us to come back to an NLS classroom to teach. Being alumni of NLS, we could relate to our own learning experience here which was based on a very interactive engagement between the teachers and students," they said. 
 Reflecting on their teaching experience over the two Academic Years,  the team said the content of what is being delivered in the classrooms today is current and up-to-date, which will hopefully prepare the students well for their professional careers. 
"I hope the students develop an interest in this area of law with the bird's eye view they have got during this elective course. As one of the most fascinating legal developments in India in the last few years, it has a tremendous impact on the economy," said Viswanathan. 
NLSIU is happy to share that several alumni have already committed to teaching a course for the next term starting July 2022 as well. For those who are interested in offering electives at NLSIU, the call for applications for the July 2022 term can be accessed here.