Giving Month | Infrastructural Upgrades on the NLSIU Campus
February 9, 2022
Giving Month is an initiative to provide the alumni community updates on key initiatives at NLSIU, and invite their support in jointly achieving the University's development goals.
Each week of February will delve deeper on a separate focus area for the University's development. This week's focus is Infrastructure Development. To contribute to Infrastructure Development initiatives at NLSIU, please click here.
With a commitment to preserving key elements of the existing campus, the University has recently undertaken several measures to upgrade campus facilities.
To accommodate a student body of 1,600+ by 2025, we have embarked on adding 210,000 square feet of residence and dining space, 22 classrooms, a sports facility, student centre and other common spaces on campus.
In this piece, we take a look at some of the infrastructural renovations and improvements on campus that are planned, completed or are currently underway at the University.
1. Refurbishment and completion of the New Academic Block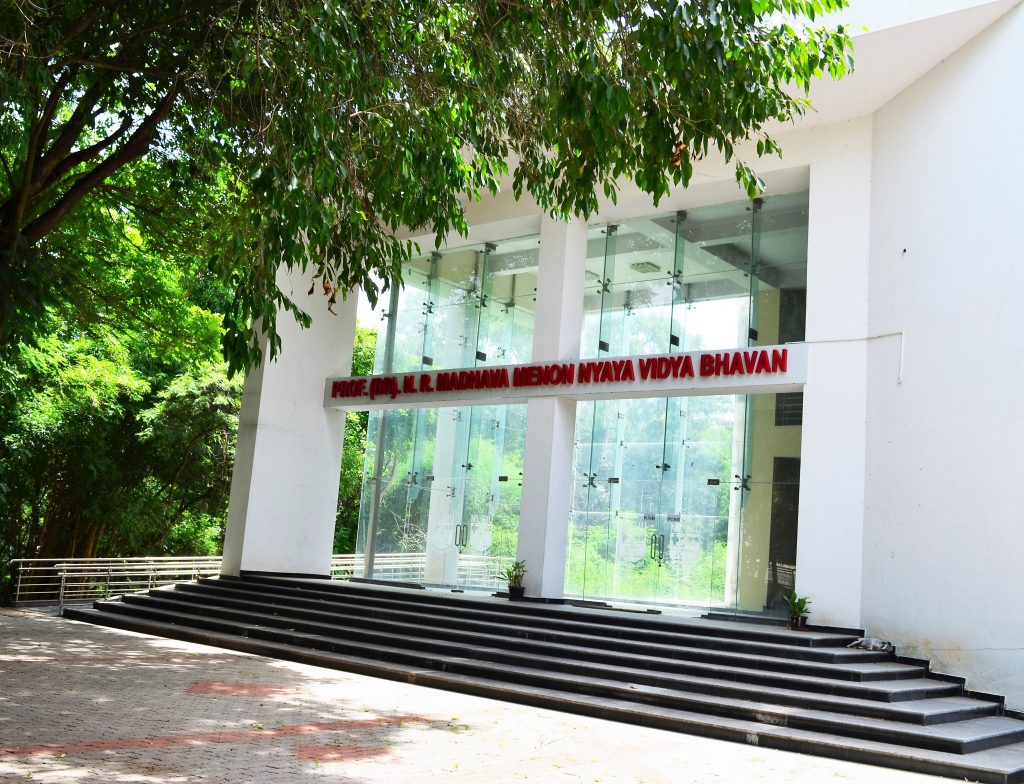 To accommodate an expanded student community, the University recently commenced refurbishing the New Academic Block. Named after NLSIU's founder-director, the Prof. (Dr.) N. R. Madhava Menon Nyaya Vidya Bhavan block is located close to the library and will henceforth be a primary centre for academic activity.
Built in 2014, the two storey building has seven classrooms that can seat between 80 to 120 students, and two conference rooms. In November 2021, the building was outfitted for use with completion of staircases, water-proofing, installing of panels to cover open spaces, and ventilation works. Classroom and conference room renovations are scheduled to be completed by March 2022 in time for the new trimester. Spaces for NLS faculty members are also being planned in the block.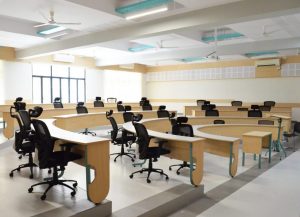 New classrooms in the block: 
The new air-conditioned classrooms will be equipped with a high-quality acoustic system, projectors, retractable screens and LED lights, along with facilities for remote learning. Technological aids such as amplifiers and collar microphones are also provided in these smart classroom designs and ample plug points are being installed.
The furniture is modular and flexible and offers the opportunity for theatre-style seating for improved engagement between faculty and students. These multi-use classrooms will also serve as conference, seminar rooms and moot court halls.
2. Renovation of hostels
Making the most of an extended period of online teaching, the University undertook an extensive renovation project for its hostels this academic year considering hygiene and COVID-safety requirements.
Women's Hostel Rooms: In the Old Annapoorna hostel, the dormitory space was converted into six new double occupancy rooms, while the hall in the New Annapoorna hostel (New Mess Block) was converted into seven new double occupancy rooms. 12 new rooms were also constructed in the Yamuna hostel. All rooms have been renovated to fit in larger windows and additional vents above the doors for improved air circulation. With this, the capacity of the women's hostels has increased from 291 to 329 students.
Men's Hostel Mess: The existing men's hostel mess is being expanded to make a larger dining space while an additional mess is being constructed within the same building to cater to a larger student crowd. These expansions are projected to increase the existing capacity by 80 students approximately.
Planning for new hostel rooms is also underway as an integral part of the Master Plan redevelopment.
3. Redevelopment of the library
The Sri Narayan Rao Melgiri Memorial National Law Library was established in 2005 with the generous assistance of Mrs. Sudha Murty. Having received a recent grant for capacity expansion and rezoning of the library, NLSIU plans to undertake several measures to redevelop and further improve the quality of the library and its resources.
At the heart of these plans is a vision to reimagine the NLS Law Library based on two key focus points: (i) improving the architectural aspects, and (ii) widening access to digital resources to enable higher student engagement.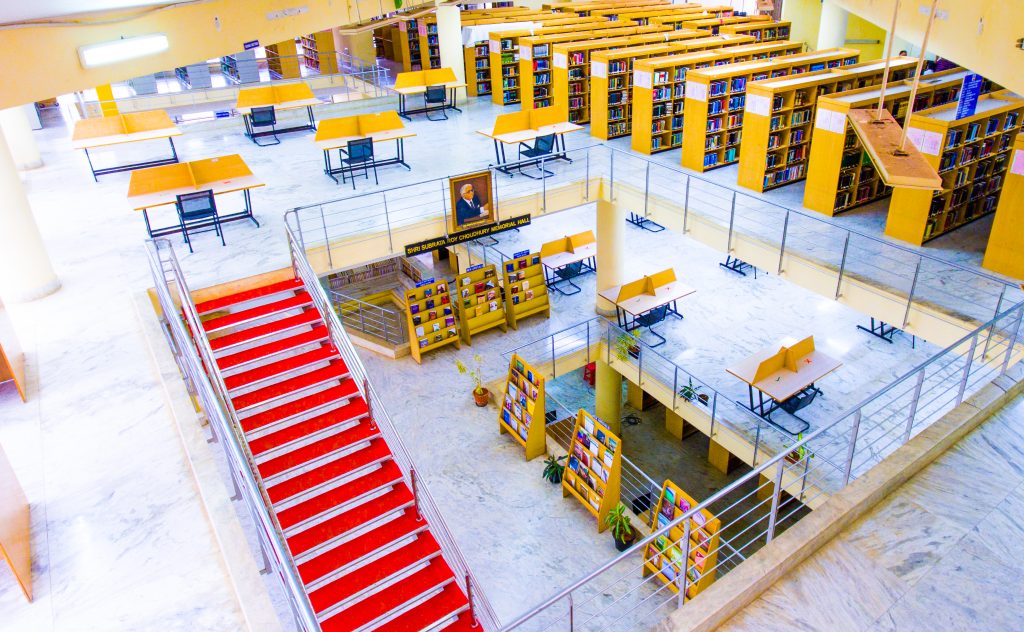 Integrating the Library with the surrounding spaces and the New Academic Block: As part of the Master Plan, the University will develop a landscape plan that integrates the Library with an amphitheatre and an open air library in the Navalgund Park. Further, the library will be integrated with the New Academic Block to provide seamless access between the core academic spaces of the University.
New Interiors Plan for the Library: NLSIU Registrar Dr. N S Nigam said that architects are also developing an interiors plan to identify separate zones within the library. This includes a silent zone for private study; a social space for group interactions and a lounge area for relaxed reading and entertainment. "We plan to have different zones in the library for different kinds of engagement with knowledge. We envision a vibrant and open environment with more seating spaces in and around the library," he said.
The University aims to complete the design and implement this plan in 2022.
Widening access to resources: The University has plans of adding more hardware and software resources to the library including digital scholarships and access to digital material and databases from around the globe. With a recent grant, NLSIU will offer 100 need-based digital scholarships to deserving candidates across the country to access all digital resources on an annual basis.
NLS faculty member, Dr. Arun K Thiruvengadam, who heads the library committee said: "The NLS library is undergoing an extensive review and overhaul of its existing collections.  One of the steps undertaken is an inventory of both the physical and the digital collections.  Faculty members have been involved in this process, with the goal of updating the library's collections comprehensively and making them fit with the needs of all its users.  Alongside, a feasibility study is underway to assess the usage statistics of the existing databases. Based on this, we will be able to gauge the requirements of the communities that use the library, and accordingly streamline the process of adding to our collections and organising the existing ones. As part of this process, we are also reshaping our inventory based on subject matter topics, so that library users will have greater ease of access to material."
Given the diversity of scholarly outputs that NLS produces — from journals and working papers to theses and commentaries, the University will soon launch the Digital Commons, an integrated open-access platform to better manage and showcase NLSIU's legal scholarship. The platform will be an essential tool for creating an institutional repository that ensures systematic management of publication workflows at NLSIU. To know more, please click here.
Other collections: Besides the huge collection of books and journal-bound volumes that line its racks, the law library also hosts a mix of specialist resources and eclectic personal library collections of rare volumes donated by prominent academics, trusts and foundations. Collections include those of Subrata Roy Choudhury; Guna Pai Vasanth Pai Foundation; Shri Vaidyanathan; Wadhwa and Co.; Prof. John Howard Mansfield; Namballa Krishna Chandra Rao; and CIPRA – Centre for Intellectual Property Rights and Advocacy.
In 2021, a separate collection was introduced to showcase books and volumes authored by NLS alumni across disciplines. These are housed on the second floor of the library. If you have an existing or upcoming publication you'd like to contribute, please write to or .
4. Upgraded gymnasium facility
The gym, which was located in a 990 sq ft. indoor space earlier, has now been moved to a newly-developed 1,575-sq ft. open venue in the Training Centre, adjacent to the basketball and tennis courts. The venue is stocked with new equipment, well-ventilated with adequate toilets, showers and changing rooms for faculty, staff and students.
5. Proposed Student Centre
A student centre is being planned to provide a dedicated space for students to socialise and collaborate in small and large groups for academic and extra-curricular activities.
"We started by asking this question on how we want to nurture common spaces at the University outside of the academic spaces. We observed the best practices across reputed Universities and one of the elements that NLSIU wants to emulate is a student centre. This is something we are keen on setting up in the next few years.", said Dr. N S Nigam.
6. Proposed Sports Centre
The University is exploring funding and partnerships for setting up a dedicated sports centre on campus for use by all members of the NLS community, including redevelopment and augmentation of existing facilities, for instance addition of a running track. As a starting boost to the sports facilities on campus, a cross-link fence has been installed around the football field and the rooms there are being refurbished to store sports gear.
7. Addition of eating spaces on campus
Located across the basketball court, Quess Cafe, with a seating capacity of around 60 members, offers a variety of meal and snack options. This is the first of several new catering initiatives NLSIU plans to offer. The University is also in the process of setting up a kiosk near the Library which will offer simple snack options and bakery items along with beverages.