Giving Month | Research at NLSIU
January 31, 2022
Giving Month is an initiative to provide the alumni community updates on key initiatives at NLSIU, and invite their support in jointly achieving the University's development goals.
Each week of February will delve deeper on a separate focus area for the University's development. This week's focus is Research and Teaching at NLSIU.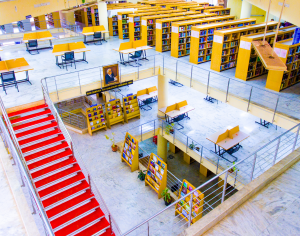 The National Law School of India University was established in 1986 to pioneer legal education reform and anchor the transformation of the Indian legal system through research and policy interventions. NLSIU is actively developing and reorganising its research infrastructure. Research at NLSIU is primarily carried out through its Centres, Chairs, multi-year research projects, and through individual faculty initiatives.
NLSIU Vice-Chancellor Dr. Sudhir Krishnaswamy noted, "Research at the University has been comprehensively restructured by significant fundraising efforts and recruitment of new research talent to the University"
Key Initiatives
In the last two years, the University has taken several steps to nurture and augment research:
Research Clusters: Driven by the need for India-focussed research in certain areas, in 2021, the University identified five focus areas to develop research clusters. NLSIU aims to contribute to this growing discourse using its expertise in governance, public law, political science and constitutional law in India.
Labour and Work
Climate Justice
State Capacity and Reform
Access to Justice & Legal System Reform
Law, Technology and Society
2. Academic Fellows: The University recently announced a two-year full-time fellowship programme aimed at recent law and non-law graduates and post-graduates who are preparing to enter law practice or academic careers in law, public policy or the social sciences. Fellows will contribute to the ongoing research initiatives at the University and will also have the opportunity to assist faculty with classroom teaching.
3. Restructuring of the PhD programme: The PhD programmes have been recently restructured with improvements in the selection process and course work. The University will attract intellectually curious and driven young scholars to undertake the PhD, by offering support through scholarship, and engaging them in various academic and research programmes at the University.
4. NLS Blog: Launched in November 2021, the NLS Blog publishes original research by faculty and research scholars at NLSIU. This platform is part of an overall initiative to reorganize research publications at the University.
5. Faculty Seminars: Faculty and researchers present their ongoing research work at faculty seminars for feedback, guidance and support. These seminars spark conversations that help augment the quality of research at the University and enable our faculty to engage with ongoing research in a variety of disciplines.
Research Clusters
In 2021, NLSIU commenced a number of interdisciplinary projects with institutional funding. Some of these projects have found synergies in collaborating.
State Capacity and Reform
Regulatory Governance Project: Supported by the Omidyar Network, the Regulatory Governance Project aims to study regulatory bodies and specialised institutions set up to govern and regulate key sectors such as banking, real estate, & electricity. The project will examine the ability of these regulatory authorities in monitoring, identifying violations, conducting fair hearings and enforcing standards.
Project Research Lead S. Vivek (NLS BA LLB 2010), said, "The University's initiative in setting up the Regulatory Governance Project is timely as India-specific research on regulators is critical for informed debate. We are currently focusing on working with regulators to build capacity for important functions."
In the last year, the project has published research papers, blogs, and contributed to the RBI's Regulations Review Authority 2.0. Read more: reg-gov.nls.ac.in
Digital Public Records Project: The Thakur Foundation-funded project for digital public records is another initiative under the State Capacity Programme, which is tied closely to the vision for 'Universally Accessible Digital Resources' in the Union Government's Digital India programme. The Project is closely engaged with the adoption of the Vision Document prepared by the Supreme Court's E-Committee, which focuses on adoption of technology to ensure access and inclusion for all users, to achieve equity and efficiency.
Law, Technology and Society Cluster
While India has benefited immensely from the pace and intensity of technological development and the resulting social and economic impact, we have by and large, engaged with these fields as recipients of law, policy and research frameworks developed elsewhere. The Law, Technology and Society project enquires into these areas from an inter-disciplinary lens. The project is funded by Ms. Rohini Nilekani, and seeks to develop a global voice that reflects perspectives deeply rooted in Indian developments, expertise and experience.
"To address some of our most critical and complex problems, we need to imagine approaches that centre both the individual and the system. Increasingly, such approaches are technology-enabled to create spaces where diverse solutions co-exist to work in context. However, there needs to be a horizontal underpinning of values that ensure the technologies and frameworks deployed achieve certain clear societal goals, such as universal access and inclusion. I am pleased that NLSIU is undertaking an interdisciplinary approach for this initiative, and hope it will foster many collaborations," Rohini Nilekani said.
The cluster has identified four key strands of work under the project – Data Governance, Platform Governance, AI and Justice, and Health and Technology. The cluster is collaborating with the Regulatory Governance project on the specific governance choices before the Data Protection Authority (DPA) in India.
Our Founder Dr. N. R. Madhava Menon committed the University to engaging with comprehensive legal system reform over the last three decades. As a result, NLSIU has a unique credibility and legitimacy to shape this field, working with the legal profession, the courts and the executive branch of government. The Pandemic and the post-Pandemic landscape in the country, proposes a heightened need for multiple interdisciplinary conversations. NLSIU is keen on engaging the alumni in these conversations that will shape the direction in which the University is headed.
Donate to  strengthen research & teaching at NLSIU by clicking here.