NLS Faculty Dr. Ashok Patil on his Book "Commentary on Consumer Protection Act, 2019"
May 25, 2023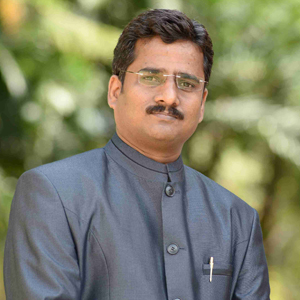 We congratulate NLS faculty member Dr. Ashok R Patil for his recently published book "Commentary on Consumer Protection Act, 2019" which provides a comprehensive analysis of the said Act.
This book, published by Thomson Reuters, covers all facets of consumer law in India from a critical lens, tracing the development of consumer law jurisprudence and policy measures undertaken by the government, and highlighting the salient features of the Consumer Protection Act, 2019, and the rules and regulations framed therein.
We asked Dr. Patil to share more about his book.
What was your vision or inspiration behind this book?
Mahatma Gandhi had rightly said: "the customer is the most important visitor on our premises. He is not dependent on us. We are dependent on him. He is not an interruption on our work. He is the purpose of it. He is not an outsider on our business. He is part of it. We are not doing him a favour by serving him. He is doing us a favour by giving us an opportunity to do so." 
Inspired by this quote of Mahatma Gandhi, and the importance of Consumer Protection, this book has been written with a purpose to educate consumers about their basic rights & increase awareness about their responsibilities and duties. My personal experience with holding governmental and non-governmental positions encouraged me a lot toward writing this book.  The "Legal Education Innovation Award-2013",  awarded by NLSIU's Founder-Director Prof. N.R. Madhava Menon also inspired me to work toward a book which would be closely connected to the society.
What are the primary focus areas in the book? Are there any specific issues or challenges that the book addresses?
The Consumer Protection Act 2019 was enacted replacing the Consumer Protection Act 1986 with an object to provide better protection to consumer in this digital world. This book is a section wise commentary on the Consumer protection Act 2019, supported by rules and regulations enacted under this Act. The book has been divided into eight chapters, with each chapter corresponding to a chapter of the Consumer Protection Act 2019 which analyses the following aspects:
the development of consumer law in India and the key definitions under the Consumer Protection Act 2019;
the Consumer Protection Councils;
the Central Consumer Protection Authority;
the Consumer Dispute Redressal Commissions;
the use of mediation as a means of grievance redressal by consumers;
the concept of product liability;
the offences and penalties under the Act; and
other miscellaneous provisions
Further, this book also includes the discussion of the relevant provisions of the Civil Procedure Code 1908, Criminal Procedure Code 1973, and Evidence Act 1872, referred under the Consumer Protection Act 2019 and other consumer welfare legislations. The book also elaborates on the relatively newer concepts of consumer protection including e-commerce, direct selling, misleading advertisements, endorser liability, unfair contracts, unfair trade practices etc., with instances and case laws.
Who is the target audience for this book?
Every human being is a consumer and is required to be aware of basic of consumer protection. I truly hope that this book proves to be very helpful to all concerned stakeholders including consumers, students, NGOs, policy makers, researchers, academia, consumer commissions and the general public to give effect to the spirit of Consumer Welfare Legislation.
Do you think there is a need for more such books in this field? If yes, why?
Yes, I feel there is need for more such books, as Consumer Protection is not only restricted to Consumer Protection Act 2019. A sector wise Consumer Protection literature is required to be developed, which includes areas of insurance, professional services, banking, telecommunication, food, drugs and cosmetic etc.,
Prof. Patil's book is available online and can be accessed here.