Mooting can best be described as an activity that comes closest to being a lawyer while still studying at law school. It involves identifying legal issues out of a complex factual scenario, doing exhaustive research on those issues to advance arguments with authorities, followed by drafting extensive written submissions and finally the gruelling orals before a bench of eminent judges. In a nutshell, it is everything a lawyer is expected to do once he starts practising law.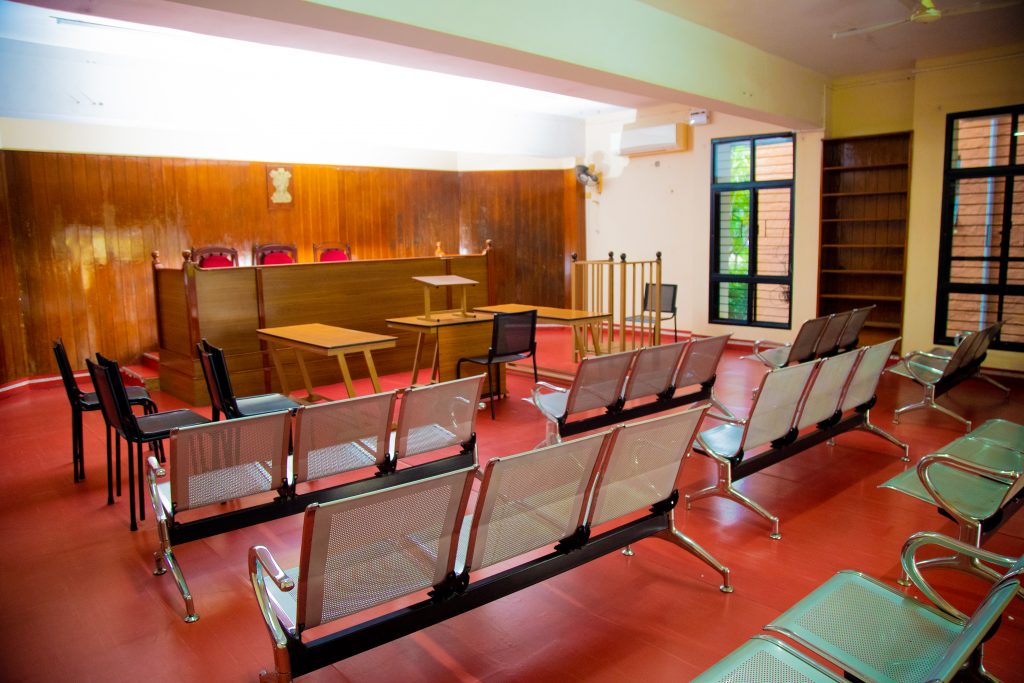 Aim
The Moot Court Society ("MCS") is the student committee entrusted with the responsibility of administering and facilitating all mooting related activities at NLSIU and upholding the high standards of excellence that NLS has set for itself in the field of mooting.
Our primary roles include:
Planning, organizing and executing The National Law School-Trilegal International Arbitration Moot ("NLSTIAM") and the National Law School-Trilegal International Arbitration Conference ("NLSTIAC"). Hosted by NLSIU, NLSTIAM is South Asia's largest Arbitration Moot and one of the most prestigious moots in the country.
Constituting the University Moot Team, a process which stretches over a month, to represent the NLSIU at various national and international moots. MCS appoints an MCS In-charge and legal strategists to support and guide the teams in their respective competition.
Developing future mooters, as well as to inculcate an interest in mooting in the university. The MCS follows a policy of encouraging participation in mooting from all batches, organizes extensive workshops and demonstrations to enable them to learn the process of mooting and arranges for interactive sessions with experienced mooters and litigators from previous batches.
Our Work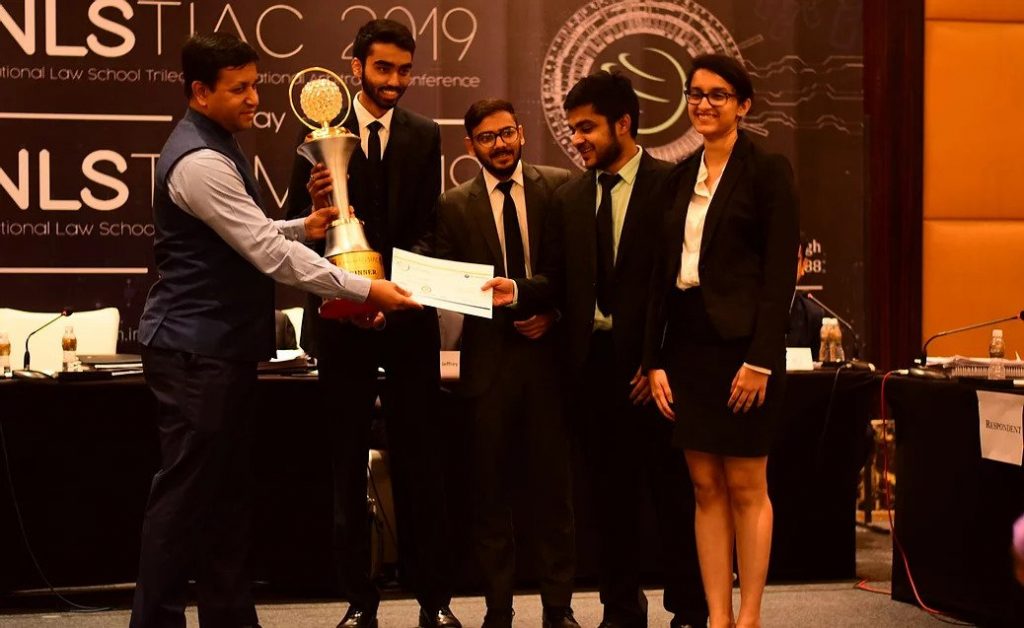 MCS has been organizing the annual editions of NLSTIAM. We also started the first edition of NLSTIAC since 2018. NLSTIAM is the South Asia's largest Arbitration Moot and one of the most prestigious moots in the country. NLSTIAM is primarily sponsored by Trilegal, but the last edition was also sponsored by Debevoise & Plimpton, and SIAC. In addition, NLSTIAM recently collaborated with SARCO to facilitate greater participation from SAARC Nations and enable them to gain exposure to a global platform. The moot has seen an exponential growth in the past few years with some notable collaborations with some big organizations and some of the most renowned people in the field of International Arbitration. In the past few editions, NLSTIAM has attracted participants from all corners of India and beyond, like the University of Warwick, University of Sheffield, Singapore Management University, etc. This year, MCS will host the XIV edition of NLSTIAM. Further, NLSIU has also hosted the Asia Pacific Rounds and India Funding Rounds of Manfred Lachs Space Law Moot in 2016 and 2017 respectively.
On an Intra-university level, we have been organizing the University Moot Rounds every year in order to constitute the moot teams for that academic year. We have been constantly revising and updating the various MCS Policies in order to ensure a fair and equitable offering mechanism for moots. Furthermore, MCS for the purpose of encouraging first years to take up moots has been organizing 'Demo Moots', 'Introductory Moot Workshops', 'Novices Moot' and 'Class Rounds' and appoints moot mentors to support them. We have seen remarkable performance from our first-year mooters in the past. In the past, MCS has also organized Inter-Class moot, which puts senior batches against the junior batches and Alumni v. Student moot.
NLSIU teams have performed excellently at the most prestigious international moots such as the Philip C. Jessup Moot, the Willem C. Vis Arbitration Moot, the Willem C. Vis (East) Arbitration Moot, Manfred Lachs Space Law Moot, Stetson International Environmental Law Moot, WTO ELSA Moot Court Competition, Monroe E. Price Media Moot, ICC Moot Court Competition, etc. NLSIU remains the only Indian team to win the Philip C. Jessup International Law Moot Competition, considered to be the toughest and most prestigious in the world, twice in 2013 and 1999. It also won the World Rounds of the Manfred Lachs Space Law Moot Court Competition, thrice in 2009, 2012, and 2017. NLSIU also maintains an enviable record in national level moot court competitions as well, performing in a stellar fashion at moots such as the Bar Council of India Trust Moot, D.M. Harish Moot, Luthra & Luthra Moot, NUJS Herbert-Smith Moot, GNLU International Moot, NLIU Tankha Moot, NLUJ Antitrust Moot, etc.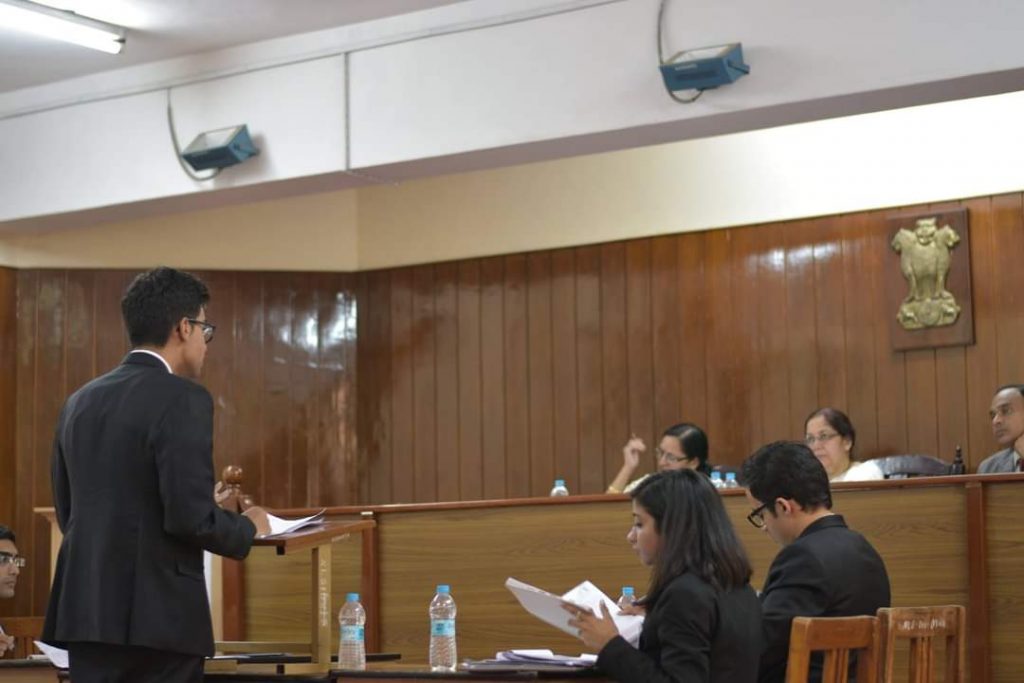 Membership
We take first-year junior co-opts which includes co-opts from 1st year B.A., LL.B. (Hons.) and LL.M. batches. The selection is done on the basis of one's organizational experience in the past and interview. We also have positions of Senior Co-opts where we allow the students from the second to the fifth year B.A., LL.B. (Hons.) to apply for the post. The selection is done taking into consideration the organizational experience and interview. Membership Selection in MCS is done at the end of the year in accordance with the MCS Membership criteria which is revised from time to time. MCS also has the discretion of taking a person as a technical Co-opt to handle only the technical work.
Contact Us
Email: NLS- Moot Court Society:
NLS-Trilegal International Arbitration Moot:
NLS-Trilegal International Arbitration Conference:
Website: http://www.nlstiam.info
Facebook
Instagram
LinkedIn